Matzek stymies Padres in first career shutout
Rookie yields just three hits, while Arenado, Stubbs belt homers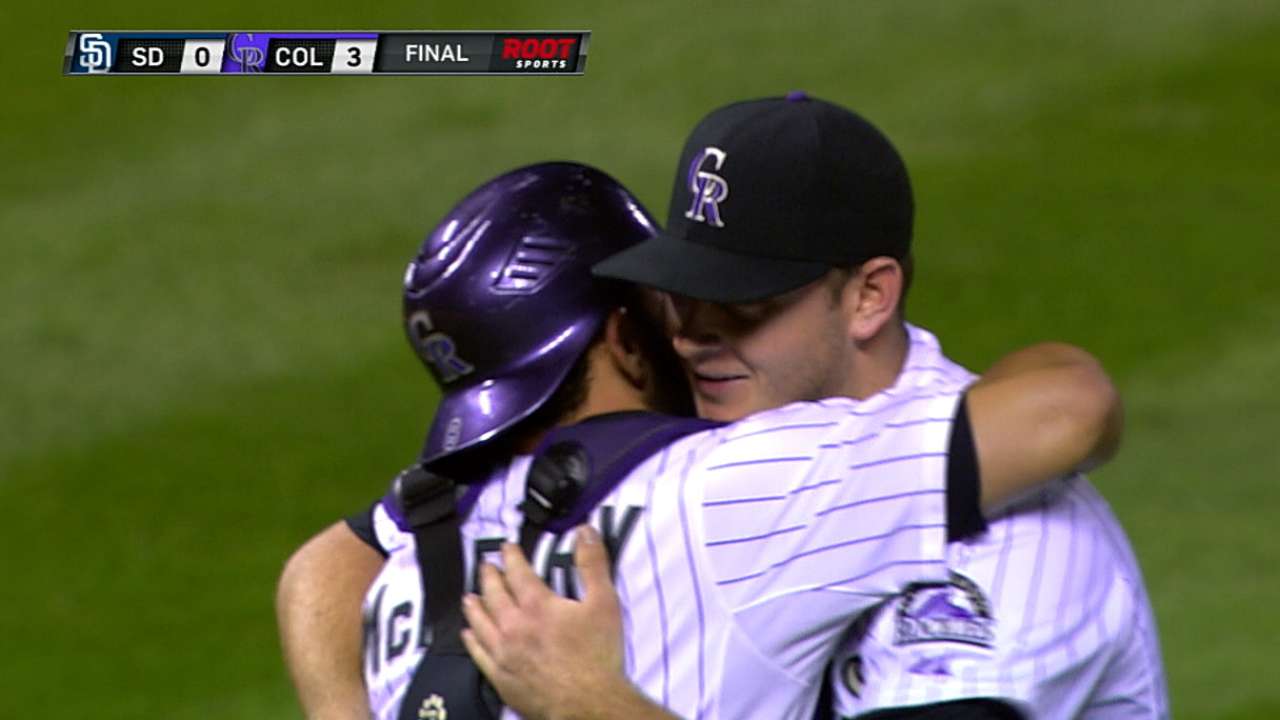 DENVER -- From the moment he stepped off the mound after his sparkling Major League debut on June 11, the Rockies knew they had something special in Tyler Matzek.
Although the 23-year-old left-hander has had his ups and downs since then, he's consistently shown poise beyond his years. And on Friday night, it was on full display as Matzek twirled his first career shutout in a 3-0 victory over the Padres at Coors Field.
It was the first complete game of Matzek's career and first of the Rockies' season. Matzek's gem was also the first shutout by a Colorado pitcher at Coors Field since Jhoulys Chacin's effort against the Cubs on April 15, 2011.
"A great performance by Tyler," manager Walt Weiss said. "He's gaining more and more confidence with each outing. I've talked about his poise and maturity and he continues to show that."
Matzek allowed just three hits and used 103 pitches for his second straight scoreless outing. It also marked Matzek's fourth straight quality start and his ninth in 15 chances to begin his Major League career.
"I feel like I am finding my groove the last two, three games," Matzek said. "Everything has been working, fastball, change up, curveball ... Everything feels right, right now."
Matzek had surrendered five earned runs in each of his two previous starts against the Padres.
This time out, he struck out six and issued just one walk. It was the fifth time in Matzek's career that he finished a game walking one or none, a remarkable feat considering he averaged six walks per nine innings in his five-year Minor League career.
"He's getting better, that's what I saw today," Padres manager Bud Black said. "I saw a young pitcher progressing as the season's gone on ... You saw a good fastball with good life in the hitting area and a good slider that we just couldn't get."
Speaking of remarkable, it was the stellar defensive plays going on behind him that gave Matzek the confidence necessary to go the distance.
"At one point, everyone was making great plays," Matzek said. "Charlie [Blackmon] had one up against the wall, Mac [catcher Michael McKenry] caught something behind the plate, I even got in there with a line drive shot at myself. It just was one of those nights where everything was coming together."
But everything almost came apart in the ninth.
Despite having LaTroy Hawkins up in the bullpen, Weiss elected to send Matzek back out after he touched 95 mph on his final pitch of the eighth.
Weiss said he was going to give him two baserunners before he brought on his closer. And all it took was a bad route from Corey Dickerson to put Abraham Almonte on second with a double for the Padres' third hit of the game.
A groundout advanced Almonte to third, but Matzek was able to buckle down with two solid defensive plays from DJ LeMahieu and Drew Stubbs to end the game.
And never once did Matzek appear phased.
"My goal is to go out there and make one pitch at a time," Matzek said. "Even in that situation, that's what you've got to go out there and do. I was a little worried on that last pitch but Stubbs tracked it down and made a great catch."
Stubbs' solo shot in the first put the Rockies on the board and as it turned out, that's all they'd need.
In the fifth inning, Blackmon brought home LeMahieu with a single to make it 2-0.
Once on base, Blackmon swiped second for his second stolen base of the game. But with two on and two out, Blackmon got greedy and was caught trying to steal third in middle of Nolan Arenado's at-bat. Weiss challenged the call, but a replay review ruled the it as stands.
When the at-bat continued, Arenado homered off left-hander Eric Stults two pitches into the sixth.
Stults finished his evening having allowed eight hits and three runs in 6 1/3 innings.
Cody Ulm is an associate reporter for MLB.com. This story was not subject to the approval of Major League Baseball or its clubs.