Padres' bats baffled by rookie in loss to Rox
Stults gives up a pair of jacks, while offense manages three hits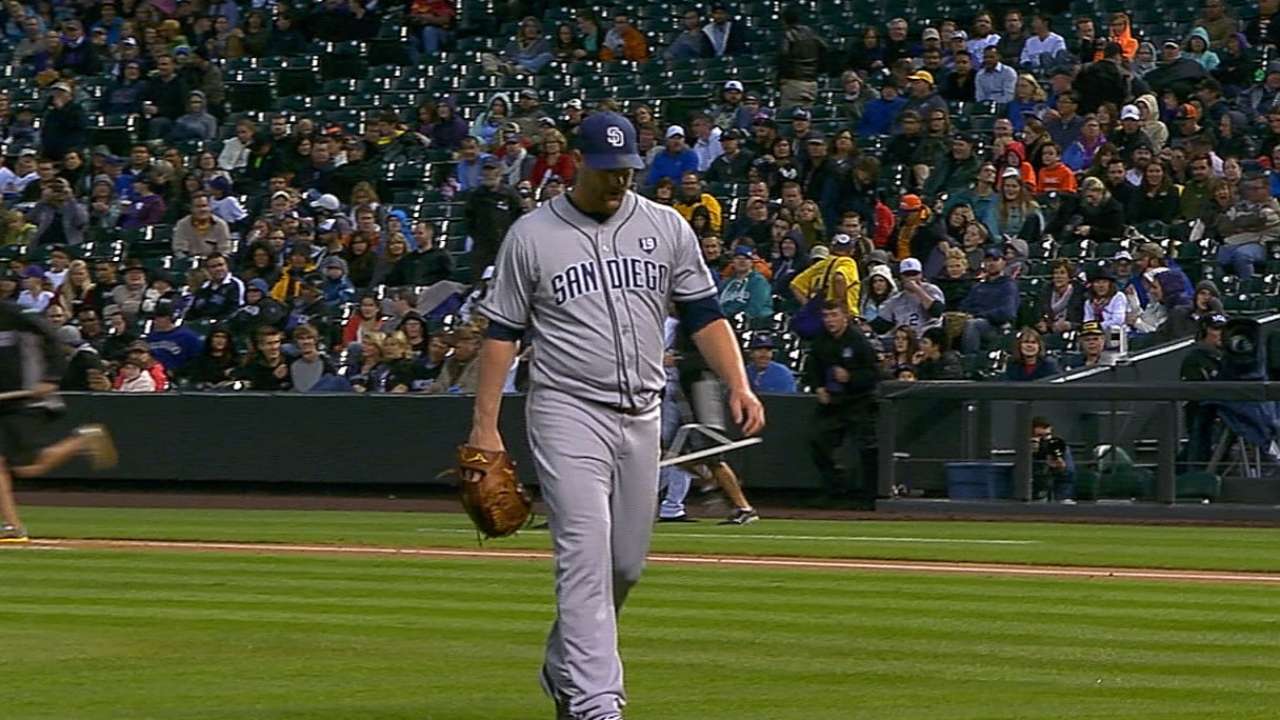 DENVER -- Eric Stults stopped worrying long ago about things he couldn't control, such as run support, which is probably a good thing with the way his 2014 season has gone.
Stults was again the recipient of nothing in the way of offense on Friday as the Padres fell to the Rockies, 3-0, before a crowd of 24,586 at Coors Field.
The Padres haven't scored a run for Stults while he's been in the game eight times in his 28 starts this season. Heading into the game, the first of a nine-game road trip, Stults had the worst run support (2.96 runs per game) of any pitcher in the Major Leagues.
Overall, the Padres have been shut out 17 times this season. Not that Stults (6-16) is keeping track.
"As a pitcher my job is to pitch," Stults said. "If we don't score runs, I can't really control that. I think you run into problems when you start worrying about that."
The way Stults' counterpart was dealing on Friday -- Colorado's Tyler Matzek -- it might not have mattered. The lefty rookie earned his first shutout, allowing three hits, while striking out six with one walk in addition to getting 12 ground-ball outs.
Yes, this was the same Matzek (5-9) the Padres essentially roughed up earlier in the season, getting five earned runs off him in each of his first two starts against them.
"He's getting better, that's what I saw today. I saw a young pitcher progressing as the season's gone on," said Padres manager Bud Black. "He's probably learned along the way.
"You saw a good fastball with good life in the hitting area and a good slider that we just couldn't get."
Matzek was able to get his fastball in on the hands of the Padres' right-handed hitters, which accounted for many of the ground-ball outs. The slider also worked well, as he was able to get it under the hands of several hitters. He also used his changeup more than he had previously.
"A great performance by Tyler," said Rockies manager Walt Weiss. "He's gaining more and more confidence with each outing. I've talked about his poise and maturity and he continues to show that."
The Padres (66-74) didn't get their first hit until the third inning when right fielder Rymer Liriano drove a slider the other way to right with one out. The hits were a bunt single by leadoff hitter Abraham Almonte in the sixth inning and a double by Almonte in the ninth.
Stults allowed three runs on eight hits over 6 1/3 innings. He walked one and struck out four. He allowed a first inning home run to Drew Stubbs and later a solo home run to Nolan Arenado in the sixth inning as the Rockies (57-84) took a three-run lead.
"Usually, solos [home runs] in this ballpark don't beat you," Black said. "He's been the one guy in our rotation who has felt the lack of run support."
Matzek got his shutout though Almonte's double in the ninth inning came when left fielder Corey Dickerson took a bad route. Still he was able to escape trouble and preserve the shutout, the first for the Rockies against the Padres at Coors Field since April 9, 2010.
"It just was one of those nights where everything was coming together," Matzek said.
Corey Brock is a reporter for MLB.com. Keep track of @FollowThePadres on Twitter. This story was not subject to the approval of Major League Baseball or its clubs.