Postseason Picture for Friday, Sept. 5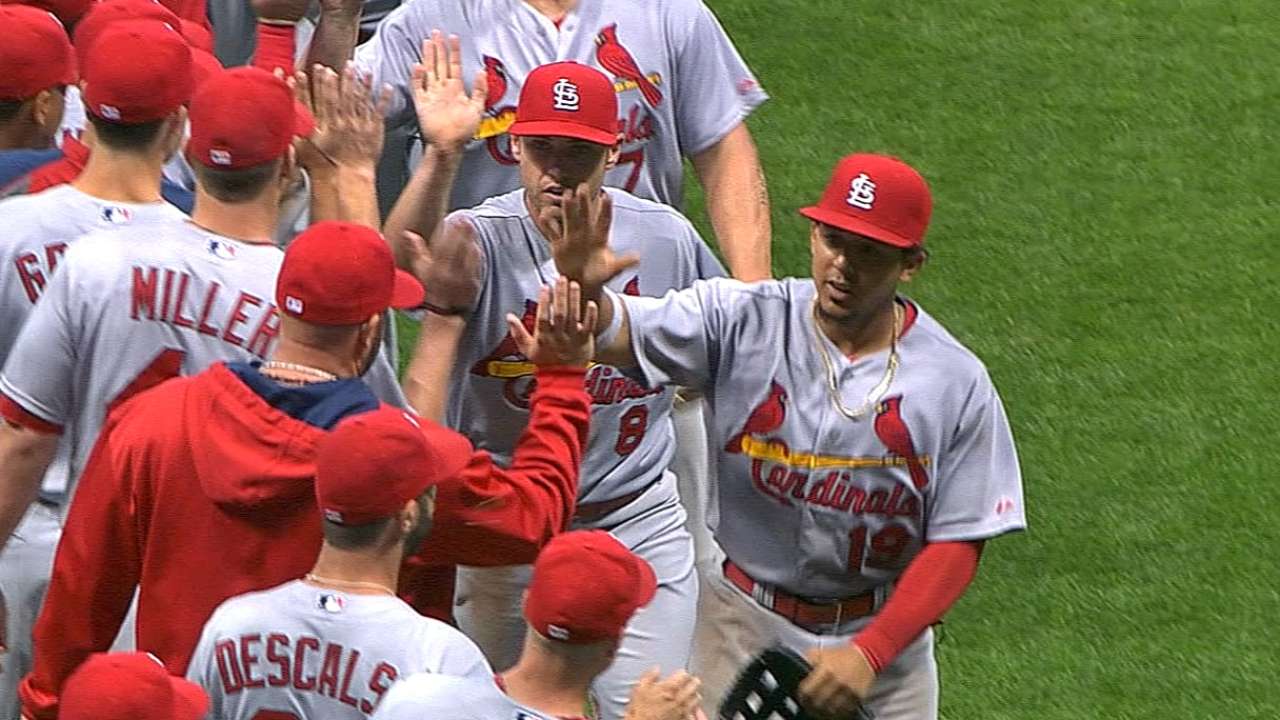 Pulses were pounding with playoff-relevant action across the Major League Baseball landscape on Thursday night, but for sentimental reasons, the Bronx was the place to be. Derek Jeter played his final game against the Red Sox at Yankee Stadium, and after he got his team going with a two-run double, the Bombers were true to their heritage. Ninth-inning solo homers by Mark Teixeira and Chase Headley off Koji Uehara lifted the Yankees to a 5-4 victory that they hope will serve as an American League Wild Card springboard with the Orioles running away in the AL East.
Both Central divisions were buzzing. Pushing their winning streak to six games and their NL Central lead to four games, the Cardinals used brilliant outfield defense by Peter Bourjos and Jon Jay to frustrate the Brewers, 3-2. Milwaukee fell four games behind with its ninth consecutive loss. In Cleveland, Max Scherzer had a four-run lead before he threw a pitch, but the Tigers needed seven runs in the 11th inning to put away from the Indians, 11-4. Detroit is a game behind Kansas City, with Cleveland six games off the Royals' AL Central pace.
IF THE POSTSEASON STARTED TODAY ...
American League
Wild Card: Tigers at A's
Division Series: Wild Card at Angels | Royals at Orioles
National League
Wild Card: Brewers-Braves playoff to play at Giants
Division Series: Wild Card at Nationals | Cardinals at Dodgers
In Minnesota, the Angels rebounded from a pair of losses in Houston to outlast the Twins, 5-4, to extend their lead over to Oakland to five games in the AL West. Their nearly immaculate bullpen once again rescued the Angels, who got a game-deciding sacrifice fly by Chris Iannetta that scored speedy Tony Campana, who pinch-ran for David Freese after his leadoff double in the ninth.
The Mariners are just a half-game out of the second Wild Card spot after pounding the Rangers, 10-2, with Robinson Cano driving in four runs. The Blue Jays trimmed the Rays, 1-0, on Colby Rasmus' 10th-inning home run to stay in the AL Wild Card hunt, 4 1/2 games off the pace. David Ortiz went deep twice before the Yankees erupted late against a struggling Uehara, who last year at this time was pure magic for the eventual champion Red Sox.
Koji's last 6 appearances: 5 2/3 IP, 14 H, 10 R, 4 HR, 15.88 ERA

- Gordon Edes (@GordonEdes) September 5, 2014
The Yankees are four games out of the AL Wild Card chase and a half-game ahead of Toronto, but they're 9 1/2 behind the high-flying Orioles in the AL East. Baltimore scored six first-inning runs at home and held on to subdue the Reds, 9-7. Nelson Cruz unloaded his 37th homer, and Nick Hundley and Jonathan Schoop also went deep for the homer-happy Orioles, who lead the Majors with 185.
The Indians showed their resolve in coming back against the Tigers after Detroit struck for four first-inning runs against young Trevor Bauer. But the Tigers sent 11 men to plate in the 11th, with Victor Martinez's three-run homer the big blow in the inning.
Trevor Bauer's first inning: 38 pitches, 20 balls, 18 strikes, 10 batters faced, 4 hits, 4 runs, 3 walks, 1 wild pitch, 1 mound visit.

- Jordan Bastian (@MLBastian) September 4, 2014
The play of the night was delivered by the Cardinals' ultra-swift Bourjos, racing to the wall to flag down a drive by Logan Schafer with two on and one out in the eighth inning.
"Bourjos made an unbelievable play to save us in the eighth," said Cardinals manager Mike Matheny, who watched Trevor Rosenthal notch his 42nd save after Michael Wacha returned to the rotation with three innings, allowing one run on three hits.
A full Friday schedule will have coast-to-coast impact on the division races. The Brewers, struggling to generate offense with Carlos Gomez and Ryan Braun sidelined, will try to get back to that winning feeling against the surging Cardinals in a big NL Central matchup. The Giants, venturing into the Tigers' lair, hope to stay hot on the heels of the Dodgers, who lead the NL West by two games. The D-backs hope to play spoiler in Los Angeles.
TODAY'S KEY GAMES TO WATCH (all times ET)
Royals (James Shields, 12-7) at Yankees (Michael Pineda, 3-3), 7:05 p.m. Preview
"Big Game James" is 9-16 with a 4.33 ERA in his career vs. the Yankees, but 4-3 with a 3.67 ERA in his past seven outings. Pineda will try to keep Kansas City's high-speed attack from running wild.
Giants (Jake Peavy, 3-4 with S.F.) at Tigers (Rick Porcello, 15-9), 7:08 p.m. Preview
The Giants have been on a roll lately, powered by a return to MVP form of Buster Posey. Peavy, five outs away from a no-hitter in his most recent outing, also has been in prime form. The Tigers need to find their mojo behind rock-solid Porcello.
Braves (Aaron Harang, 10-9) at Marlins (Jarred Cosart, 3-1 with Miami), 7:10 p.m. Preview
Cosart has allowed two earned runs in 27 2/3 innings (0.65 ERA) over his past four starts. Harang will try not to hang anything to NL MVP candidate and NL home run leader Giancarlo Stanton, who has gone deep in three straight games.
Cardinals (John Lackey, 2-1 with St. Louis) at Brewers (Mike Fiers, 4-2), 8:10 p.m. Preview
Lackey was acquired from Boston for games like this, with postseason ramifications. Fiers has been a big lift for the Brew Crew, but the offense needs to start thumping again.
Angels (Matt Shoemaker, 14-4) at Twins (Ricky Nolasco, 5-10), 8:10 p.m. Preview
Working on a streak of 23 1/3 consecutive scoreless innings, Shoemaker has been a revelation for the AL West leaders. The Angels are looking to get their offense rolling in high gear again against Nolasco.
D-backs (Vidal Nuno, 0-4 with Arizona) at Dodgers (Dan Haren, 11-10), 10:10 p.m. Preview
The Dodgers are waiting for Yasiel Puig and Hanley Ramirez to give them the kind of thunder they produced last year down the stretch as they try to hold off the onrushing Giants.
MAGIC NUMBERS
To calculate a team's magic number, take the number of games it has remaining and add one. Then subtract the difference in the number of losses between that team and its closest pursuer.
AL East: Orioles 15 over Yankees
AL Central: Royals 23 over Tigers
AL West: Angels 19 over A's
AL Wild Card 1: A's 21 over Tigers
AL Wild Card 2: Tigers 23 over Mariners
NL East: Nationals 17 over Braves
NL Central: Cardinals 19 over Brewers
NL West: Dodgers 21 over Giants
NL Wild Card 1: Giants 20 over Brewers, Braves
NL Wild Card 2: Brewers, Braves 22 over Pirates
TIEBREAKER SCENARIOS
A tiebreaker game will be played to determine a division winner, even if the tied clubs are assured of participating in the postseason. If a division championship tiebreaker is necessary, the head-to-head record between the clubs will determine home-field advantage. If the head-to-head record is tied, then division record will be the next tiebreaker.
If two clubs are tied for the two Wild Card berths, home-field advantage will be determined by the head-to-head record between the clubs. If the head-to-head record is tied, then division record will be the next tiebreaker.
Lyle Spencer is a reporter for MLB.com. This story was not subject to the approval of Major League Baseball or its clubs.