Kennedy, Padres sunk by Arizona's early runs
Starter allows three in second inning; San Diego musters little at plate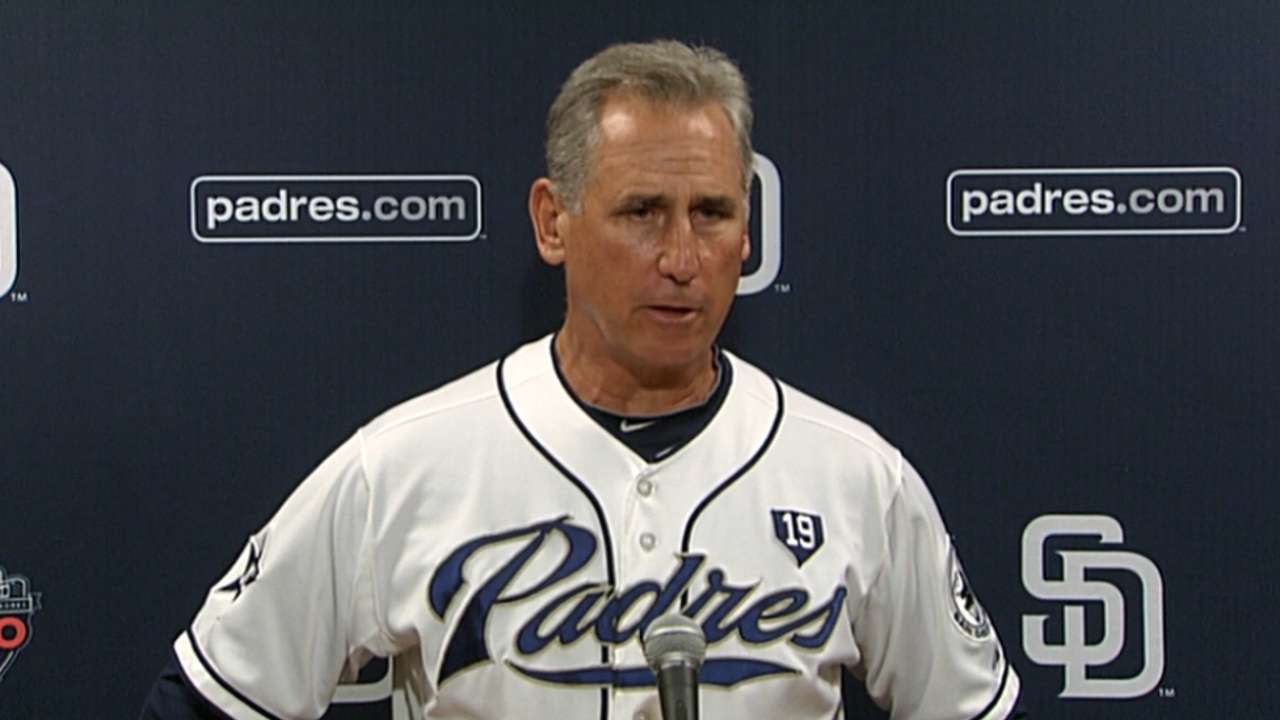 SAN DIEGO -- The dreaded "one of those nights" nights appear a handful of times a season. Happens every summer, everywhere. And so it was that the Padres said hello to Thursday night and the Arizona Diamondbacks.
When Ian Kennedy was paper-cut for nine hits in the first three innings, you knew something was up. When catcher Rene Rivera absolutely crushed two balls in his first two plate appearances only to watch them zoom into D-backs gloves, well, that was the irrefutable evidence. And so a solid homestand ended with a 5-1 thud, the Padres splitting a four-game series with the D-backs after taking two of three from both the Brewers and Dodgers.
Since the All-Star break, the Padres haven't had to endure too many evenings like this one. Even with the split, they now are 7-0-1 in series at home after the All-Star break, and 9-4-2 overall since the break.
Kennedy hasn't had to endure many evenings like this one, either, once the calendar flips to September. Lifetime entering the game, he was 10-2 with a 2.63 ERA in the month.
But in making his 29th start of the season and fifth against the D-backs since they dealt him to the Padres on July 31, 2013, Kennedy fooled few, especially in a three-run, five-hit second. The fact that rookie third baseman Cory Spangenberg air-mailed a throw to first base during the inning didn't help, either.
"It was a constant grind through the first two innings," Kennedy said. "There were a lot of long at-bats."
Aaron Hill singled to start the inning. A.J. Pollock doubled, Didi Gregorious singled and then, following a sacrifice bunt, Ender Inciarte and Chris Owings singled.
Then Mark Trumbo doubled to start the third, Miguel Montero followed with a single and Robbie Erlin was warming in the Padres' bullpen.
Actually, Kennedy did a reasonable job of keeping the deficit manageable at 4-0.
"I didn't have my put-away pitches," Kennedy said. "I leaked stuff over the plate. And I made some tough pitches and they put the balls in play."
He threw 18 consecutive strikes to end the rough second inning and, extending that stretch into the third, he threw strikes on 22 of 24 pitches during the stretch. Every one was a battle.
"The curve wasn't sharp, the changeup wasn't sharp and I didn't have command of my fastball," Kennedy said.
Still, that wasn't what bothered manager Bud Black.
"The story of the game tonight was we just couldn't get to their pitcher," said Black of Arizona starter Randall Delgado, who was removed from the rotation after only two starts in April and yet threw two-hit shutout ball over five innings Thursday. "We couldn't get to their guy last night, and we couldn't get to their guy tonight."
Enter Rivera, and the hit-and-run job the D-backs did on him.
He started the third by driving a ball to the center-field wall. Beginning of the comeback?
Nope, not when Pollock made a terrific play at the fence, appearing to rob Rivera of a homer.
"Stuff happens, you know?" Rivera said. "You have to go to your next at-bat and try and square the ball up again."
Mission accomplished: With one out in the fifth, Rivera absolutely scorched a liner down the third-base line. But a diving Hill, playing in only his 36th career game at third and first since Sept. 18, 2005, gloved it.
One of the roughest, toughest 0-for-2s you'll ever see.
"He's been swinging good," Black said. "His average is over .250 [it's .253]. All year long, he's been a bright spot, and he's worked his way into regular playing time.
"He deserves to play. He's been one of our better hitters. And with runners in scoring position, he's one of our better guys."
Rivera finally found open space in the eighth, rattling a double into the right-field corner to help position the Padres for a potential comeback. But despite loading the bases with none out, they were only able to push one run across. Yasmani Grandal, Abraham Almonte and pinch-hitter Rymer Liriano all struck out against veteran lefty reliever Oliver Perez.
"We had some right-handed bats with some damage in them, and he just wiped us out," Black said.
Yep, all together now: One of those nights.
Scott Miller is a contributor to MLB.com. This story was not subject to the approval of Major League Baseball or its clubs.