Relationship between Wallace and Chiti pays off
Orioles' pitching coaches have pulled together a dominant starting rotation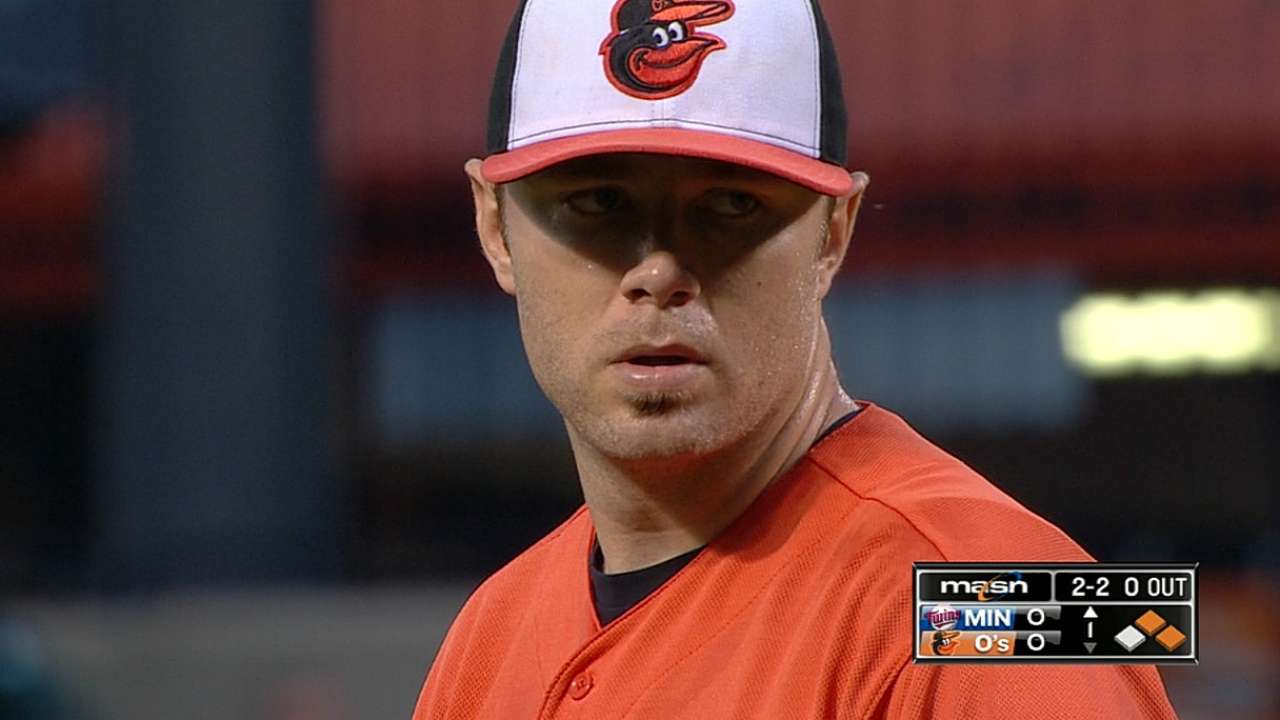 BALTIMORE -- The Orioles lead the Major Leagues in home runs by a considerable margin. They had three players voted into the American League All-Star starting lineup. The Birds also have an excellent defense.
That's not why Baltimore is running away with the carnivorous American League East, though. The O's are well on their way to wrapping up the division title for the first time in 17 years largely because of an unexpected strength.
"We've improved our starting pitching with the skill development of these players throughout the season," executive vice president of baseball operations Dan Duquette said. "That's been one of the real transformations of the team."
Bud Norris, Duquette explained, has benefited from developing a changeup and more consistent breaking pitch. Kevin Gausman, 23, has shown dramatic improvement in just his second big league season. Wei-Yin Chen's breaking stuff is better. Chris Tillman (4-0 with a 1.33 ERA in six August starts) and Miguel Gonzalez (4-2, 2.13 in his past eight starts) have been sizzling.
There's no single explanation for why the rotation has come together. There rarely is in baseball. But it's hardly a stretch to suggest that two big reasons are pitching coach Dave Wallace and bullpen coach Dom Chiti, both additions to the staff this season.
"I don't know that there's any way to quantify [how much difference they've made]," Duquette said. "But the players are developing more skills. Some of those things you can develop with experience, but I think it helps when you have good leadership. And they've provided good leadership."
More and more teams are going with two hitting coaches, and the same is true on the pitching side, as Chiti also functions as Wallace's assistant. The most crucial factor, obviously, is that they deliver a unified message to the pitchers. The fact that they spent the past four years together in Atlanta's system -- Wallace as Minor League pitching coordinator, Chiti as a scout and special assistant -- helps assure that will happen. It also doesn't hurt that both have been around long enough not to care about being in the spotlight.
"It's worked out great," said manager Buck Showalter. "They have a great relationship. There's no ego. They don't care about who gets the credit. They had a prior relationship, and I feel like it's the whole [football coach Bill] Parcells thing. If you're going to be asked to cook the dinner, you should at least be able to pick the groceries. To me, the bullpen guy is like the assistant pitching coach. And Dave shared that thought. And I said, 'Then you should be able to pick that guy.' And he did. I knew Dom. I was hoping he would pick Dom. But if he had wanted somebody else, that's who he would have gotten."
"Knowing Dom the way we've known each other the last four years in working together," said the 66-year-old Wallace, "it's kind of a 'one voice but two people' situation."
Said Chiti, 55: "We have a great friendship on and off the field, but it's built on trust and respect. I think one of the most important things is, we talk so much about all the pitchers individually that they're not getting one message from somebody and another message from somebody else. It's one voice, but it may be coming out of two different mouths."
The pitchers have embraced the approach.
"It's a combination of things," said Norris. "First and foremost, they believe in us. They give us the trust and the confidence to go out there and play the game. They really believe in the rotation and the bullpen, and they've gotten to know us all on a personal level so we can go out there and execute our pitches and our strengths. They're good at information, they're good at communication and they believe in you. That's paid dividends."
Zach Britton has made an almost seamless transition from starting to closing this season.
"Keeping it simple is, I think, a big thing," he said. "Players can sometimes get into their own head. You think you have to make all these changes if you're struggling. They just bring a very simplified approach. Obviously there are little tweaks here and there, but it's mostly just about getting guys out."
"They give everybody the same amount of time," reliever Brad Brach said. "If you have a question, if you have a problem, if you have anything, you can talk to them. Other teams it kind of seems like the starting pitchers get more focus than the relievers. If a reliever has any question or problem, he can go to them at any time and they'll help you out."
As Wallace and Chiti tell it, their philosophy can pretty much be boiled down to two simple principles.
1. In the end, it's about the pitchers.
"I can't tell you how many times we've disagreed on stuff, but you take a walk, you go out and sit in the bullpen, you talk about it," Wallace said. "And then you come to, 'Oh, OK, now I get it. Let's approach it this way.' Because, really, at the forefront of that is that it's all about the players. Whatever we can do to help them."
"I think we have a great relationship, and it's built on trust and respect," Chiti said. "That we both speak our mind, but at the end of the day, we always come back to the same thing, which is, 'What's best for the player?' It no longer is about either one of us. It's about sit back and listen to what the other person has to say. Each one of us grind it out in our own way. And then we go with what's best for the player."
2. Listen to the pitchers.
"We've embraced the player's opinion," Wallace said. "We both agreed when we took this thing on that we were going to ask them what has worked for them, what has not. Please feel free to step and say, 'You know what? I don't quite agree with that. I'd rather try things this way or that way.' I think when a player thinks he has input and can give us some feedback, it's a two-way street. There are no mandates."
After that, it's up to the pitchers. And the Orioles have the second-best record in baseball mostly because so many of their pitchers have gotten better this season, even though none are likely to get much support for the AL Cy Young Award.
"The sum has got to be greater than the parts," Chiti said.
The O's have even managed to turn that sort of top-to-bottom depth into a competitive advantage.
"Some staffs, you have those front-line guys," Wallace said. "But you also have staffs where you have five pretty good starters who go out there and that night they're the No. 1 guy. I think the mindset is important. A couple of these guys, they don't care who they're facing on the other side of the field. They can face the Lesters or the Kershaws of the world and know that, 'Hey, I'm going to give you guys what I've got. I'm the guy tonight. They've given me the ball.'"
It's axiomatic that coaches get too much credit when things are going well and too much blame when they aren't. Still, there's little doubt that Wallace and Chiti have found a way to get the best out of the Orioles' staff this season.
Paul Hagen is a reporter for MLB.com. This story was not subject to the approval of Major League Baseball or its clubs.