Rays get mixed results on replays vs. Jays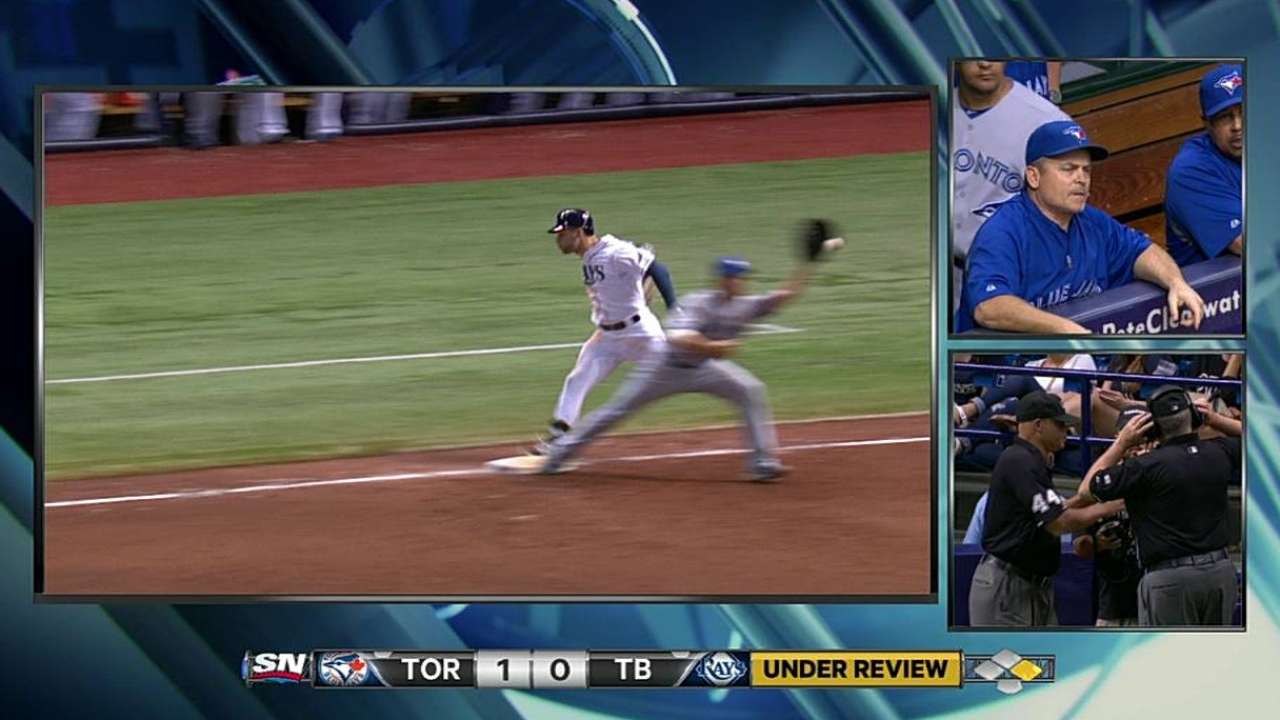 ST. PETERSBURG -- Rays manager Joe Maddon wasn't happy about the challenges in Thursday night's series finale against the Blue Jays. The sixth-inning call he challenged went against him, and he didn't think Blue Jays manager John Gibbons' challenge in the bottom of the 10th should have been allowed.
In the final inning of Tampa Bay's 1-0 loss, Gibbons challenged a potential game-ending double play when Kevin Kiermaier was called safe at first. After a one-minute, 23-second review, the call was confirmed, but Maddon thought Gibbons didn't follow proper protocol in requesting the challenge.
"I could've protested just on procedure, but then again, you cannot protest replay," Maddon said. "Because John never went out and talked to [second-base umpire Gary Cederstrom] in order to initiate the review."
Gibbons hadn't crossed the foul line when he indicated for the challenge and returned to the Toronto dugout.
"I went and talked to [home-plate umpire Lance Barksdale] and said, 'Lance, I mean, you can't do that,'" Maddon said. "And he said to me, 'They're just trying to speed it up.' I said, 'No, no, no.'
"I didn't mean to be a jerk about anything. Again, it's just, there are these little rules that have been written down that you attempt to follow, and I thought that was rather blatant. That's all."
Maddon had lost his own challenge a few innings earlier, when Wil Myers' aggressive baserunning didn't pay off.
With two outs, the bases empty and the game scoreless in the sixth, Myers roped a ball into the left-field corner off Toronto starter Mark Buehrle. Myers tried to stretch the hit into a double, but left fielder Melky Cabrera came up with the ball quickly and fired a throw into second, where Myers was tagged out by second baseman Ryan Goins.
Maddon thought Myers' foot had reached the bag ahead of the tag, as Cabrera's throw had initially pulled Goins to the outfield side of second base.
But after a two-minute, eight-second review, the ruling on the field was confirmed -- Myers was out and the inning was over.
"I thought he made it," Maddon said. "I guess there were a limited number of cameras here today because we weren't on television at home, so there might have been less looks at the play."
David Adler is an associate reporter for MLB.com. This story was not subject to the approval of Major League Baseball or its clubs.