Mariners rout Texas, keep pace in Wild Card race
Cano's four RBIs lead potent offense vs. struggling West foes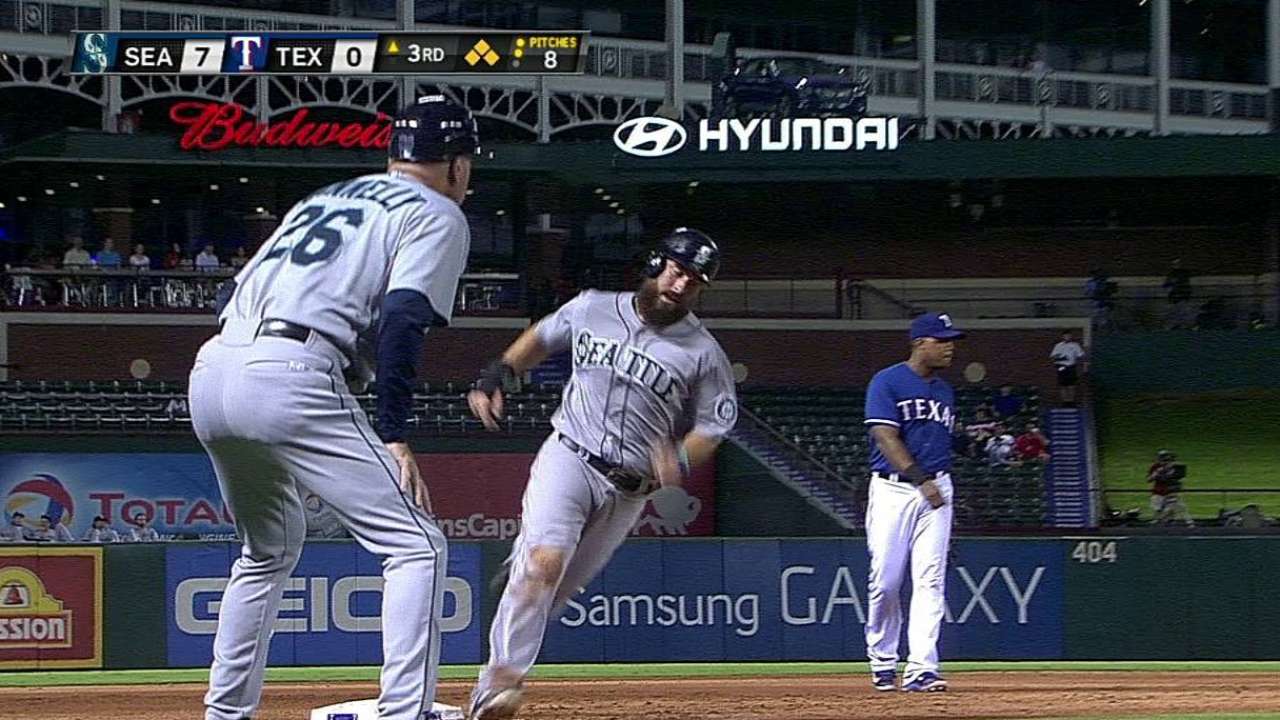 ARLINGTON -- Robinson Cano had a pair of hits and a season-high four RBIs in the first three innings for the Mariners on Thursday, but he was far from the only Seattle hitter to light up the scoreboard early in a 10-2 victory over the Rangers.
After winning two of three against their fellow playoff contender Athletics in Oakland, the Mariners came into Texas hoping to avoid a letdown against the team with the most losses in the Major Leagues.
"Our guys came out and played very well tonight, they were very focused and had a lot of energy coming off an emotional series in Oakland," Mariners manager Lloyd McClendon said. "I was very proud of how they went about it."
The Mariners drew five walks in the second and third innings, and then drove all those runners home -- and more -- with seven hits in those frames.
Seattle scored six runs with two outs in the second, beginning when Chris Denorfia and Chris Taylor drew back-to-back walks off Texas starter Robbie Ross Jr. Taylor fell behind 1-2 but worked an eight-pitch walk to keep the inning alive.
"There's a lot of different ways to win games," McClendon said. "Getting on base with those two walks opened up a big inning."
Jesus Sucre and Austin Jackson each singled home a run, Dustin Ackley walked and Cano drove home Sucre and Jackson for a 4-0 Mariners lead. Kendrys Morales singled home Ackley, chasing Ross, and Kyle Seager, who had popped out to start the inning, drove in Cano with a single off reliever Jon Edwards.
"That was big … that was the game right there," Sucre said of the second-inning, two-out rally.
"Two-out RBIs are golden in this game, particularly on the road," McClendon said. "When you can pick them up on the road with two outs, it usually means that you're going to win ballgames."
Edwards walked Denorfia and Taylor again to start the third and both scored, the latter on Cano's two-run double.
"We took advantage early, and were not chasing pitches," Cano said. "When we don't chase pitches, we're a team that can make a lot of damage."
Ross dominated Seattle in their first meeting this season on April 15, when he threw 7 2/3 scoreless innings without issuing a walk. Thursday, the Mariners simply waited for Ross to miss another pitch.
"He just couldn't get out of the inning," Rangers manager Ron Washington said. "He couldn't execute a pitch to get out of the inning. Three of the seven batters he had two strikes on and couldn't put them away. He lost his command. … It just wasn't his day."
Denorfia added a solo homer in the seventh for Seattle's 10th run. Thursday marked the ninth time this season that Seattle has scored double-digit runs in a game.
Pitching with a sizable lead, Mariners starter Roenis Elias allowed one earned run on seven hits in five innings. The victory broke a three-game losing streak for the Cuban rookie. Elias became the fourth Mariners starter to record 10 wins this season, the first time the club has had four starters with 10 or more wins since 2003.
It helped that Elias got three inning-ending double plays from his defense. In the fourth and fifth, Cano fielded grounders, tagged second for the force and threw to first to end each inning.
"I just went out there with confidence to make that pitch and get a double play and get out of the inning, that's what I'm focused on," Elias said. "[Having Cano at second] a very good feeling to have that out there. He's been doing it his whole career. It gives you a sense of confidence in your defense."
Relievers Dominic Leone, Brandon Maurer, Tom Wilhelmsen and Danny Farquhar each threw a scoreless inning after Elias exited.
The Mariners have now won four of their last five games and are 20-11 (.645) since the beginning of August.
Thursday's victory kept the Mariners a half-game behind Detroit for the second AL Wild Card spot after the Tigers downed the Indians in extra innings.
Dave Sessions is an associate reporter for MLB.com. This story was not subject to the approval of Major League Baseball or its clubs.