Twins make it interesting but fall to Angels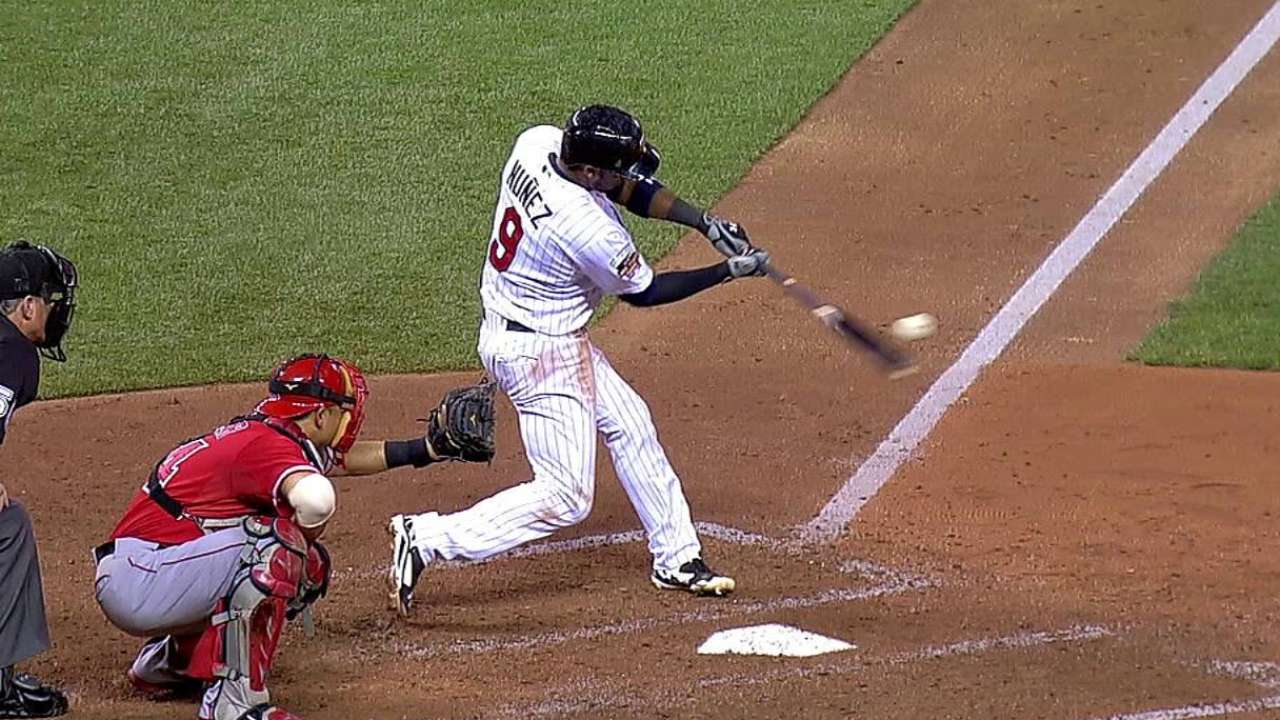 MINNEAPOLIS -- For as much as the Twins have struggled this season, their offense has helped them claw back into plenty of games, only for them to swallow a tough defeat late.
It happened again on Thursday night. Eduardo Nunez hit a game-tying three-run homer in the sixth inning, but closer Glen Perkins gave up a run in the top of the ninth to hand the Twins a 5-4 loss to the Angels at Target Field.
The Twins put two runners on with nobody out in the bottom of the ninth against closer Huston Street, only to see the rally fall short.
"It was a good ballgame," manager Ron Gardenhire said. "We hung in there pretty good, and Nunez had a big homer to get [us] back into the game. We had a chance there at the end, but they got the big hit, and we didn't. Perk gave up a double and a sac fly, and they got their closer. We had chances, but he made pitches when he had to, and there's the ballgame."
David Freese sparked the Angels' rally with a leadoff ground-rule double. Pinch-runner Tony Campana was bunted to third with one out, then Chris Iannetta came through with a sacrifice fly to left field to give the Angels the lead.
"As a hitter you're trying to hit the ball to the outfield," Iannetta said. "It's either get a hit or hit something they can score on."
The Twins had a prime scoring opportunity against Street with the heart of the order up, but Joe Mauer flied out, Kennys Vargas struck out and Eduardo Escobar flied out to end the game.
Vargas, who had homered in two straight games, had the chance to be the hero after working the count to 3-1, but struck out on three straight changeups.
"I was looking for a fastball because it was 3-1," Vargas said. "I was looking for something hard, but he beat me with the changeups. I learn something every day. It's an experience. Next time I've got it."
The loss came on a night when right-hander Kyle Gibson was hurt by a four-run fourth, with Mike Trout and Josh Hamilton drawing walks to start the rally. Howie Kendrick delivered a two-run double to left and advanced to third on an errant throw from Jordan Schafer.
Erick Aybar followed with a one-out RBI single before scoring on a double by Freese, but Gibson was able to avert further damage by getting Efren Navarro and Hank Conger to ground out to end the inning.
"A couple of walks made that inning harder than it should have been," Gibson said. "Kendrick hit a pitch I haven't looked at yet, but it was a little in and up. So it was an unfortunate inning. If I can limit the damage, it would change the outcome of the game."
That was the lone rough inning for Gibson, who used his sinker to get plenty of ground balls throughout the night. Of the 21 outs he recorded, 16 came via the ground ball, including an inning-ending double play in the fifth. He went seven innings, giving up four runs on seven hits and two walks, but was stuck with a no-decision.
Despite loading the bases with two outs in the second inning, the Twins didn't get on the board against Angels left-hander Hector Santiago until the fifth. Danny Santana and Brian Dozier connected on back-to-back doubles with one out to send home Minnesota's first run, but Dozier was stranded after a walk to Mauer, as Vargas grounded into a double play.
The Twins tied it in the sixth on one swing from Nunez, who crushed a 2-0 changeup from Santiago for a three-run blast to left field. The homer knocked Santiago from the game after his 90th pitch of the night.
"It was a big home run," Gardenhire said. "He's been swinging good. We put up some swings out there."
But the Twins couldn't score after that, as relievers Jason Grilli, Kevin Jepsen, Joe Smith and Street each threw a scoreless inning for the Angels.
"Unfortunately, we were just one hit away again," Gardenhire said. "Some good things happened, but bottom line, we lost."
Rhett Bollinger is a reporter for MLB.com. Read his blog, Bollinger Beat, and follow him on Twitter @RhettBollinger. This story was not subject to the approval of Major League Baseball or its clubs.