Tigers erupt in extras to get within a game of Royals
V-Mart's three-run jack highlights seven-run 11th inning against Indians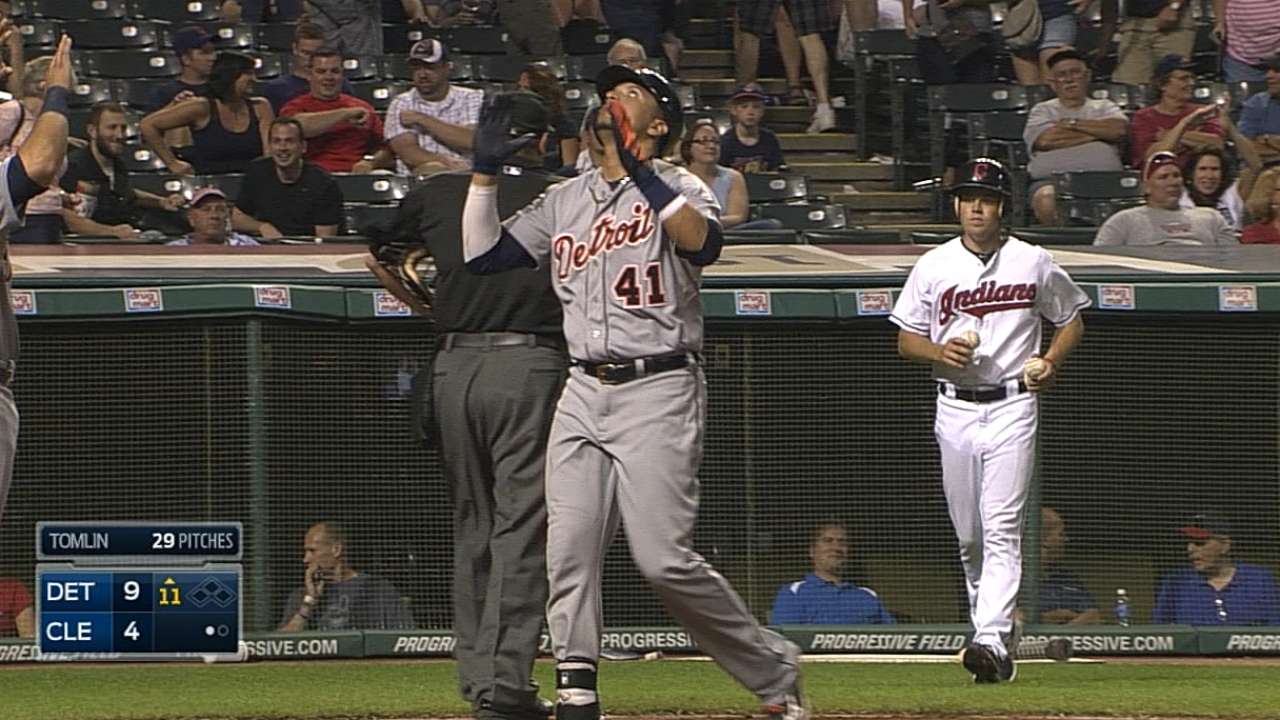 CLEVELAND -- Tigers manager Brad Ausmus briefly thought about pinch-hitting for Eugenio Suarez. He then thought otherwise, which turned out to be his best move Thursday night.
Suarez delivered a go-ahead two-run single with one out in the 11th inning, sparking a seven-run eruption as Detroit pulled away for an 11-4 win over the Indians at Progressive Field.
Victor Martinez followed with a three-run homer to chase Cleveland reliever Josh Tomlin (6-9), while Andrew Romine drove in the final two runs with a single off Bryan Price.
"If we had lost this game, it would have been a big disappointment, but Eugenio did a great job with the two-run single," said Martinez, who has a career-high 29 home runs and is batting .332. "After he put us ahead, I was just trying to be a tough out, honestly.
"It was another great win for us in a season when we've had a lot of them."
The Tigers remained a half-game ahead of Seattle in the race for the second American League Wild Card spot, while Cleveland dropped five games behind Detroit. The Tigers trail first-place Kansas City in the AL Central by one game.
Phil Coke (4-2) earned the victory with 1 2/3 innings of scoreless relief for Detroit, which is 6-6 in extra innings. The Tigers completed their eight-day road trip with a 5-3 record, including a 3-1 mark against the Indians.
"Every win is special at this point of the season, but this one took a little more work, so it feels pretty nice," Detroit third baseman Nick Castellanos said.
Ausmus agreed, saying, "The whole time, I felt like we were going to break through -- I really did -- so it was great to see Suarez come through in the clutch."
Ian Kinsler had three hits and scored twice for the Tigers, while Bryan Holaday drove in a pair of runs as part of a four-run first inning against Indians right-hander Trevor Bauer. Detroit finished with 12 hits, all but three of them coming in the first or 11th.
Tigers right-hander Max Scherzer, who is 15-5, threw a season-high 124 pitches over six innings and left with a 4-3 lead. He allowed four hits, struck out six and was charged with two earned runs.
Scherzer was left with a no-decision, but did extend his unbeaten streak against the Indians to 10 games dating back to July 25, 2012. The two-time AL All-Star is 5-0 with a 3.64 ERA during that time frame, striking out 66 in 66 2/3 innings.
"It was an absolute physical grind for me, but I battled as hard as I could and found a way to get through six," Scherzer said. "The way the game ended made it a great night with Suarez to be able to come up with that hit and Victor's homer."
Suarez, a rookie shortstop, was 3-for-20 on the road trip before his go-ahead hit, which raised his season average to .249. He entered the contest in the 10th as a pinch-runner for Miguel Cabrera.
Martinez, the AL Player of the Month for August, went 1-for-3 with two runs and three walks. He also extended his streak of reaching base to 23 straight games and became the first visiting player to homer six times in a season at Progressive Field since Kansas City's Jermaine Dye in 1999.
"This one obviously hurts," Indians manager Terry Francona said. "It's disappointing because the guys battled back so hard to tie the game. Everybody did such a good job to give us a chance, and then you're playing to try to give up none and you end up giving up seven."
Cleveland tied the game at 4 in the seventh with a run off Al Alburquerque, who gave up a single to Michael Bourn. Blaine Hardy was next to the mound and was greeted with an RBI double by Michael Brantley.
Hardy, Joba Chamberlain, Coke and Jim Johnson held the Indians off the scoreboard for the final 4 1/3 frames, sending Detroit home on a high note.
"Tonight and the J.D. Martinez ninth-inning home run game [a 4-2 victory Tuesday] were two of the better wins we've had all year," Ausmus said.
Tigers right fielder Torii Hunter, who did not start because of a bone bruise on his left foot, struck out as a pinch-hitter in the sixth. Catcher Alex Avila was given a second consecutive game off after taking a foul ball squarely off the mask Tuesday.
Brian Dulik is a contributor to MLB.com. This story was not subject to the approval of Major League Baseball or its clubs.