Sacrifice fly gives Halos the edge on Twins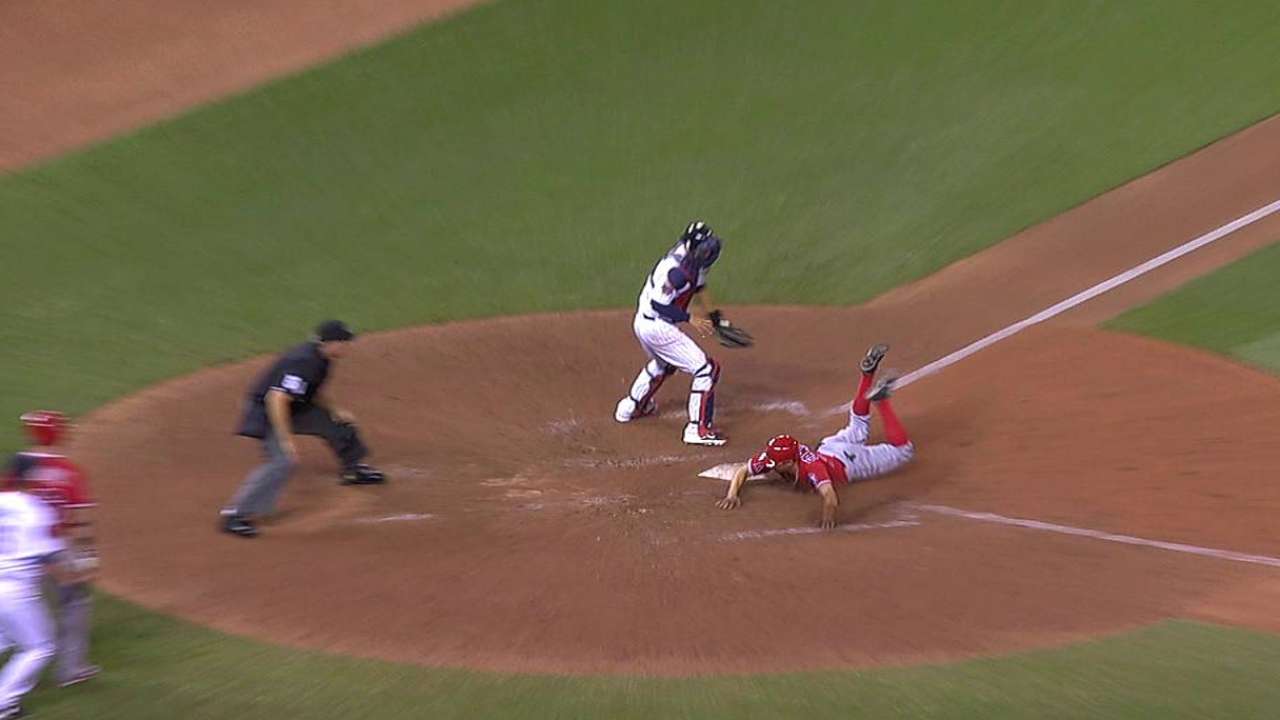 MINNEAPOLIS -- At this time of year, with the stakes this high, it's the little things that matter.
It's manager Mike Scioscia sticking with struggling third baseman David Freese and being rewarded with a leadoff double in the ninth inning of a tied game. It's John McDonald getting down a bunt despite a two-strike count. It's Chris Iannetta keeping it simple and elevating a fastball. It's Tony Campana, a September callup, coming off the bench and beating a laser throw home to score on a sacrifice fly. It's closer Huston Street putting on the first two batters, then having the composure to mow through the middle of the Twins' order to help the Angels capture a 5-4 victory on Thursday at Target Field.
"It doesn't matter what's going on around him; he does the same thing," Iannetta said of Street after a series-opening victory that put the Angels five games up on the idle A's in the American League West. "He stays focused on executing the pitch, and he does a very good job of that."
Freese, the former World Series hero, arrived in Minnesota in an 0-for-20 slump, a rut that put him in danger of losing more playing time to newcomer Gordon Beckham. But with one out in the fourth, Freese laced an RBI double off Twins starter Kyle Gibson to cap a four-run inning. And he lined a ground-rule double into the left-field corner to start the ninth, putting himself in scoring position three innings after Eduardo Nunez's three-run homer off Hector Santiago tied the score at 4.
"Maybe he's not going to be as electric as he was three years ago in St. Louis, but he's a better player than he showed last year with his numbers, and he's a better player up to this point this year," Scioscia said. "Today he just looked like he was really feeling comfortable in the box. He hit three balls right on the button. That's good to see."
McDonald started the inning in the on-deck circle but was only going to be used if a sac-bunt situation presented itself. It did.
His first two attempts went foul, drifting past the third-base line, and so he faced an 0-2 count. He got a fastball next, a little bit up but also plenty outside, giving him room to extend his hands and lay down the perfect bunt to the right side.
"We practice that so much that we take it really personal when we don't get that down," McDonald said. "Your expectations are that you should get it down all the time. You try not to let that creep out of your mind at all, no matter what the count is."
The same thought ran through Iannetta's head when the right-handed-hitting catcher came on next to pinch-hit for the switch-hitting Hank Conger. Iannetta just wanted to elevate a pitch, and he got his chance with the 1-0 fastball that didn't run far enough inside, lifting a liner to left field to move the decisive runner 90 more feet.
"It's either get a hit or hit something they can score on," Iannetta said. "Get the run in at all costs."
But the Twins' Aaron Hicks, who moved from right field to left in the ninth inning, has a good arm, and Iannetta wasn't sure it he'd hit the ball deep enough to score Campana, even though Campana ran the 40-yard dash in 4.25 seconds out of college.
Hicks made a strong throw home, but the throw was a little to the left and way too high, and Campana beat it with a head-first slide.
Said Iannetta: "I'm glad he's as fast as he is."
Campana was the unheralded piece in the trade that brought lefty specialist Joe Thatcher from the D-backs on July 5, but he could have a big impact as a pinch-runner down the stretch, a la Chone Figgins in 2002.
"It was nice to come in and contribute," Campana said. "David did the hard part, hitting a double, Johnny Mac did a good job getting the bunt down and Chris hit a deep-enough fly ball to a guy with a good arm. All I had to do was run fast. It was nice."
It was only nice because Street finished it, locking down his 36th save and putting his ERA at 1.04.
After giving up a leadoff single to Danny Santana, Street had to wait more than four minutes while umpires reviewed -- and ultimately let stand -- a safe call on a close pickoff play. Street then gave up another single, to Brian Dozier, putting two on with none out in a one-run game. But he got Joe Mauer to hit a harmless popup, came back from 3-1 to strike out Kennys Vargas and used back-to-back changeups to get Eduardo Escobar to fly out.
Another win, another day off the calendar.
"Your mind is racing in a positive way," Street said of the ninth-inning jam. "You don't really have time for emotion out there. I don't step on the mound until I know what pitch I want to throw and why I want to throw it. If you execute pitches at this level, the results will take care of themselves."
Alden Gonzalez is a reporter for MLB.com. Read his blog, Gonzo and "The Show", and follow him on Twitter @Alden_Gonzalez. This story was not subject to the approval of Major League Baseball or its clubs.