White Sox getting jump on future in final month
Club using September to evaluate and ensure long-term competitiveness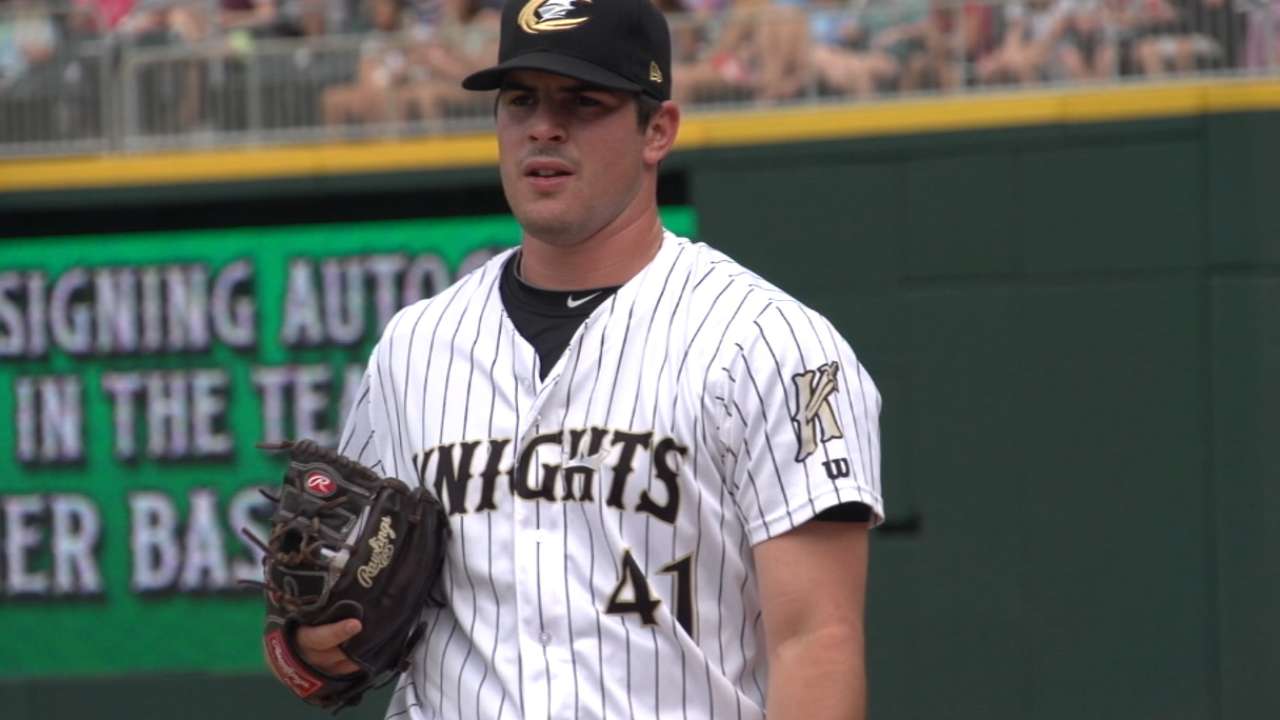 CHICAGO -- The calendar reads Sept. 4, 2014. But in terms of White Sox baseball, this last month of the present season might as well read 2015.
General manager Rick Hahn not only saved somewhere just north of $2 million by moving Gordon Beckham, Alejandro De Aza and Adam Dunn over the last week, but he also traded away players who weren't part of the ongoing reshaping and provided playing time to younger prospects for evaluation. That evaluation plays a part in the White Sox offseason plan, as they try to take a step from improved in 2014 to contender when '15 really arrives.
"You do see things that are there that winning teams have," said White Sox manager Robin Ventura of this season's squad. "That's been the step in the right direction."
"Rick and Robin and anybody in charge of personnel are doing a heck of a job of not only lining up to contend next year but to also contend for years to come," White Sox starting pitcher John Danks said. "This is going to be a fun team to watch for a long time."
Hahn talked a few weeks back about leaving the future-based questions more for the season's end. But since the general manager got a jump-start on 2015, let's follow suit by tackling a few topics related to White Sox development.
What are the White Sox targets?
A left-handed bat, maybe two. Right-handed starting pitcher, catcher and two or three relief pitchers.
Catcher? Don't the White Sox have three?
A healthy Tyler Flowers bounced back strong this season -- if, by his own admission, not consistently with the bat -- and the team lauds his handling of the pitching staff. But the White Sox probably will look for a left-handed bat to go with Flowers, with Adrian Nieto possibly returning to Triple-A Charlotte for greater everyday experience in 2015. Josh Phegley seems Major League-ready, but the question is: With the White Sox or maybe somewhere else as part of a trade?
Free agency or trades for next step in contention?
How about both? The White Sox will have somewhere around $47 million in 2015 contractual commitments before arbitration, and they had a payroll in the $90 million range this season. The assumption is that the team will have $40-some million to work with toward '15 development.
As Hahn mentioned, the exact budget for next season won't be known until sometime in November after the numbers are crunched. But the White Sox model usually hasn't been to throw heavy-money multiyear contracts at three or four free agents.
Take this past offseason, as an example. The White Sox made the franchise-changing pickup of Jose Abreu for six years, $68 million via free agency and then added important pieces, such as Adam Eaton, through trades. Teams don't trade quality relievers very often, simply because they are so hard to find and so crucial for success. So the White Sox might have to go the free-agent route in that area. There's little doubt they will be active.
Could Victor Martinez become the major free-agent addition?
The White Sox had interest in the switch-hitting Martinez four years ago before agreeing to a $56 million deal with Dunn. Martinez provides one of those prime left-handed bats needed by the White Sox, and he would be a great clubhouse influence and could even play first base from time to time. He also turns 36 around Christmas, and despite having a Most Valuable Player-caliber season in 2014, the question arises as to whether the White Sox would go three or four years if the potentially robust market dictates. It's still probably a little bit early to speculate on the Martinez or Melky Cabreras of the free-agent world.
Will there be help coming from within?
Absolutely. Middle infield, which once was a barren talent area in the White Sox system, now is loaded with bona fide prospects. Micah Johnson, whose 2014 season was shut down due to hamstring issues, looks to be the favorite at second base -- and by the way, he also hits from the left side. Carlos Sanchez looks infinitely more comfortable at second base than his one game at shortstop before the All-Star break, and Marcus Semien has the ability to play all over the infield.
Jake Petricka, Daniel Webb and even Zach Putnam, who is not from the White Sox system but seemingly found a home in Chicago, already are in place in the bullpen. And, of course, Carlos Rodon -- the team's top pick in the 2014 First-Year Player Draft, third pick overall and No. 1 team prospect as ranked by MLB.com -- is moving at lightning speed through the system. Keep an eye on Tyler Danish, who probably won't be ready in '15, but could be shortly thereafter.
What about Rodon? Will he arrive in '15?
People should remember that while Rodon has 24 2/3 innings of professional experience, he does come in with three years of collegiate experience at a big-time program. He also has the competitive drive and the devastating slider among his repertoire to make that quick jump. Breaking camp as part of the rotation is a good possibility.
Could current veteran staples be moved?
Shortstop Alexei Ramirez and left-handed starter Jose Quintana would bring back the most value, but they also have pretty high value for the White Sox. Danks is mentioned frequently because of the possibility of having four southpaws in the starting rotation, but with two years, $28.5 million left on his five-year deal, a move seems unlikely without the White Sox adding in significant money.
So who will get a look in September?
Andy Wilkins is an intriguing prospect, after hitting 30 homers and 38 doubles as part of his breakout season for Triple-A Charlotte. He'll take many of Dunn's left-handed at-bats at designated hitter and first base. Also keep an eye on Michael Taylor in left, who has enjoyed a career rejuvenation with the White Sox. Sanchez and Semien are in the mix.
Scott Merkin is a reporter for MLB.com. Read his blog, Merk's Works, and follow him on Twitter @scottmerkin. This story was not subject to the approval of Major League Baseball or its clubs.