Brewers lament missed chances in ninth straight loss
Weeks homers, Parra has three hits; club four games back of Cards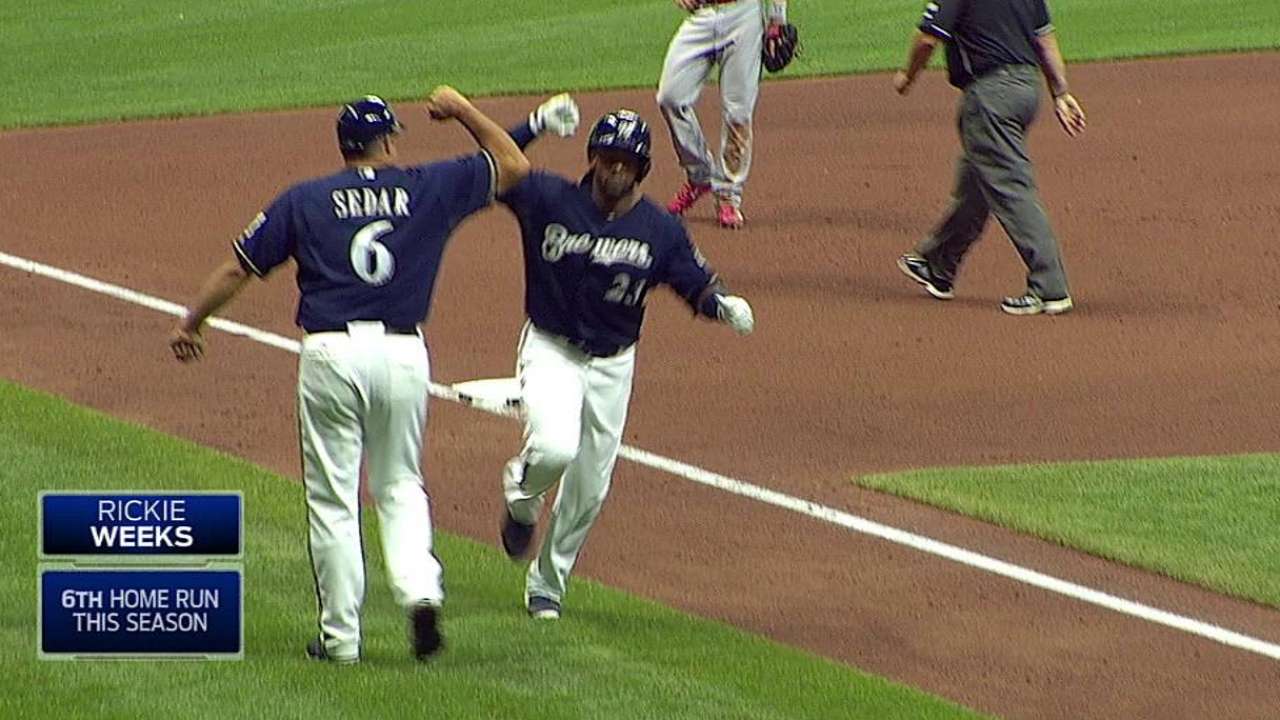 MILWAUKEE -- In the hours before his team's longest losing streak of the season reached nine games in a 3-2 loss to the Cardinals, Brewers manager Ron Roenicke issued a call to action from the bench at Miller Park.
"Somebody needs to step up," he said.
Many tried to answer the manager's call on Thursday night, but it seemed that every time a batter put solid wood on a baseball in a meaningful situation, a Cardinals defender was there to issue a denial. So the Brewers' losing ways on the road bled into their penultimate homestand, and Roenicke and others were forced to put a sunny spin on a disheartening start to a critical four-game series.
"We felt like we were in this game," said outfielder Logan Schafer, who came closest to giving the Brewers a lead. "We felt like we could have had it, could have pulled it out at any time."
That sentiment was understandable, since the Brewers put the go-ahead runner on base in each of the final four innings, stranding nine men in those innings alone. In all, the Brewers left 11 runners aboard and went 0-for-9 with runners in scoring position to seal their longest losing streak since 2010.
The more painful numbers were these: Milwaukee led the National League Central by a game and a half when the streak began, but with Thursday's loss fell to four games behind the first-place Cardinals, who have won six in a row. At 73-67, a Brewers team that led its division for 150 consecutive days entering this week has dropped all the way into a tie with the Braves for the NL's second Wild Card.
But compared to the first eight games of the skid, Roenicke cited progress.
"I liked what I saw today. I thought we played a good ballgame," he said. "We hit a lot of balls hard, and either they made a really good play on it or we hit it right at them. I thought we had a lot of good at-bats."
The Brewers never led after starter Wily Peralta surrendered two runs before recording two outs, continuing a recent trend. Milwaukee led at the end of only one of its last 65 innings -- after Ryan Braun's run-scoring double play scored a 1-0 lead after one inning on Sunday in San Francisco. The Brewers lost that game, 15-5.
Against Cardinals starter Michael Wacha and six St. Louis relievers, opportunities abounded. Jonathan Lucroy doubled home a run in the first inning and started another would-be rally in the sixth by hustling for an infield hit. Rickie Weeks had come off the bench two batters earlier to hit a solo home run, the second pinch-hit homer of his career and first since 2008.
The really big hit, though, remained elusive. Schafer flied out to foul ground in left field with the bases loaded to end the sixth inning. Lucroy popped out to foul ground to end the seventh. Schafer and Jean Segura flew out with two men aboard in the eighth. Rookie Jason Rogers flew out to end the game with two more runners on base.
Brewers left fielder Khris Davis also tried to be the guy, but he was twice robbed of run-scoring hits by Cardinals right fielder Jon Jay. In the first inning, Jay charged a sinking line drive and made a diving catch. In the sixth, Jay sprinted back toward the corner to track down a deep fly ball.
"We had all kinds of messes out there," Cardinals manager Mike Matheny said. "We had guys picking each other up all night."
The most dramatic pick-up belonged to Cardinals center fielder Peter Bourjos, who denied Schafer in the eighth inning. With one out after Martin Maldonado popped up a bunt, Schafer drove a Pat Neshek pitch to deep center field, where Bourjos made an athletic catch before banging into the wall.
Off the bat, Matheny thought Schafer had delivered a go-ahead home run. Schafer was sure the ball would at least get over Bourjos' head.
"I thought it was going to beat him, yeah," Schafer said. "That was a pretty well hit line drive, so I thought it might get over his head. Obviously, he's one of the best center fielders in the game, and being one myself, I've taken many of those away."
Brewers right fielder Gerardo Parra preserved the one-run deficit when he threw out Jay at home to complete an inning-ending double play in the top of the ninth inning, and the Brewers threatened again in their half of the inning when Weeks and Lucroy walked against Cardinals closer Trevor Rosenthal.
Because of earlier moves, and because fatherhood kept Braun away for the second straight game, the Brewers' last out came down to a choice of Tuesday callups: Hector Gomez or Rogers, who entered the day with three big league at-bats between them.
After consulting with coach Mike Guerrero, who knows both players well, Roenicke chose Rogers, who flied out to end the game.
Asked whether he worried the Brewers' early-season work was slipping away, Peralta said, "Not really. We've got a bunch of games left."
Adam McCalvy is a reporter for MLB.com. Read his blog, Brew Beat, and follow him on Twitter at @AdamMcCalvy. This story was not subject to the approval of Major League Baseball or its clubs.