Split decision: Koji can't close door in Bronx
Struggling closer may get extended break or not pitch again this year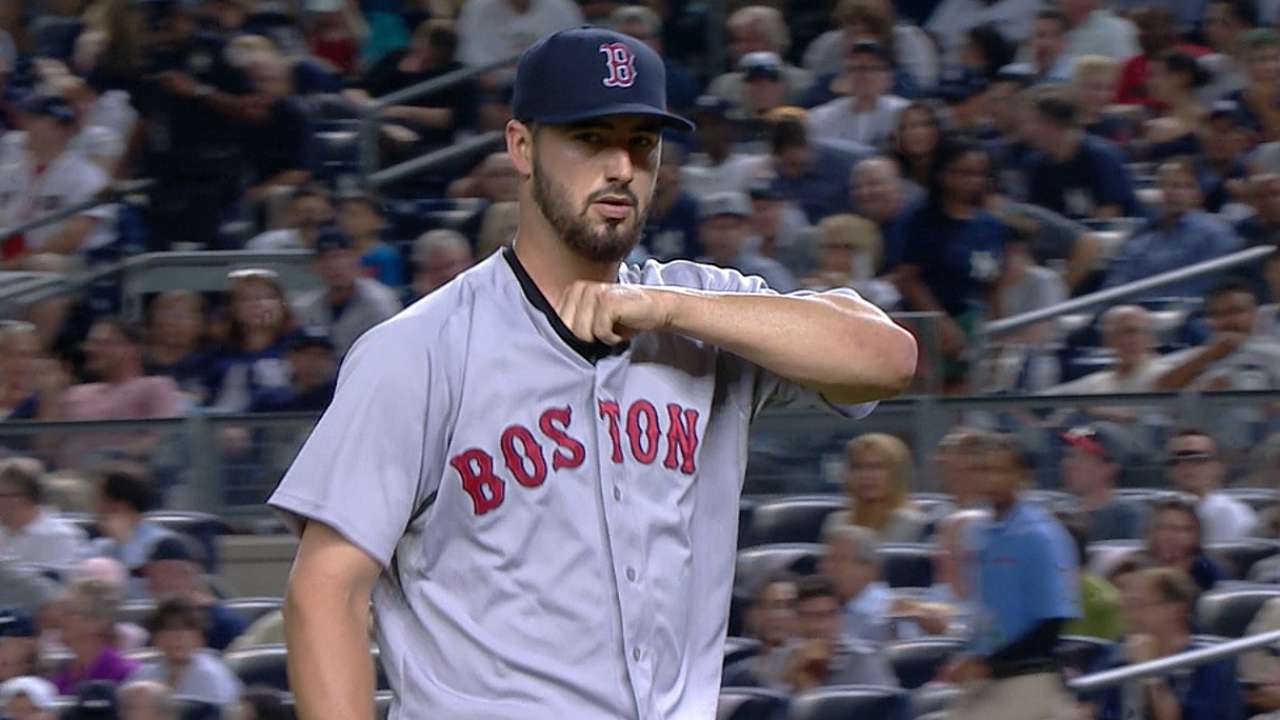 NEW YORK -- Everything came crashing down on slumping Red Sox closer Koji Uehara in the bottom of the ninth inning at Yankee Stadium on Thursday night, and it's fair to wonder how much -- or even if -- he will pitch again this season.
Uehara served up a game-tying solo homer to Mark Teixeira and then a walk-off blast to Chase Headley as Boston endured a 5-4 loss.
The blown save by Uehara, who has given up runs in five of his last six outings, prevented Brandon Workman from his first win since June 10.
"It'll be a situation where I'll talk with Koji first, what our plan will be, whether that's extended rest, whether that's the potential of shutting him down," said manager John Farrell. "We just walked off the field, and out of respect to Koji, respect for what he's done for us after two outstanding years, we're not in position to announce that right now."
The Red Sox had kept Uehara out of game action from Aug. 26 to Monday, but the rest has not had the desired effect.
In his return to action on Tuesday night, Uehara gave up two hits, including a homer, in a non-save situation.
As for what transpired on Thursday, Uehara was not in a talkative mood. He spoke very briefly to the Japanese media, taking accountability for his performance, but otherwise declined comment.
Considering how much Uehara pitched in 2013, en route to a World Series championship season, it's not completely surprising that he's faltered down the stretch.
The closer will turn 40 next April and is eligible for free agency following this season.
What are the Red Sox seeing during his slump of late?
"From viewing it and even talking to Koji, it's the finish, whether it's the intensity behind the delivery of the pitch," said Farrell. "On occasion he showed it. The first one had good depth to it on the swing and miss, but the consistency to it, which he's been so good with, that's lacking."
Uehara's out pitch -- his splitter -- has appeared flat over the last couple of weeks. Both of the home run pitches were the splitter.
"That's his best pitch," said Teixeira. "Pitchers tend to go to their best pitch. You'll hear guys say, 'I don't want to get beat on my second-best pitch.' If we hit two home runs on fastballs, he's going to go back to the dugout saying. 'What was I doing?' We hit his best pitch twice, so I'm sure he's saying, 'Give those guys a little bit of credit, as well.'"
David Ortiz gave the Red Sox a promising start, hitting a solo homer to right in the first and a towering, two-run shot to right-center in the third.
"I guess I got some pitches to hit my first couple of at-bats," said Ortiz. "See, the one thing you guys need to focus is see the way they pitch to the hitter. I'm the kind of guy, I don't get a cookie every time I go to hit. I've got to battle through it and try not to miss any pitch I get to hit, otherwise things are going to cool off because they're pitching very tough to me."
Workman gave the Red Sox a solid performance, giving up five hits and three runs over six innings. The righty walked two and struck out five.
By taking a no-decision, Workman at least snapped a streak of eight straight appearances in which he got a loss.
"I felt like the ball was coming out of my hand well today," said Workman. "It may not have been the biggest numbers I've ever put up. More important than the velocity, though, is I was keeping the ball down for the most part today. That's a big part of it."
After Ortiz had staked Workman to a 3-0 lead with his second long ball, the righty had his one tough inning.
Ichiro Suzuki started the rally in the bottom of the third with a one-out single and Jacoby Ellsbury followed with a walk. Up stepped Derek Jeter, and his two-run double to center made it a one-run game. Carlos Beltran tied it with an RBI single.
In the fifth, Brock Holt put Boston back in front when he lofted a solo homer just over the outstretched glove of Ichiro in right. It was Holt's first home run since July 13, and his first against a lefty in his career.
"I hit it about as soft as you could hit it to get it out of here," said Holt. "I'm surprised Ichiro didn't catch that one."
Holt, playing second base, did it with the glove in the bottom of the inning, roaring back into shallow center to make a sensational catch in between teammates Mookie Betts and Xander Bogaerts.
"I think whenever your back is turned to home plate and you're running full speed, that's one of the tougher plays to make," Holt said. "You don't want to have any collisions out there. I turn and ran and saw Mookie and [Bogaerts] coming in and I knew they probably weren't going to get to it and I probably had the best shot, so I just went after it."
The homer by Holt stood up until the ninth, when Uehara couldn't hang on.
"Obviously we all know what he's capable of doing," said Holt. "Nobody's lost hope in him or lost faith in him. He's one of the best closers in the game."
Ian Browne is a reporter for MLB.com. Read his blog, Brownie Points, and follow him on Twitter @IanMBrowne. This story was not subject to the approval of Major League Baseball or its clubs.