Recent MVP Award winners strive to remain on elite level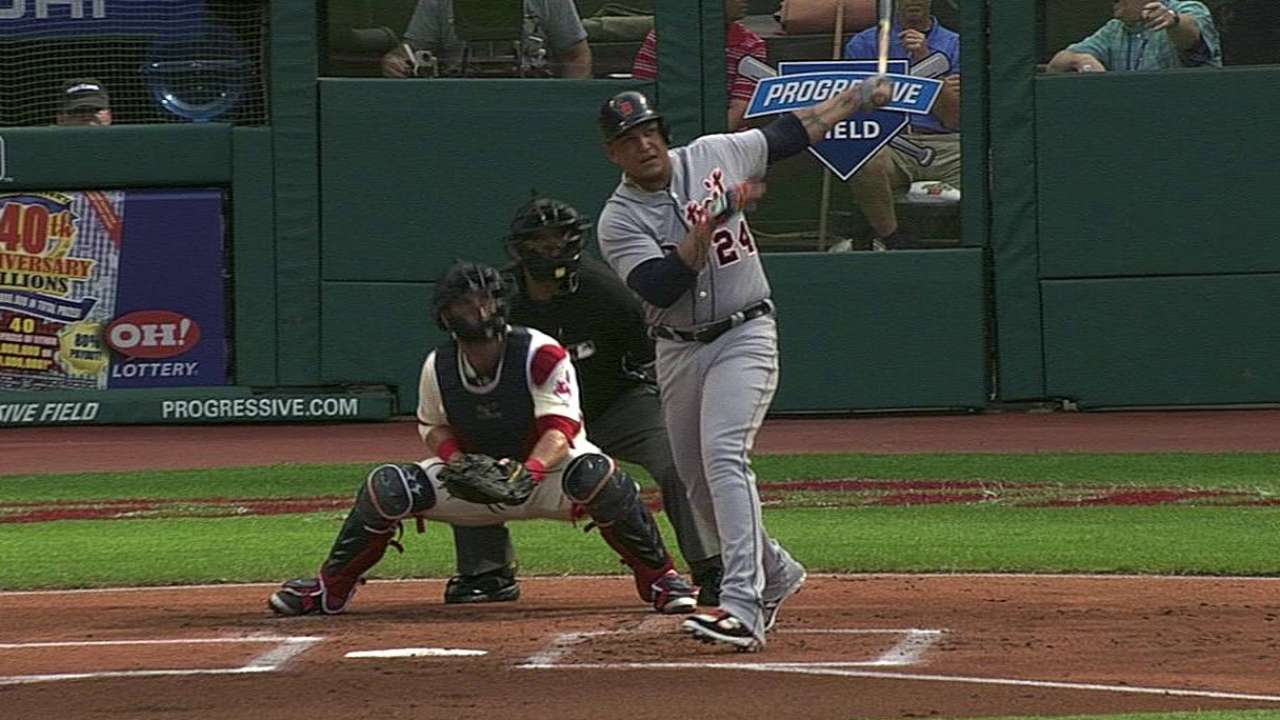 The fact that it was almost two decades between repeat winners of the American League Most Valuable Player Award before the Tigers' Miguel Cabrera pulled off the feat in 2012-13 just goes to show how difficult it is to remain atop the list of elite players in the Major Leagues -- or even on that list.
Since Albert Pujols did a National League MVP double in 2008-09, there have been nine of a possible 10 winners of the game's most prestigious award, and the list of those players who enjoyed for even one year the distinction of being his league's best player shows a wide range of success after receving their greatest honor.
Here's a look at the MVP Award winners of the past five years and how they're faring this year, starting with Cabrera's quest for the first three-peat in AL history:
Miguel Cabrera, AL 2012-13
After much debate, Cabrera became the first AL player to go back-to-back since newly minted Hall of Famer Frank Thomas in 1993-94. That he could go do that with such stout competition as the Angels' Mike Trout both years shows just how difficult an MVP repeat is.
This year, Cabrera's homers are down and he has gone for a .305 average, a .368 on-base percentage and a .502 slugging percentage after an amazing .348/.442/.636 slash line last year. So far, there's a lot less debate, and as September dawns, a first MVP for Trout seems more likely than a three-peat for Cabrera.
Andrew McCutchen, NL 2013
The heart and soul of the Pirates is having another MVP-caliber season -- but will it be enough to repeat with the Marlins' Giancarlo Stanton blowing up and the Dodgers' Clayton Kershaw making a case as a starting pitcher? Much like last year, McCutchen's candidacy will go in large part how the Pirates go, and vice versa.
Buster Posey, NL 2012
For a good chunk of the season, the Giants' versatile leader on both sides of the ball was posting relatively pedestrian numbers, based on the high standard he set in his first four years. But then something clicked, really loudly -- he has gone 13-for-22 (.591) in his past five games and 28-for-57 (.491) over his past 13, with 16 runs, six homers and 20 RBIs. That's the kind of on-my-shoulders performance MVPs are made of, but Posey has some catching up to do to really spark the conversation.
Justin Verlander, AL 2011
This year, Kershaw is creating the same kind of buzz Verlander did in his AL Cy Young-MVP double. Verlander, however, is enduring a really rough ride through 2014, leading the AL not in wins, strikeouts or innings pitched, but in earned runs.
Ryan Braun, NL 2011
Some of the jeers have subsided since Braun entered the season under the microscope following his suspension of 65 games as part of the Biogenesis scandal. Braun's numbers certainly aren't what they used to be, and while he was part of the Brewers' first-half surge, he has batted .233 in the second half as Milwaukee has struggled.
Josh Hamilton, AL 2010
Hamilton had another MVP-caliber season in 2012 with the Rangers, but he has yet to find the magic since moving to the Angels, still looking to find a groove in this, his second year in Southern California.
Joey Votto, NL 2010
After surging back toward his MVP form last year with 24 homers and an NL-leading on-base percentage, Votto has had trouble staying on the field because of leg injuries, playing in just 62 games while heading toward career lows in homers and RBIs -- and possibly even OBP, his forte.
Joe Mauer, AL 2009
This would be your poster player for how difficult it is to stay at the tip-top of your profession. Health issues, including concussions that led to his conversion from catcher to first base, have dogged Mauer since his MVP season, and despite a surge this summer, he's still a shadow of his former offensive self.
Albert Pujols, NL 2009
Until Cabrera, Pujols was the last great master of the MVP, a three-time winner who might have won more if not for seven-time winner Barry Bonds busting up his early years. Pujols with the Angels might not be quite the same as Pujols with the Cardinals, but he still has a possible 12th season out of 14 with 30 homers and 100 RBIs in his grasp. That might not get him on the MVP list, but he's certainly doing something right to help the Halos lead the Majors in wins.
In all, there are 16 active players who have earned the hardware -- dating back to Jason Giambi (2000) and Ichiro Suzuki ('01) and including the currently suspended Alex Rodriguez ('03, '05, '07). There's Justin Morneau ('06) with a resurgence in Colorado, and Dustin Pedroia ('08) riding the peaks and valleys with the Red Sox. There's Jimmy Rollins ('07) and Ryan Howard ('06) of the Phillies, Rollins reaching franchise milestones and Howard rekindling some of the fire from earlier in his career.
Lesson learned from this most recent batch of players who gained the game's most prized individual award: It's not easy to be an MVP, but it's harder to remain one.
John Schlegel is a national reporter for MLB.com. You can follow him on Twitter at @JohnSchlegelMLB. This story was not subject to the approval of Major League Baseball or its clubs.