Rasmus' blast in 10th secures sweep of Rays
Veteran lefty Buehrle fires eight scoreless innings in no-decision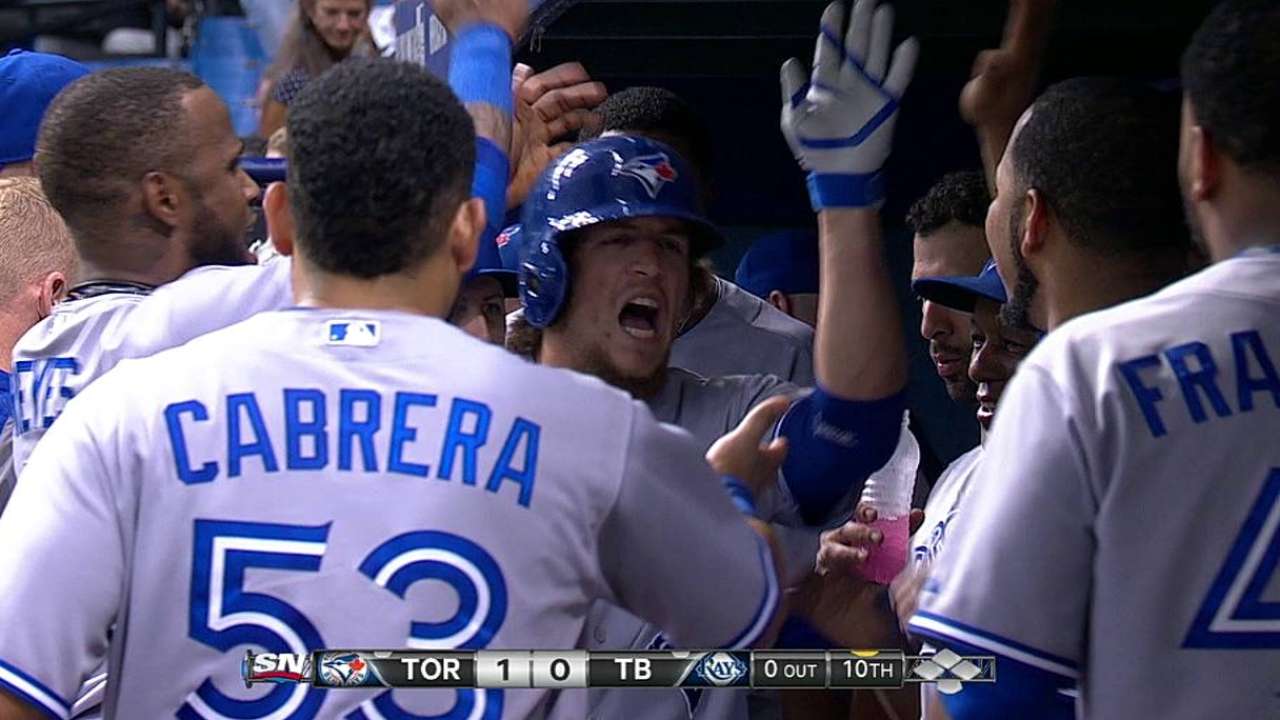 ST. PETERSBURG -- Colby Rasmus may have lost his starting job in center field, and he's all but guaranteed of going elsewhere at the end of the season, but that doesn't mean he's done contributing.
Rasmus made a rare appearance off the bench on Thursday night and came through with a pinch-hit homer in the 10th inning to give the Blue Jays a hard-fought 1-0 victory over the Rays at Tropicana Field.
The home run had to feel extra special considering the turmoil Rasmus had to deal with earlier this week when the club announced Kevin Pillar and Anthony Gose would receive the bulk of the playing time in center. But if that's the case, Rasmus certainly wasn't letting on after the win.
"I wasn't going up there with the intent to show anything that I haven't shown before," Rasmus said. "I just wanted to go up there and put a good at-bat on [reliever Steve Geltz] and try to help my team."
Toronto has won five games in a row and will look to keep the streak going on Friday night in Boston. The win kept the Blue Jays 4 1/2 games back in the American League Wild Card race after Detroit's win over Cleveland in extra innings on Thursday night.
Left-hander Brett Cecil helped provide the turning point when he entered in the ninth inning of a scoreless ballgame. Cecil allowed a pair of singles to lead off the inning, but the 28-year-old reliever struck out Brandon Guyer, intentionally walked Evan Longoria, and then struck out Logan Forsythe and Sean Rodriguez to end the threat.
Rasmus hasn't started a game since the roster expanded to 35 players on Sept. 1. He was informed earlier this week that the club wanted to take a closer look at a platoon of Pillar and Gose, which meant Rasmus' opportunities were going to be few and far between the rest of the year.
To his credit, Rasmus handled the news like a professional and was very measured when talking with the media. He didn't lash out at the organization, instead saying that he would be ready whenever the club needed him.
That first opportunity came in the 10th inning on Thursday night. The at-bat originally belonged to Adam Lind, but he was lifted for pinch-hitter John Mayberry Jr., who then gave way to Rasmus when the Rays made another move to the bullpen.
With right-hander Geltz on the mound for Tampa Bay, Rasmus worked the count full and then lifted a 3-2 fastball over the wall in right field. Rasmus' 17th home run of the season was his first since Aug. 20 and allowed the Blue Jays to sweep a road series of at least three games vs. Tampa Bay for the first time in franchise history.
"Felt pretty good," Rasmus said with a sly smile on his face. "Just glad I was able to get an opportunity and he threw a pitch I could handle ... I didn't think they were going to make [that pitching change], but they did, and thankfully it worked out for us."
Almost lost in the commotion of the late-inning heroics was a very strong outing by left-hander Mark Buehrle, who had his best start of the second half. Buehrle cruised through eight innings and it took him a little over two hours to do it. The veteran starter allowed five hits and walked one while striking out five in his longest start since June 29.
The only sign of trouble for Buehrle came in the second inning. He allowed a pair of runners to reach base, but he got catcher Ryan Hanigan to pop out to end the threat. It was the only time the Rays were able to put a runner in scoring position against Buehrle and represented two of the three runners they left on base against the starter.
"Physically, the way I felt and the way the ball was moving, I'll try to bottle it up and feel like that every start," Buehrle said. "We need to win games and fortunately we pulled this one out."
Despite the strong outing, Buehrle was forced to take the no-decision. Toronto's offense, which combined to hit eight home runs in its previous three games, wasn't able to get anything going against right-hander Jake Odorizzi.
Anthony Gose, Ryan Goins Danny Valencia were the only players to get a hit during Odorizzi's 7 1/3 scoreless innings. Toronto stranded four runners and went 0-for-2 with runners in scoring position. The Blue Jays were in serious danger of being shut out for the first time since Aug. 22 until Rasmus' blast.
"He hits some homers," Blue Jays manager John Gibbons said. "He smoked that thing. I mean, that's the difference in the game right there, so good for him."
Gregor Chisholm is a reporter for MLB.com. Read his blog, North of the Border, and follow him on Twitter @gregorMLB. This story was not subject to the approval of Major League Baseball or its clubs.