MLB.com Columnist
Marty Noble
Jeter's final season doesn't define him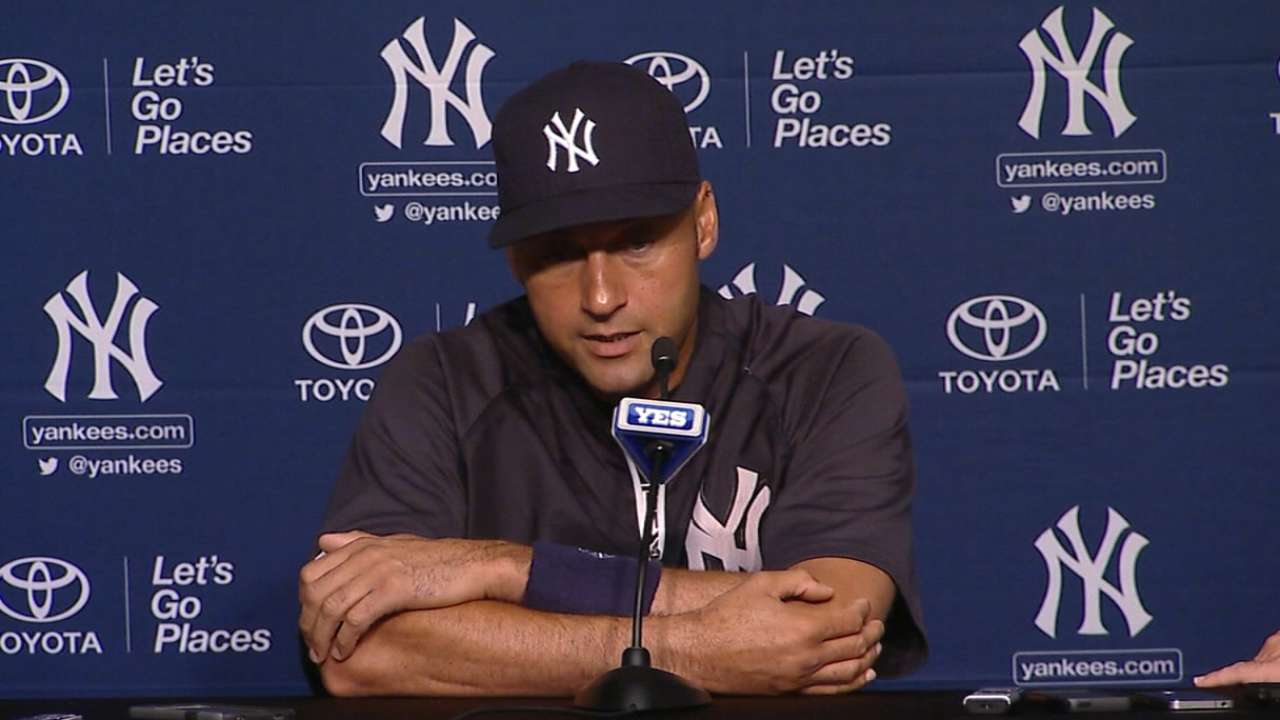 NEW YORK -- The overacted scene had William Bendix, portraying the Babe, losing his balance on a mighty swing and miss and then tumbling to the dirt in the batter's box. "The Babe Ruth Story" used that contrived moment to convince its audience that the Bambino had reached the "washed up" stage.
The movie had Yankees teammates looking away, embarrassed for their erstwhile slugger. Some fans empathized with the fallen hero, others ridiculed him. And the expression that came over the face of Bendix, who years later played perpetually flummoxed Chester A. Riley, was one that said, "What a revoltin' development this is!"
The scene worked on me the first time I watched the movie -- and probably the next 10 times as well. I felt bad for the Babe. We're seldom comfortable with what happens to icons on their way down. I squirmed watching Warren Spahn after he'd become pitching bankrupt, wished I'd never witnessed Willie Mays stumbling in the outfield during the 1973 World Series and couldn't appreciate Sinatra when too many notes were beyond his range.
"Getting old ain't for sissies," Stan the Man used to say. He'd borrowed the line from Bette Davis.
* * * * *
This draws no specific parallels between Bendix's cinematic pratfall and what happened to Derek Jeter on Wednesday night at Yankee Stadium. But empathy for the Captain developed nonetheless when he was involved in an embarrassing play and after folks at the Stadium provided a barely audible semblance of a Bronx cheer.
Through little fault of his own, Jeter was the first victim in a run-of-the-mill 2-6-3-4-5-3 double play the Red Sox pulled off when he and Brett Gardner, runners on second and first, attempted a double steal in the first inning. Coming off the Yankees' uninspired performance Tuesday night, the play suggested that another evening spent retracing the Mets' steps of Marv Throneberry was in the offing.
The Captain had reached third safely, but he moved toward the plate when the Sox began to pursue Gardner. Jeter never broke for home, but he did venture far enough from the base that he couldn't get back after the Sox had forced Gardner to retreat. Jeter was tagged out at third and then Gardner at second for the second and third outs.
All right, so it wasn't a comparably Ruthian moment. But when "first and second and one out" morphs into "side retired" on five throws in a Red Sox-Yankees series, the Yanks' faces assume the same hue as their opponents' hosiery. What the standings and magic number arithmetic tell us matters not; embarrassing is embarrassing. The camera caught Jeter smirking in the play's aftermath. He wasn't around after Yankees 5, Red Sox 1 ended. So the smirks stand for now as his reaction.
At best, the double-steal attempt was unbecoming for a team that considers itself still in contention. At worst, it was one more blatant indication of why the Stadium grounds crew can begin the conversion -- from diamond to gridiron -- on Sept. 26. For these Yankees, October baseball is further away than next August.
And no, it's not Jeter's fault. It's never one player's fault. Even on that doubly embarrassing attempted play in the first inning, the fault was not Jeter's.
"Gardy didn't get a good jump," Joe Girardi said. "He had to stop. Derek had third. Gardy had to stop."
Jeter is nearing the end of an unremarkable season. His range is diminished and his current batting average wouldn't get him many checks on a Hall of Fame ballot. Jeter hit like Mario Mendoza in August. But to compare the 2014 version of him with his glittering legacy is unfair. How much can a 40-year-old shortstop be blamed for his team's shortfall? Jeter doesn't create the batting order.
Press-room kibitzing Wednesday night produced the notion that Jeter should have excused himself from the top of the order for the good of the team. It's a notion that assumes the same confidence and ego that have created an extraordinary career no longer thrive within No. 2. Silly notion. Writing a batting order is not in his job description.
Being caught off third base in the first inning of the 137th game of Jeter's 20th season hardly is grounds for his impeachment as Captain or being made ineligible for Monument Park. I was embarrassed for him, nonetheless. The scenario prompted thoughts of William Bendix and the movie Ted Williams called the "worst movie I ever saw." (The "Thumper" held the Babe in the highest regard.) I thought of Spahn, '73 Willie and "Old Blue Eyes", too.
Jeter undoubtedly felt no more comfortable in his involvement in the first-inning misstep than he was during the Yanks' opening game when he was cheered loudly following his double-play ground ball. Even in this game, the game based on failure, he is unaccustomed to conspicuous lack of success.
Slip-sliding away is no fun. Perhaps Jeter would have returned to third safely if his legs were four years younger. Only he knows. That Jeter has identified this season as his last -- this month as his final -- suggests some body part(s) -- brain, heart, legs -- no longer are up to the daily grind and challenge. Most players reach that conclusion; some have it reached for them. The Babe, not William Bendix, did. He said: "All ballplayers should quit when it starts to feel as if all the baselines run uphill."
Marty Noble is a columnist for MLB.com. This story was not subject to the approval of Major League Baseball or its clubs.