Collmenter cruises to ease concerns of fatigue
He fires seven innings, improving to 3-0 against Padres this year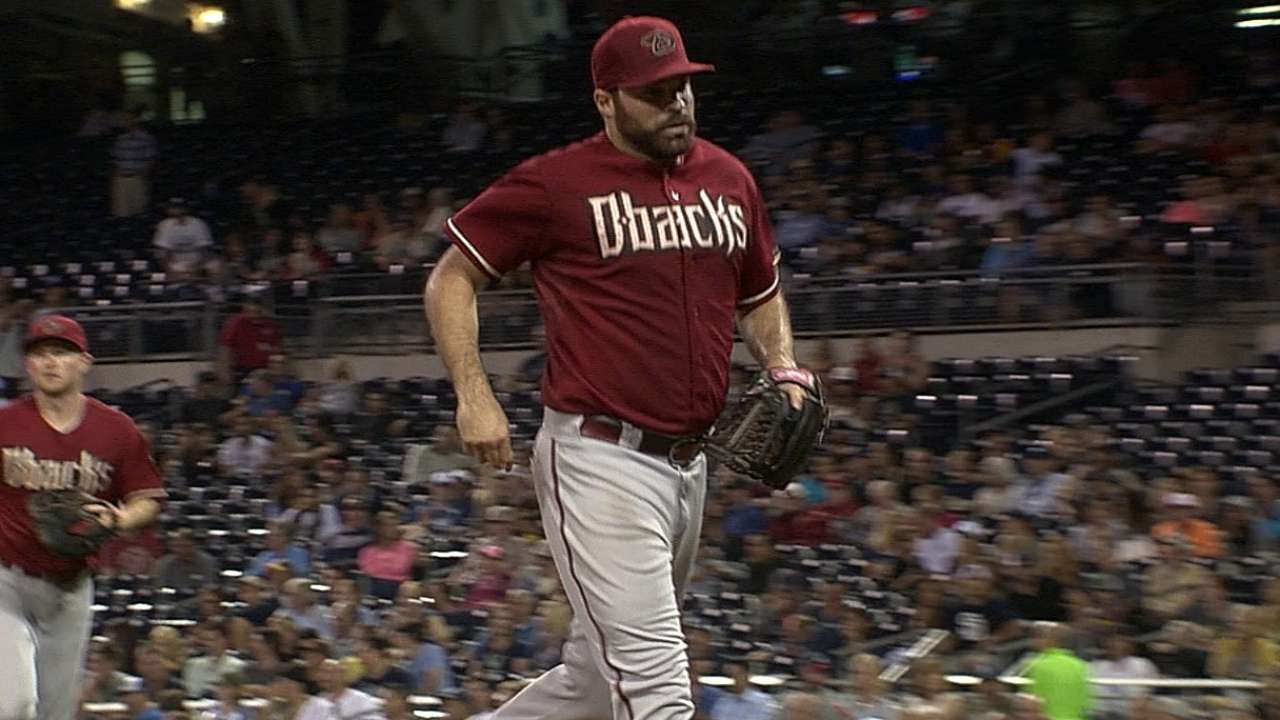 SAN DIEGO -- Suddenly, all the talk about Josh Collmenter being tired seems a little silly.
The right-hander allowed just one run over seven innings as the D-backs beat the Padres, 6-1, on Wednesday night at Petco Park.
With the win, the D-backs have a chance to split the four-game series, which concludes Thursday night.
Just over two weeks ago, Collmenter's velocity was down and he allowed five runs in lasting just four innings against the Marlins. That, combined with the fact that he had exceeded his innings total from a year ago, prompted questions about whether his workload needed to be reduced.
Collmenter insisted that he was just going through what pitchers call a dead-arm period.
Seems like he was right about that as he has allowed just two runs in his three starts since, a span of 21 1/3 innings including Wednesday.
"I've been able to locate, move the ball in and out and mix pitches up," Collmenter said. "That's my game plan. Just trying to force contact. I don't want to be a guy that walks guys and gets behind in the count. Today I was a little more erratic than the last couple, but I was still able to make some pitches when I needed to and guys made some good plays for me."
Since the start against the Marlins, Collmenter has cut down the amount of throwing he does between starts and the result seems to be a fresher arm.
"Saving some bullets as they say," Collmenter said. "I think now with getting extra days in between starts it will be easier to do that. Hopefully I'll be able to finish the year strong. I'm happy about that, just to be able to finish in the rotation as opposed to they shut you down or anything like that."
Facing the Padres seems to agree with Collmenter. In three starts against San Diego this year, Collmenter is 3-0 with a 0.87 ERA.
"It's a weird delivery," Padres catcher Rene Rivera said of Collmenter's over-the-top delivery. "He's right on top and his fastball is anywhere from 85 to 88 [mph] and his changeup is good."
The D-backs broke open a 1-1 tie with three runs in a bizarre fifth inning in which they hit just two balls out of the infield.
One of the runs came when second baseman Cory Spangenberg's throw to the plate on a grounder was just a hair late to get Alfredo Marte.
That play stood after a replay challenge, and the next batter hit another grounder to the infield and this time the throw to the plate would have been in time to nail Didi Gregorius trying to advance from third. Gregorius, however, stopped three-quarters of the way down the line and got into a rundown and scored when the Padres threw the ball away.
"We needed some breaks, so it's about time," D-backs manager Kirk Gibson said. "We've been struggling to score some runs."
David Peralta capped the inning with an RBI single to center as the D-backs went up 4-1.
After the D-backs added an insurance run in the eighth, they turned to Daniel Hudson for the bottom of the inning. It was Hudson's first appearance in a Major League game since June 26, 2012. Hudson suffered a torn ulnar collateral ligament in that game and it took two-plus years and a pair of Tommy John surgeries until he was able to pitch again.
Steve Gilbert is a reporter for MLB.com. Read his blog, Inside the D-backs, and follow him on Twitter @SteveGilbertMLB. This story was not subject to the approval of Major League Baseball or its clubs.