d'Arnaud delivers after deGrom handles Fish
Catcher has go-ahead hit in eighth; rookie allows one run in six frames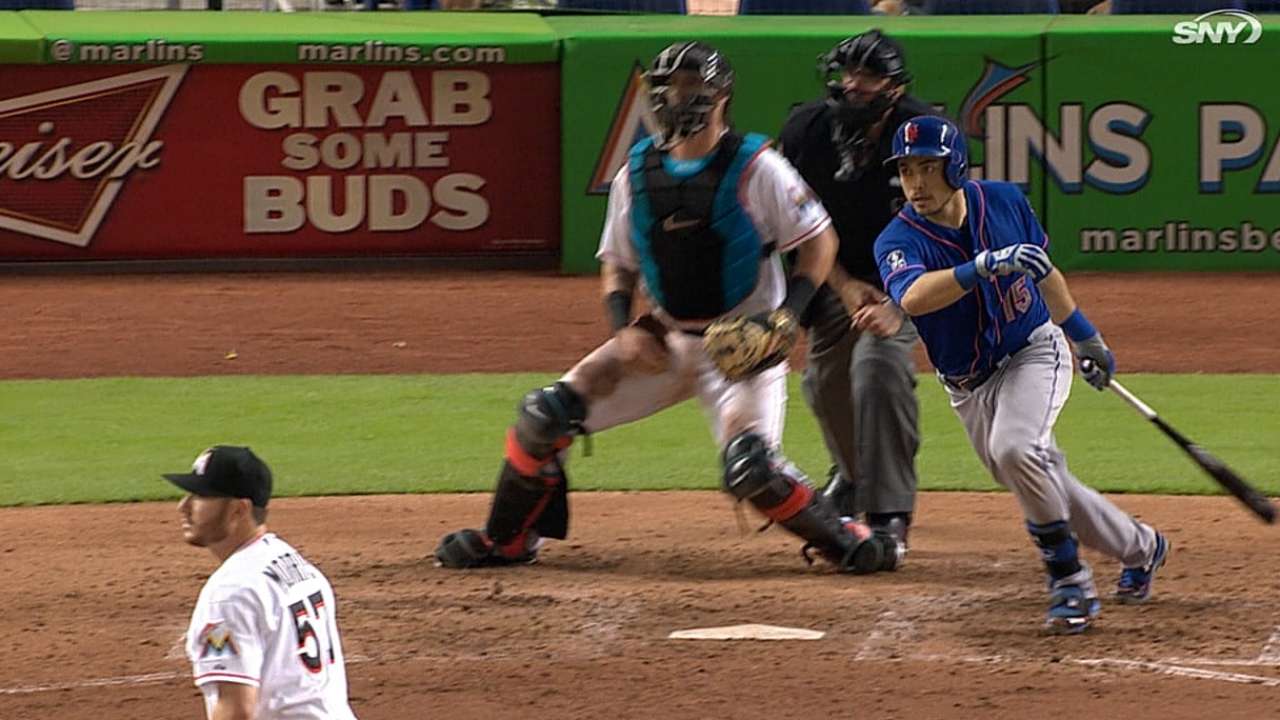 MIAMI -- Every five days, the sample size is growing. Jacob deGrom's National League Rookie of the Year Award candidacy is becoming real now. And the Mets are all too happy to take advantage.
DeGrom's six innings of one-run ball Wednesday night led the Mets to a 4-3 win over the Marlins, which his batterymate, Travis d'Arnaud, helped deliver with a go-ahead RBI double in the eighth.
"It would be tremendous for us," manager Terry Collins said of deGrom's potential postseason hardware. "It would be a tremendous honor for the whole organization -- the guys that helped this kid along the way, the fact that he's really come up with no buildup. We got here and he was going to go to the bullpen. That's why we brought him up. It just so happened that we had an injury, and now we can't get him out of the rotation. He looks like he's going to be in there for a long time."
From the start, deGrom showcased everything that made him a legitimate NL Rookie of the Year candidate in the first place. Striking out six over his first five innings, deGrom allowed his only run on Casey McGehee's RBI infield single in the third, giving up six hits and two walks in total.
Perhaps most impressively, deGrom handled white-hot Marlins slugger Giancarlo Stanton better than rotation-mates Zack Wheeler and Jon Niese did earlier this series. In three at-bats against deGrom, the NL MVP candidate singled, hit into a double play and struck out.
"He's going to be an interesting guy," Collins said of deGrom. "This kid really competes. He really, really competes."
Outfielder Kirk Nieuwenhuis gave the Mets their first lead with a two-run homer off New York native Tom Koehler in the fourth inning. But after deGrom left the game, Christian Yelich stuck him with a no-decision by tying things on an RBI single off rookie Dario Alvarez, on the second pitch of Alvarez's big league career.
The Mets rallied an inning later, reclaiming the lead on d'Arnaud's double and plating an insurance run when Dilson Herrera beat out a potential double-play ball. But the rally stalled after that, with the Mets' short bullpen forcing reliever Carlos Torres to hit with the bases loaded and two outs. That proved significant in the bottom of the eighth, when Stanton's leadoff homer sliced the Mets' margin in half.
Yet after walking the first batter he faced in the ninth, Mets closer Jenrry Mejia induced a double play and a strikeout to nail down the save.
"The Mets have played us tough and they've hit our pitchers," Marlins manager Mike Redmond said. "That's just it. They've found a way to get a bunch of hits and score runs against our guys."
DeGrom, for his part, was left with a no-decision that easily could have been a win.
"Jake really struggled with his command," Collins said. "But as he's done all year long, he keeps us in the game because he's got good enough stuff. It was just one of those nights where he didn't have the command. He was ball one on a lot of guys, and when you fall behind hitters, those guys can hurt you."
For deGrom, winning Rookie of the Year will not be easy. Though the pool of NL candidates is shallow, particularly compared with the stacked American League, Reds outfielder Billy Hamilton has established himself as a worthy rival. In 132 games, Hamilton is batting .267 with 55 stolen bases, taking advantage of the fact that, unlike deGrom, he made his club out of Spring Training. Hamilton's defense has also been sound.
But deGrom has quite clearly been the NL's best rookie starter, giving him a strong chance to wrest the award away from Hamilton. The righty's final four starts could easily be the difference between first and second place.
"Like I've said before, I try not to think about all that stuff," deGrom said. "That would be a great thing to win. But I just try to go out there every time and put up zeros, and I feel like the rest will take care of itself."
Anthony DiComo is a reporter for MLB.com. Follow him on Twitter @AnthonyDicomo. This story was not subject to the approval of Major League Baseball or its clubs.