O's belt three homers in Gonzalez's first shutout
Righty goes distance for first time, fans season-high eight batters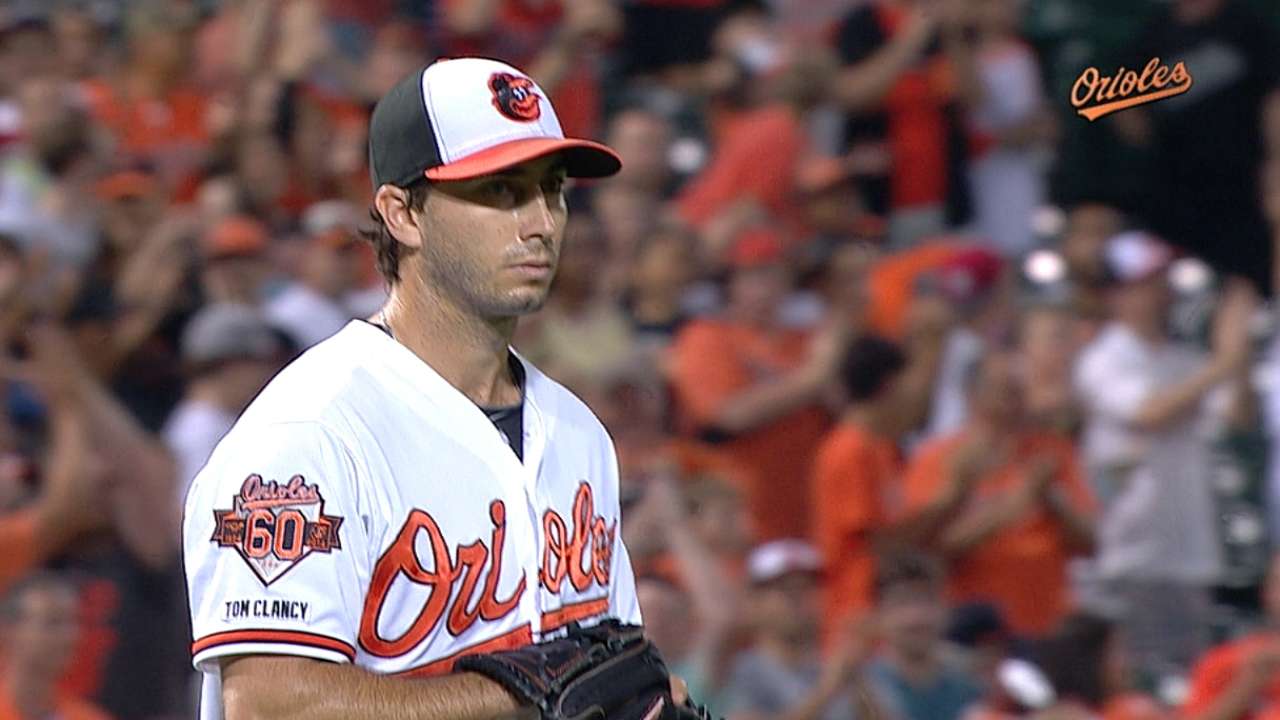 BALTIMORE -- Miguel Gonzalez left the field in the eighth inning to a thunderous ovation from the crowd of 20,246 at Oriole Park at Camden Yards. After eight innings, eight strikeouts, three hits, one walk and 96 pitches he already had one of his best outings of the year. His team already had the 6-0 lead that would hold for a victory against the Reds.
His teammates greeted him in the dugout with high-fives and handshakes. Gonzalez headed over to talk to pitching coach Dave Wallace. He was fine, Gonzalez told him, and could go back out for the ninth if the team needed him.
As J.J. Hardy grounded into a double play to end the bottom of the eighth, the video board at Camden Yards cut to the O's dugout where Gonzalez was walking back up the steps to pitch the ninth. The 20,246 erupted again. They groaned at every pitch that was called a ball and cheered each strike. Four batters and one hit later, Gonzalez (8-7) had finished it. It took 117 pitches, and the starting pitcher had the first complete game and shutout of his career.
"I don't want to say he deserves it, but Miggy is such a team guy," manager Buck Showalter said. "He's such a professional and that was a professional outing."
His final line: four hits no runs, one walk and a season-high eight strikeouts. Since the All-Star break, his ERA is 2.11. For the season it's 3.38 -- the second best among the Orioles starters.
Even so, he's been the victim of a surplus of starting pitching a handful of times and ended up with trips to the Minors. Earlier this month, Gonzalez was optioned to Triple-A Norfolk when starting pitcher Ubaldo Jimenez returned from the 15-day disabled list. Fifteen days later, Baltimore brought him back to the Majors. In three starts and 22 1/3 innings since, he's allowed three runs.
"It's got to be tough for a lot of guys. A lot of guys can tell you that as well," Gonzalez said. "You've just got to be mentally strong and when they call you back up, be ready."
Gonzalez's gem on Wednesday comes with Baltimore closing in on the postseason and perhaps even the top seed. The O's lead in the American League East remains at 9 1/2 games with the Yankees' 5-1 win against the Red Sox. Their magic number shrinks to 16. And their deficit behind the Angels for the best record in the AL is down to two games after their 4-1 loss to the Astros.
Gonzalez retired the first eight batters he faced. He didn't allow a hit until one out in the fifth inning. The only time Cincinnati (66-73) got a runner in scoring position, when it loaded the bases in the eighth, the Reds' first batter reached because of an error by Chris Davis.
The next batter singled and Gonzalez wiggled his way out of the frame. He got one pinch-hitter to fly out and struck out another for his eighth punchout. After a single loaded the bases, Todd Frazier grounded out to end the inning.
Gonzalez left to cheers and came back to more from a crowd that wanted to see him throw his first professional shutout since his only other one when he was with Double-A Arkansas in 2007.
"He had good action on his pitches and he's a very good pitcher and a very talented pitcher," said Cincinnati manager Bryan Price, whose team is batting a Major League-worst .217 since the break. "We just didn't challenge him. We just don't put any pressure on anybody."
The O's offense, which leads the Majors in home runs, supported Gonzalez with a parade of long balls against Cincinnati pitcher Dylan Axelrod (1-1). Jonathan Schoop blasted his second home run into the visiting bullpen in as many days in the third inning. Outfielder David Lough crushed his third home run of the season in the fourth. Davis hit a two-run blast later in the frame to give Baltimore a 4-0 lead.
Showalter spent a part of Tuesday's series-opening win against Cincinnati talking to director of player development Brian Graham. He mentioned the sound the ball makes when coming off Schoop's bat and, on cue, a loud crack echoed through the stadium.
"Kind of like that," Showalter told him.
A day later, the sound reverberated throughout Oriole Park again. Schoop's 446-foot blast on Wednesday was the longest hit in the ballpark this season, according to ESPN Stats & Info.
"Nelson told me his was longer than me," Schoop said. "But I don't know. We'll see which is the longest one."
With a handful of options and some inconsistency, Gonzalez's season has been hectic. And it's all put him in position to pitch well into the postseason.
"It was what's best for our club at this point," Showalter said. "And also we felt like make him better in September, and hopefully October."
David Wilson is an associate reporter for MLB.com. This story was not subject to the approval of Major League Baseball or its clubs.