Bats go quiet as Axelrod tagged with three homers
Price voices dismay over team's lackluster offensive production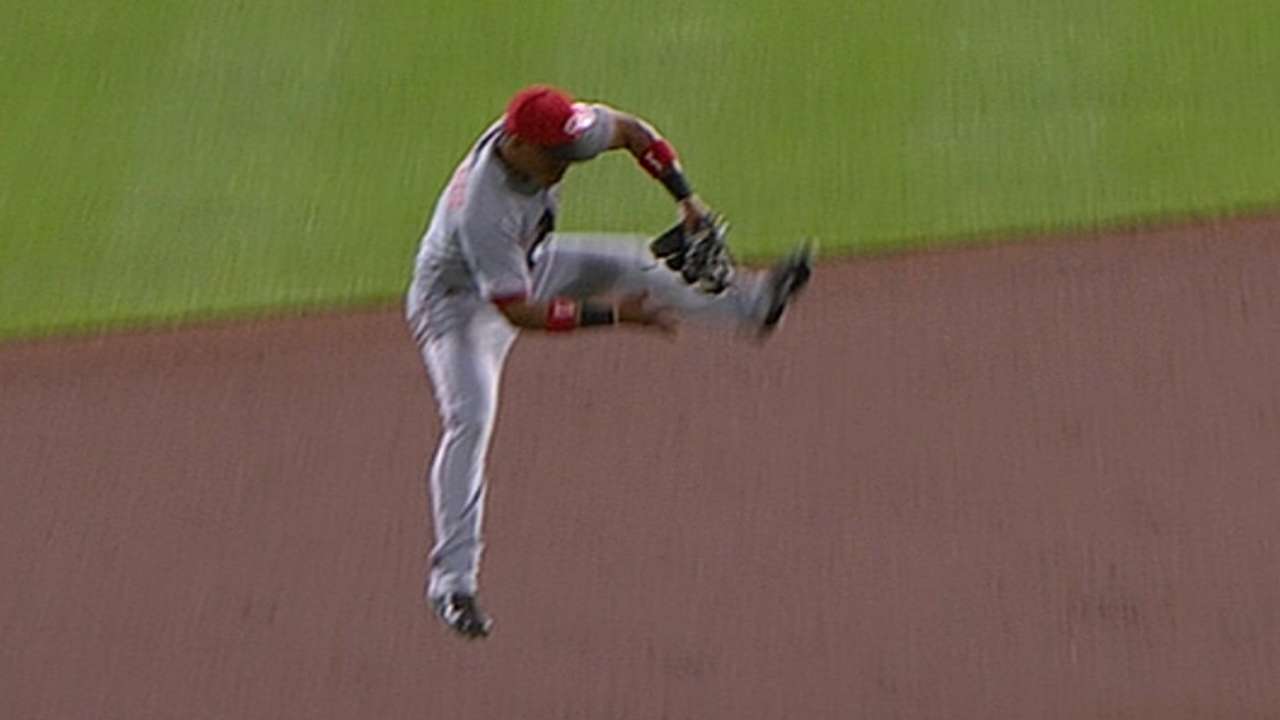 BALTIMORE -- Reds manager Bryan Price appeared to have had it with anemic hitting, lackluster performances and the steep descent his club has made since the All-Star break.
There were some hard Orioles hits, including three home runs off starting pitcher Dylan Axelrod on Wednesday, but it was the Reds lineup that couldn't get anything going during a 6-0 loss.
Baltimore starter Miguel Gonzalez went the distance for the first time in his career and dealt Cincinnati a four-hit shutout. Price did not take away the achievement but also put the outcome square on the shoulders of his own hitters.
"I know that he had good action on his pitches and he's a very good pitcher and a very talented pitcher. We just didn't challenge him," Price said. "We just don't put any pressure on anybody. We're not built to win 3-2 every day, nobody is. We went into the game hitting .219 in the second half. That's legendary stuff. I don't even know what to tell you."
It was the 13th time this season that the Reds have been shut out this season and the third time in the last 12 games. With back-to-back losses, they dropped to 1-4 on the six-game road trip and are now 1-5-1 over its last seven series.
On Tuesday, there were 10 September callups who joined the team. After initially saying that they would likely play sparingly, Price appeared to be more willing to use them moving forward.
"I think anybody that's been here from the inception -- the beginning of the season in April -- has had a pretty good opportunity to play," Price said. "I think the effort for the most part has been good. I'm not questioning effort. I think we've gotten to this point now where we've got some guys up here that we need to take a look at and need to see what they're all about. We're not doing anything at all offensively and it makes it easier to start to see what we have in our system and what we have looking forward."
The Reds, which are 15-29 in the second half, have gotten little production from key players. Brandon Phillips, who rushed back after having July left thumb surgery, is in a 0-for-20 streak and batting .138 (8-for-58) since his activation on Aug. 18. Jay Bruce is batting .201 since the break and Ryan Ludwick has two hits over his last 23 at-bats.
Meanwhile, Axelrod gave up four earned runs -- all on home runs -- and five hits over six innings with no walks and four strikeouts.
Baltimore was hitless with eight up and eight down until two outs in the third inning. That's when Jonathan Schoop tattooed a 3-2 Axelrod fastball that landed in the back of the Reds' bullpen in left-center field.
Leading off the bottom of the fourth, David Lough crushed a 0-1 pitch high and far to right field for a homer. Ironically, the hardest hit ball of the night came two batters later and didn't clear the fences. Nelson Cruz absolutely scorched a liner off of third baseman Kristopher Negron's glove for a double to left field.
Next was Chris Davis, who blistered a first-pitch fastball to left-center field for a two-run homer.
"I just missed on a few pitches. They took advantage," Axelrod said. "They're a good team, that's what they do. It's totally on me. I missed my spots a couple of times and they hit the ball pretty far."
Gonzalez encountered little resistance as he retired 13 of his first 14 Reds batters and enjoyed four hitless innings. Ludwick's one-out single to left field took the no-hitter off the table, but Gonzalez retired another eight in a row before Ludwick reached on an error in the eighth.
Carlos Contreras replaced Axelrod and gave up two more runs in the seventh. With two outs in the Reds' eighth and runners on first and second, pinch-hitter Jason Bourgeois hit a single. Ludwick rounded third base poised to score but got no wave or stop sign from coach Steve Smith and halted to leave the bases loaded. All would be left stranded.
Now 66-73, the Reds' elimination number in the National League Central is 14.
"We've played .330 baseball since the All-Star break. It's uninspiring to watch," Price said. "Again, it has nothing to do with effort. But at some point in time, performance has to be the most important thing. And we're at the point now where we're just not getting performance. We've got to give some opportunities to other people. I have to see what we have here."
Mark Sheldon is a reporter for MLB.com. Read his blog, Mark My Word, and follow him on Twitter @m_sheldon. This story was not subject to the approval of Major League Baseball or its clubs.