With Salazar's first shutout, Tribe gains on Tigers
Santana ignites offense early; club four back of second Wild Card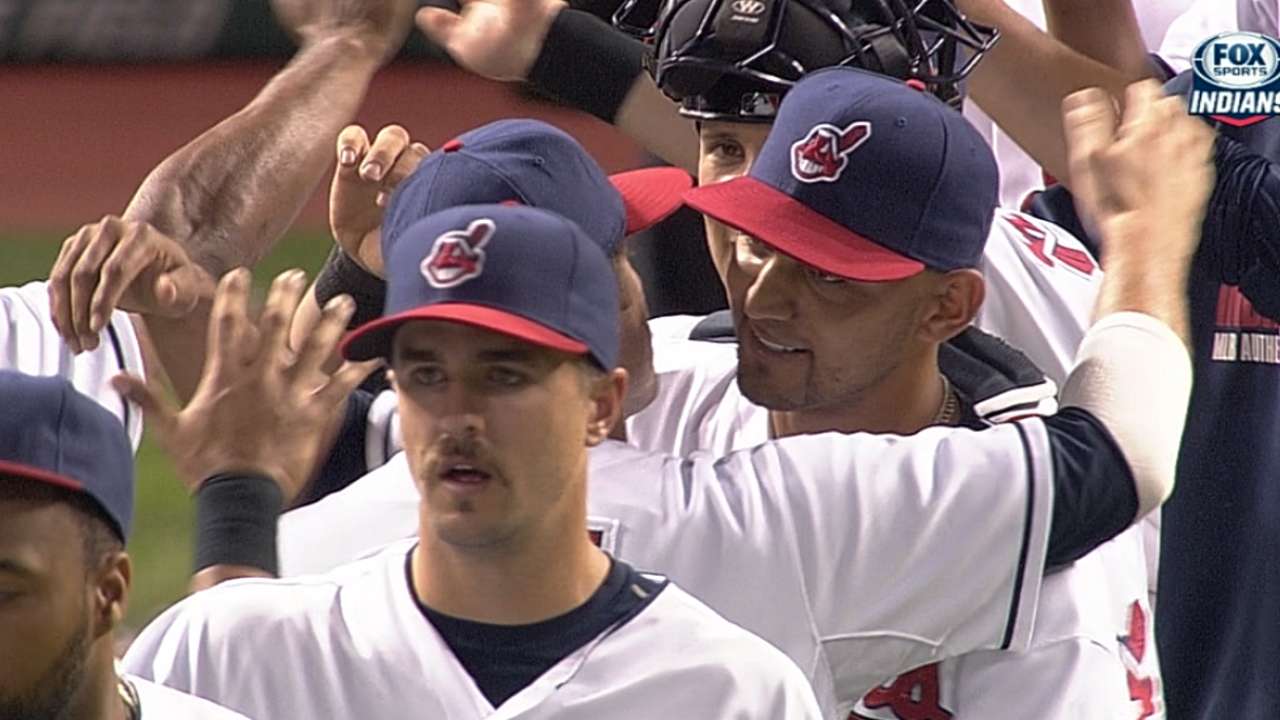 CLEVELAND -- Dropping three games in a row to Detroit would have been unacceptable for the Indians. With so much on the line and only a few weeks remaining on the regular-season slate, the Indians could not let the Tigers come to Cleveland with a sweep in mind.
On Wednesday night, starter Danny Salazar logged his first career shutout and the Tribe nine broke through at multiple turns against Tigers righty Justin Verlander, leading to a 7-0 rout for the Indians at Progressive Field. The victory helped pull Cleveland within four games of Detroit in the race for the American League's second Wild Card spot.
"Right now, this month, we need to win as many games as we can," Salazar said. "These are really important ones. We're going to keep playing hard."
Over the past month, starting pitching has been integral in keeping Cleveland within earshot of both the AL Central and Wild Card races. Salazar's second-half turnaround has been an important development along those lines, and the hard-throwing starter maintained that trend in the third game of a crucial four-game series against Detroit.
Every win carries weight at this time of the year, but this victory allowed Cleveland to take a collective sigh of relief.
On Tuesday night, Indians stalwart closer Cody Allen gave up a three-run homer to J.D. Martinez, blowing a save in the ninth inning of a discouraging 4-2 loss. In the opener Monday, staff leader Corey Kluber suffered a rare letdown, exiting before the end of the third inning in a 12-1 blowout.
For at least one night, Salazar corrected things for Cleveland.
"I thought they had real good energy today," Indians manager Terry Francona said. "[Tuesday] night's not going to change. You don't like to lose, but the best thing to do is win the next game. I thought they did a really good job of coming out and playing with some energy."
In a career-high nine innings, Salazar (6-6) blanked the Tigers' bats and ended with nine strikeouts against no walks. That lowered the righty's ERA to 1.08 ERA over his past four starts. Dating back to April 27, Salazar has spun a 2.73 ERA with 69 strikeouts in 69 1/3 innings in a dozen starts.
Salazar became the first Indians pitcher to complete a shutout against the Tigers since Jaret Wright on June 1, 1998.
"Really, we just have to tip our hats to Salazar," Detroit manager Brad Ausmus said. "He was pretty much in control the whole game. He was overpowering."
Facing Verlander, whose struggles this season have been well-documented, the Indians' recently anemic offense delivered seven runs (six earned) on nine hits in the former ace's 6 2/3 frames. Carlos Santana ignited the offensive outpouring with a two-run home run in the first, giving the first baseman a team-high 24 long balls.
"Now, it's time for the hitters to step it up for [the pitchers]," Indians catcher Yan Gomes said. "A game like today could be a big factor."
In the fourth, Verlander issued a one-out walk to Jason Kipnis and then surrendered an RBI double to Lonnie Chisenhall, who advanced to third base on the play thanks to an error. That set the stage for a run-scoring bloop single by Gomes, who watched his flare down the right-field line fall just inside the chalk line to help the Tribe to a 4-0 advantage.
Verlander was chased in the seventh, when Michael Bourn came through with a two-out RBI single and Jose Ramirez followed with a run-scoring single. After Verlander's departure, All-Star Michael Brantley tacked another run on the pitcher's line by pulling a pitch from reliever Pat McCoy into right field for another RBI hit for the Tribe.
By the eighth, Ausmus began pulling his regular players from the game.
"We added on, which was huge," Francona said. "We got a couple two-out hits to extend it more. It's good against that lineup. When you start seeing them take those guys out, man, it feels good."
The lopsided score also allowed Francona to give Salazar the opportunity to check a shutout off his career to-do list.
At 103 pitches, Salazar took the mound in the ninth and worked around a base hit yielded to Detroit's Steven Moya. The right-hander struck out Tuesday's villain, Martinez, with a 98-mph fastball and then followed with a strikeout of Nick Castellanos to end the game in emphatic fashion.
"I wanted to get that last out so bad," Salazar said.
In doing so, Salazar sealed a win that was sorely needed.
Jordan Bastian is a reporter for MLB.com. Read his blog, Major League Bastian, and follow him on Twitter @MLBastian. This story was not subject to the approval of Major League Baseball or its clubs.