Rangers pay for missed chances vs. Royals
KC native Tepesch is solid, but Texas bats offer little support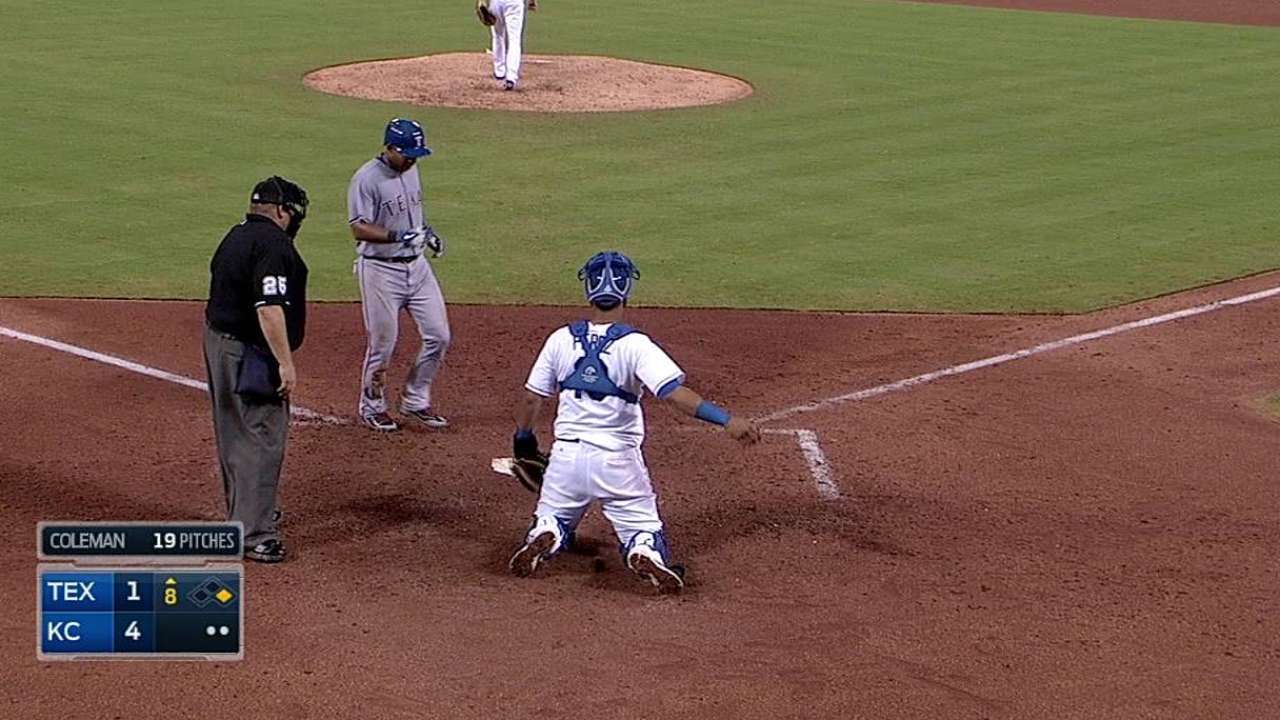 KANSAS CITY -- Two leadoff doubles were spoiled, on three occasions a pair of Rangers were left on the corners and two-out rallies fizzled to anticlimactic endings.
The Rangers found the big hit to be elusive on Wednesday night as they finished 1-for-15 with runners in scoring position in a 4-1 loss to the Royals at Kauffman Stadium. Texas dropped all three games in the series, increasing its slide to five games.
"We certainly put ourselves in position, we just couldn't get the hit," Rangers manager Ron Washington said. "It wasn't just in one part of the lineup, it was up and down. It was like almost everyone had an opportunity."
That's because nearly every hitter in his lineup did have an opportunity to drive in a run -- Luis Sardinas was the only starter who did not bat with a runner in scoring position. Of the others, only Ryan Rua took advantage with an eighth-inning RBI single.
"They scored four. We got the chance to score seven or eight. And we got one," Washington said.
The offensive woes were not isolated to one game. Texas scored five runs across three in Kansas City.
"I think a lot of it, if you look at the pitches we swung at, we actually didn't give ourselves a chance to drive in runs. It was just pitch selection," Washington said. "If we had been a little more patient and gotten a little better pitches to do something with, maybe we'd have better results."
Kansas City native Nick Tepesch logged 6 2/3 respectable innings, joining Colby Lewis and Derek Holland as Rangers' tough-luck starters in the series. Lewis threw seven solid innings, but was done in by three RBIs from Salvador Perez. Holland made his 2014 debut, striking out six and allowing one run in seven frames as well.
The trio combined to surrender eight earned runs across 20 2/3 innings and Texas starters carry a 3.01 ERA in their last 11 games.
"Their job is one-fold -- just to keep the team in the game. They can't control the amount of runs we put on the board," Washington said. "All they can do is keep us in the game, and they've certainly been doing that."
Of the six hits Tepesch allowed, the first three stung the most.
The right-hander set down the first eight hitters he saw until Alcides Escobar snapped the streak with a two-out double in the third. Tepesch escaped the inning, but his respite did not last long as Kansas City fired up a rally on the first hitter of the fourth.
Omar Infante opened the inning with a single, then Tepesch threw a fastball to Alex Gordon that saw too much of the plate, and Gordon crushed it out to straightaway center field for a 2-0 Royals lead.
"I fell behind; I had to make some pitches and left it up over the plate," Tepesch said. "It's kind of what he's looking for in that situation, and I just didn't get it down where I wanted it."
Kansas City tacked on a pair of runs in the seventh. Perez and Billy Butler clubbed doubles off Tepesch for the third run, then pinch-runner Terrance Gore manufactured a run by stealing third and scoring when catcher Tomas Telis' throw went into left field.
"I thought Tepesch did a good job of keeping us in the ballgame; that's his job," Washington said.
Despite growing up 15 minutes from the park and attending the University of Missouri, Tepesch said Wednesday was his first time on the mound at The K.
"It was definitely exciting. I've played here a few times in college and high school, but never got to pitch here," Tepesch said. "It's nice having family so close so they can come and watch."
Adrian Beltre extended his Kauffman Stadium hitting streak to 20 games with a fourth-inning double off Royals starter Jason Vargas, who blanked Texas over 6 2/3 innings.
"He was sharp tonight," Washington said. "He had his good command, spotted his fastball well, his changeup was really working for him, offspeed stuff was good. Just pitched a great game."
Jackson Alexander is an associate reporter for MLB.com. This story was not subject to the approval of Major League Baseball or its clubs.