Martinez fans McCutchen to win pivotal battle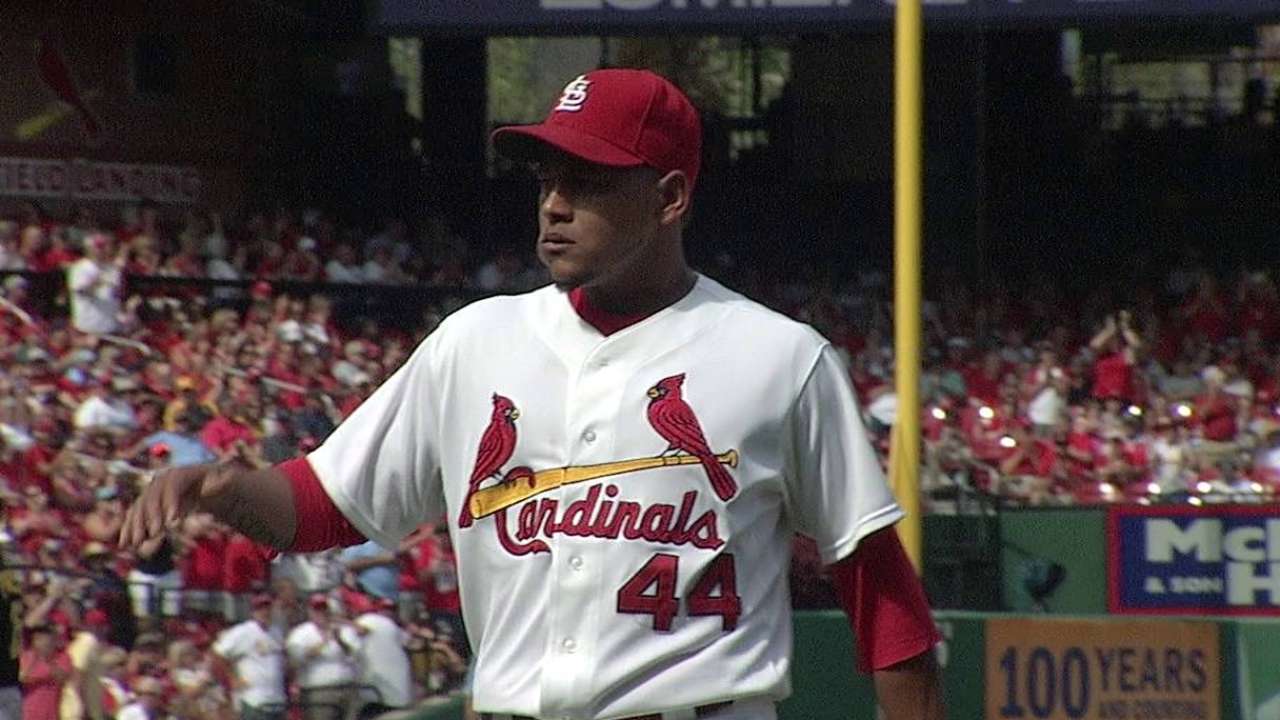 ST. LOUIS -- As the crowd settled after the excitement of watching Kolten Wong make a diving stop for the second out of the inning, Yadier Molina began his walk to the mound. There he found Carlos Martinez, one out away from sending the scoreless game into the bottom of the eighth on Wednesday afternoon.
Pitching coach Derek Lilliquist would join the conference, during which Molina emphasized the necessity of pitching reigning National League MVP Andrew McCutchen with care, even if that meant not throwing him a strike. Martinez nodded, then responded with a strikeout.
Martinez's 10-pitch battle with McCutchen turned out to be a defining moment in the game, which the Cardinals later won, 1-0, over the Pirates. Mixing his curveball and fastball, Martinez worked the count to 2-2 as McCutchen took a pair of called strikes. The duel concluded with McCutchen swinging through an 86-mph curve after fouling off three consecutive pitches.
"In my head I was thinking he wouldn't give me much to hit, and of course he gives me a couple to hit and I wasn't expecting it," McCutchen said. "I'm sure that's why they had that little talk, reminding him not to give me [a pitch] I could reach. Good battle, but he made a really good pitch on the last one, so he got the edge on that one."
Martinez celebrated with a lengthy show of emotion as he headed back to the dugout.
"I felt great in the moment for the job that I had done," Martinez said.
"He can celebrate all he wants, just don't get mad if I hit a homer and pimp it," McCutchen added. "I don't mind it. It is a big part of the game -- there is a guy on second and he is trying to get a big out. He gets a big out with a strikeout, he celebrates -- there is nothing wrong with that."
In a season where Martinez has lacked a defined role, the right-hander has found a niche as of late. This marked his fifth consecutive scoreless appearance and his second eighth-inning outing in this series, both coming in one-run wins. The common thread in the two appearances was having Molina behind the plate to navigate.
"I think Carlos has probably benefited from Yadi being back there as much as anybody," manager Mike Matheny said. "It has nothing to do with the language barrier. I think it has to do with the relationship and how they understand each other. Yadi has a real good idea how to slow him down when he needs a little bit of a kick, and Carlos responds well to him. It's nice to have that look how we've seen it in the past."
Jenifer Langosch is a reporter for MLB.com. Read her blog, By Gosh, It's Langosch, and follow her on Twitter @LangoschMLB. This story was not subject to the approval of Major League Baseball or its clubs.