Gordon powers sweep as KC pads lead
Two-run shot backs Vargas' scoreless gem vs. Rangers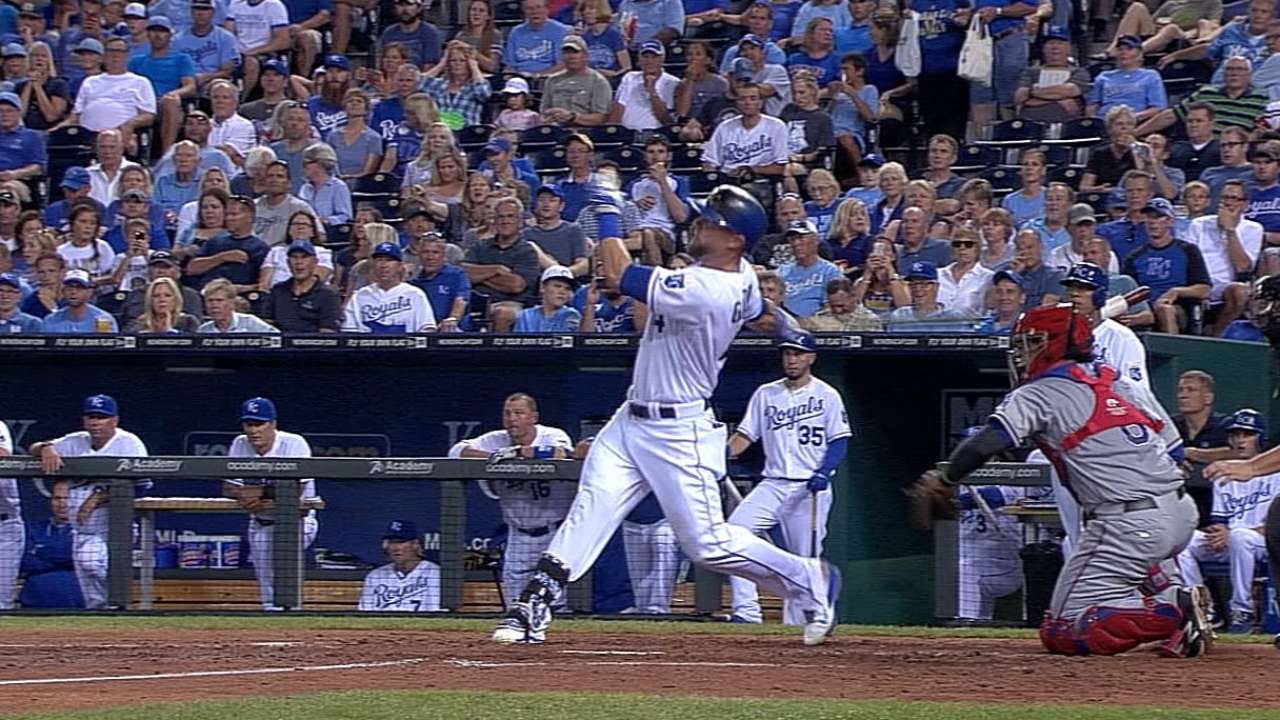 KANSAS CITY -- Alex Gordon keeps pumping up the power as the season dwindles down.
Gordon pounded a two-run homer to fuel the Royals' 4-1 victory over the Texas Rangers on Wednesday night at Kauffman Stadium. The win boosted Kansas City's lead in the American League Central to 1 1/2 games over Detroit.
Jason Vargas pitched 6 2/3 scoreless innings for his 11th victory, stifling the Rangers on six hits and no walks.
The Royals swept three from the Rangers and finished their 10-game homestand with a 5-4 record and one suspended game. And immediately, with 23 games left, they were looking past Thursday's off-day.
"This is going to be a tough road trip coming up, with the Yankees and Detroit," Gordon said. "It is really going to test us."
They want badly to pass the test because this is a Kansas City club intent on bringing home its first postseason berth in 29 years -- since the 1985 World Series championship.
The primary concern all season has been the hitting, an on-and-off proposition. The pitching is usually good, the defense is normally tight but the offense is spotty. On Wednesday night, though, it was ...
"Better," manager Ned Yost said. "We hit our mark today, four runs. Get us four runs and, what are we, 62-9 now? I'll take it."
The first two runs came on Gordon thunder in the fourth inning as he drove a shot high over the center-field wall against Nick Tepesch, a right-hander from suburban Blue Springs, Mo.
Omar Infante was on first base with a single, so Vargas had a 2-0 lead.
A no-doubter? Gordon shook his head.
"No, not in this park," he said. "But I hit it well and I thought I got enough, but it barely goes out. So you never know when you hit it to center field here."
The shot came on a 3-1 pitch.
"I fell behind, I had to make some pitches and left it up over the plate," Tepesch said. "It's kind of what he's looking for in that situation, and I just didn't get it down where I wanted it."
This homer was Gordon's 19th, the club high this season. He's belted 10 of them in the 27 games since Aug. 7. Thirteen of his blasts have either given the Royals a lead or tied a game.
Has there been some change in the rigorous, relentless Gordon preparations for baseball battle?
"I've been doing a couple extra curls here and there in the weight room, and that might be it, but other than that, no," he said. "Sometimes they come and sometimes they don't, so I'm just trying to wait for my pitch, put a good swing on it and getting lucky, I guess."
The Royals added two runs in the seventh inning after Salvador Perez led off with a double to left field. After an out, Billy Butler drilled a double past third base and Perez scored.
Terrance Gore, the Minor League speedster who was called up to be a pinch-running specialist, took over for Butler at second. After the second out, left-hander Alex Claudio relieved Tepesch.
With Mike Moustakas at the plate, Gore broke for third base and was sliding in as catcher Tomas Telis' throw bounced into left field. Gore scored on the error. In his second game, Gore had his first steal and his first run.
"It felt really good to get that first one out of the way," Gore said.
Vargas is never allergic to baserunners, it's just runs that make him sneeze. For six innings, he pitched past and around four hits and an error and held the Rangers scoreless.
"He always seems to get himself in tough situations but he never gives in and then always finds a way to get out of it," Gordon said. "He's a good competitor for us."
Before the 15,771 fans left the ballyard, however, they would also see the ballyhooed back end three of the bullpen.
Vargas got two outs in the seventh, but then singles by Leonys Martin and Luis Sardinas prompted a switch to the guardian of the seventh inning, Kelvin Herrera. He got Daniel Robertson on a soft liner to end the inning.
Royals reliever Louis Coleman, after issuing the game's first walk, got two outs in the eighth, but Elvis Andrus got to third on an out and a wild pitch. When he scored on Ryan Rua's single, shrinking the Royals' lead to 4-1, a summons went out to the guardian of the eighth inning, Wade Davis.
Adam Rosales drilled a single to right field, sending Rua to third. That brought the potential tying run to the plate, but Davis retired Telis on an easy grounder.
Greg Holland, guardian of the ninth inning, was next out of the Royals' bullpen. Easy as 1-2-3, he had his 42nd save.
Next stop: Yankee Stadium.
Dick Kaegel is a reporter for MLB.com. This story was not subject to the approval of Major League Baseball or its clubs.