Hendricks, Soler keep rolling as Cubs sweep Brewers
Righty improves to 6-1 with win; slugger drives in two more runs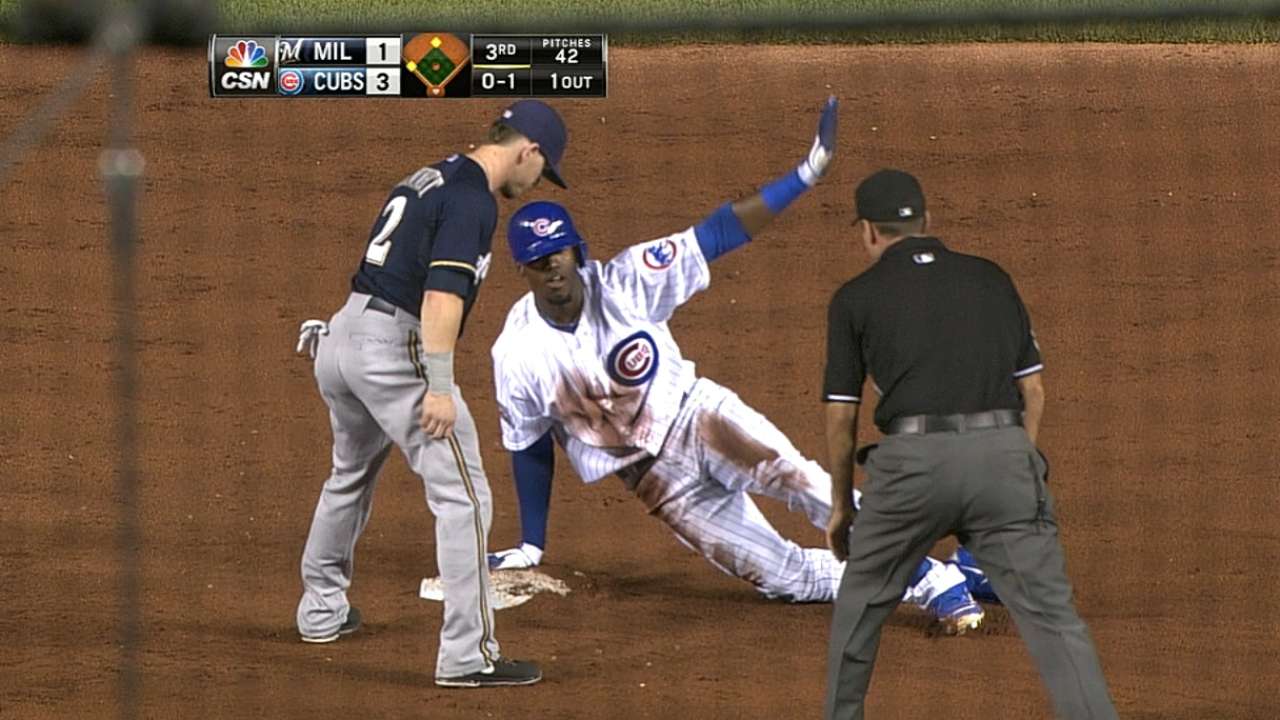 CHICAGO -- Rookie Kyle Hendricks is pitching in September the way he did last month, while Jorge Soler just keeps on hitting.
Named the National League Rookie of the Month after an unbeaten August, Hendricks scattered nine hits over 5 2/3 innings, Soler drove in two runs, and Chris Valaika smacked a two-run home run to lead the Cubs to a 6-2 victory Wednesday night over the skidding Brewers, who lost their eighth straight game.
Milwaukee's loss, coupled with St. Louis' 1-0 win over Pittsburgh, dropped the Brewers three games back in the NL Central. It was the Cubs' sixth straight home win, and first three-game home series sweep against the Brewers since Aug. 23-25, 2004.
Hendricks, who compiled a 1.69 ERA and 4-0 record in six August starts, did not walk a batter or strike anyone out. He needed just seven pitches to get through the first inning -- all strikes -- but it was a struggle after that.
"That's what you like coming out of the gate," Hendricks said of the first, "but overall, I didn't have my stuff tonight and I had to battle. I gave up some weak hits, but overall, I didn't make a lot of good pitches. Luckily, I was able to get away with it, and guys put up a lot of runs early, which is nice. I had some balls hit hard in play that guys made good plays on."
Cubs manager Rick Renteria usually brings up Hendricks' calm demeanor, and Wednesday was no different. But it was a challenge for the right-hander.
"This start was a lot different than all the other ones I've had," Hendricks said. "It was by far the worst stuff I had. It was just one of those days. I was glad, No. 1, they put up some runs for me, and after that, I was able to limit the damage."
The Cubs were without their two All-Stars, Starlin Castro, who is likely lost for the season with a high ankle sprain suffered Tuesday night, and Anthony Rizzo, who has tightness in his lower back. Soler has picked up the slack in his first first week in the big leagues.
The rookie outfielder delivered a two-run double in the third, and is the second player in Cubs history with at least 10 RBIs in his first seven Major League games, joining Mandy Brooks, who drove in 12 runs in his first seven games in 1925.
"His at-bats are very close to what's been described as what he's been doing in the Minor Leagues," Renteria said. "If you described them in the Minor League reports, it's exactly what's happening now. He's got a gift, got a good eye, he's very calm in the box. If Kyle is my guy with a slow heartbeat on the hill, maybe [Soler] is the guy who slows it down in the box."
The Brewers took a 1-0 lead in the second on Logan Schafer's RBI single, but it was short-lived. Logan Watkins singled with two outs in the Cubs' second, and scored on Valaika's home run, which landed in the back of the left-field bleachers.
Chicago batted around in the third against Matt Garza, and had two on and one out when Soler doubled to left. He then scored on Welington Castillo's double to put the Cubs ahead, 5-1. One out later, Watkins added an RBI single.
"We had some big, run-producing at-bats," Renteria said. "We had some good things going on today."
Garza was making his first start since coming off the disabled list because of an oblique strain, and threw 61 pitches over three innings against his former team before he was pulled.
"There was the one pitch that was a bad pitch, it was probably a slider to Valaika in the second," Garza said. "That's it. Everything else, they found holes. They just keep finding them. It's kind of been this trend that we've been on. Everything happens to fall for everybody, and we just can't buy a hit."
The Brewers loaded the bases with one out in the sixth and scored on an error by Valaika, who couldn't handle a chopper by pinch-hitter Lyle Overbay. But that was it, and that was the difference for Milwaukee manager Ron Roenicke.
"We're still not getting that big hit that we have to have to get back in games, or to at least move ahead of somebody," Roenicke said.
Renteria pulled Hendricks with two outs and the bases loaded in the sixth, and Justin Grimm got Jean Segura to fly out to right to end the inning. It could've been a chance for Renteria to let Hendricks figure out how to get out of the mess.
"I've allowed him many teaching moments already during the season," Renteria said. "He talked me out of taking him out in Cincinnati. In this instance, I made the decision."
The Cubs now have won a season-high six straight home games for the first time since June 29-July 15, 2002, when they swept the Astros and D-backs.
"We're playing good baseball now," Valaika said. "I've seen it all year with these guys in Triple-A. If we keep this rolling, showing teams we can play going into next year, I think we'll have something special."
Carrie Muskat is a reporter for MLB.com. She writes a blog, Muskat Ramblings, and you can follow her on Twitter @CarrieMuskat. This story was not subject to the approval of Major League Baseball or its clubs.