Garza's tough night sets tone as Crew swept by Cubs
Righty allows six runs over three innings; Central deficit three games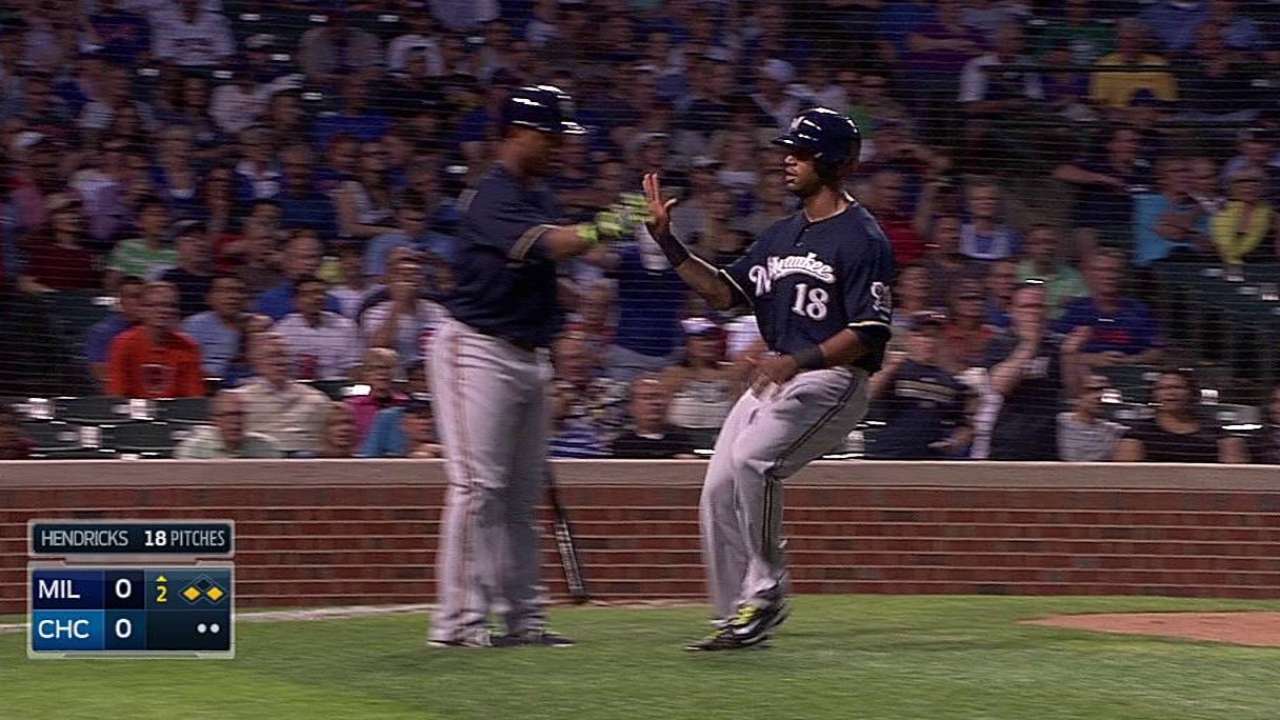 CHICAGO -- The Brewers believe they're on the brink of bursting from their season-worst slump, which reached eight games after Wednesday night's 6-2 defeat to the improving Cubs.
Bad luck has played a major factor. But an unsettled outing from starter Matt Garza in his return from the disabled list and a lack of timely hits in opportune moments were the deciding factors in the series finale at Wrigley Field.
"It is the way things are going," manager Ron Roenicke said. "We're not playing well enough to do it well on our side, and [the Cubs] are. They're playing good baseball, and when you do, you get breaks."
The Crew came to Chicago riding a nearly five-month reign atop the National League Central. They leave with barely a grasp on the second NL Wild Card position, just a one-half game lead over the Braves.
With surging St. Louis coming with a three-game advantage to Miller Park on Thursday for a four-game series, the Brewers are playing catchup with just 23 games remaining.
"I think we're putting too much pressure on ourselves," said catcher Jonathan Lucroy. "I think we're trying too hard. I think we're getting beat and we're beating ourselves at the same time. Obviously you don't want to go up there and try too hard whenever you're hitting. Even when you're playing defense or pitching, when you try too hard, try to do too much, usually it doesn't work out."
Milwaukee looked as if it had shaken its offensive rust by taking a 1-0 lead in the second inning Wednesday. But the Cubs answered quickly, and all but put the game away by the time Milwaukee's starter left -- just as they had the two days prior.
Wednesday's victim was the former Cub Garza, who departed after three innings in his first start in a month. Garza gave up six earned runs on eighth hits with an intentional walk and three strikeouts over the three frames, during which the Cubs batted their lineup twice.
Garza said the numbers didn't reflect his performance other than a hanging slider that Chris Valaika sent to the left-field bleachers in the second. Valaika's homer gave the Cubs a 2-1 lead -- one they wouldn't relinquish.
"I was fine physically. Everything checked out and it was good," Garza said. "Other than that, it was just, 'Oh well.' I felt I made a lot of my pitches."
In the sixth, the Brewers loaded the bases on three hits and an error, forcing the Cubs' bullpen into action despite an able outing from NL Rookie of the Month for August Kyle Hendricks. But reliever Justin Grimm forced a flyout to right by Jean Segura that ended the inning after a nine-pitch duel and halted any mounting momentum.
"We're still not getting that big hit that we have to have to get back in games, or to at least move ahead of somebody," Roenicke said. "It's tough. We had some runners out there but we need either somebody to hit a gapper or just come through with a big hit."
Added Garza: "They found holes. They just keep finding them. It's kind of been this trend that we've been on. Everything happens to fall for everybody, and we just can't buy a hit."
Luck worked against the Crew as well, the team said, particularly in the four-run Cubs inning.
Luis Valbuena blooped a ball into left that prompted defensive miscommunication for the second day in a row. Three players -- outfielders Khris Davis and Logan Schafer, and the shortstop Segura -- arrived under the ball, yet it found grass instead of a glove.
Jorge Soler followed with a double down the left-field line on a pitch way inside, then Welington Castillo had a ground-rule double.
"That's as bad of luck that you can have," Roenicke said.
The Crew now returns home for 11 games in as many days, starting with the four-game series against the consistently postseason-contending Cardinals.
"We know we can beat them," Lucroy said. "We beat them before at their place against their best guy [Adam Wainwright]. We know we can win.
"I still think we're the best team in the league. I still do. I still think you can go from man to man around the infield and match them up with other people, other teams. I think we win, man for man. I have all the confidence in the world in these guys and myself and our pitching staff. Things just aren't going our way."
Daniel Kramer is an associate reporter for MLB.com. This story was not subject to the approval of Major League Baseball or its clubs.