Homer barrage sinks Vogelsong, Giants vs. Rockies
Righty gives up four long balls, including back-to-back shots in fifth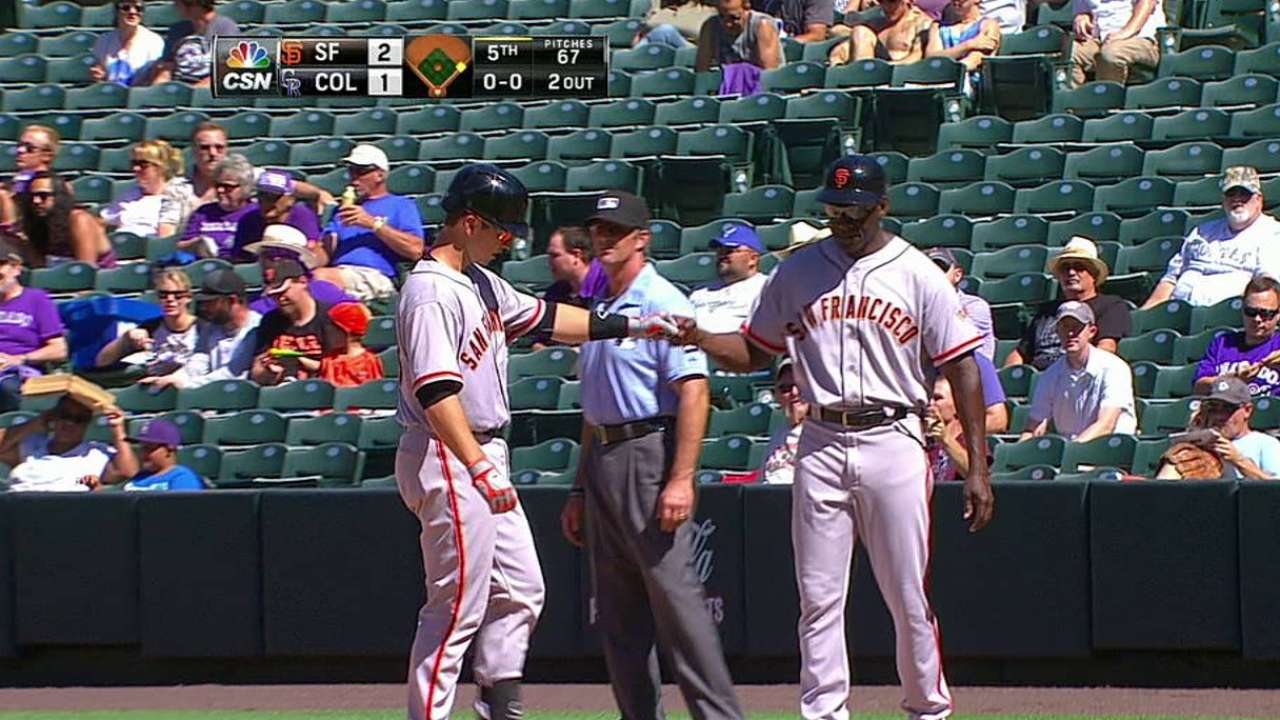 DENVER -- Enduring the type of outing that traditionally has haunted pitchers at Coors Field, Ryan Vogelsong surrendered a career-high four home runs, including back-to-back drives by Nolan Arenado and Corey Dickerson in the fifth inning, as the Giants dropped Wednesday's series finale to the Colorado Rockies, 9-2.
Vogelsong (8-10) was 2-1 with a 2.59 ERA in his last four road starts. But none of those outings were at Coors Field, where batted balls tend to receive extra propulsion in the mile-high atmosphere. On this 89-degree afternoon, a long ball or two was virtually guaranteed.
"It's an adventure out there," Vogelsong said after working three batters into the sixth inning and allowing eight runs, equaling another career worst. "The ball flies, expecially during the day. Then every kind of bloop shot falls in because guys have to play so deep. Their infield grass is really quick, too. So it seems like a lot of ground balls get through that don't at a lot of places. Put that together and you're looking at a long day."
Moreover, as Giants manager Bruce Bochy said, "If you're off a little bit here, you usually pay for it."
For the first time since 2008, the Rockies defeated the Giants in the season series, 10-9. Contrast that with Colorado's 4-9 record against the National League West-leading Dodgers, and you might stop wondering why the Giants trail Los Angeles by two games in the division standings.
Such logic is flawed, Bochy maintained.
"You can't look at it that way," he said. "It's hard to explain what your record is against certain clubs."
Bochy hastened to add, however, that the Giants' three consecutive come-from-ahead losses to Colorado at AT&T Park influenced the outcome of the season series.
Bochy added that the absence of Rockies stars Troy Tulowitzki, Michael Cuddyer and Carlos Gonzalez made no difference, despite Colorado's possession of the NL's worst record: "There's nothing worse than when you think you should beat a club, because if their pitching's on. ... Some guys are having pretty good years, despite their injuries. A club's on, they play well, they're going to beat you."
Buster Posey continued his offensive surge, driving in San Francisco's runs with a first-inning sacrifice fly and a fifth-inning single. That gave the Giants and Vogelsong, who yielded a second-inning homer to Dickerson, a 2-1 edge entering the bottom of the fifth inning.
That turned out to be the first of two straight innings in which the Rockies scored four runs. Vogelsong faltered in the fifth with two outs and nobody on base when Josh Rutledge walked on a 3-2 pitch. Justin Morneau singled in front of Arenado's homer, a line drive that barely cleared the left-field fence. Dickerson added his second homer of the day on the next pitch.
Vogelsong categorized those homers as hits that probably wouldn't have left the playing field elsewhere. Of Arenado's drive, Vogelsong said, "I thought that was a fly ball when he hit it." Dickerson, he added, managed to connect solidly enough on a curveball down and away.
Vogelsong disappeared in the sixth after yielding Michael McKenry's leadoff homer and singles to DJ LeMahieu and pinch-hitter Kyle Parker. Juan Gutierrez relieved Vogelsong and surrendered Rutledge's two-run triple. Rutledge scored on Morneau's sacrifice fly.
The Giants have a scheduled off-day Thursday before opening a three-game Interleague series against the Detroit Tigers, whom they swept in the 2012 World Series. Given center fielder Angel Pagan's stiff back and third baseman Pablo Sandoval's fatigue, the Giants might need a break.
"The day off is coming at a good time," Bochy said. "It's a long stretch these guys have been through."
Chris Haft is a reporter for MLB.com. Read his blog, Haft-Baked Ideas, and follow him on Twitter at @sfgiantsbeat. This story was not subject to the approval of Major League Baseball or its clubs.