Four homers boost Rockies over Giants
Dickerson goes yard twice; Arenado slugs three-run shot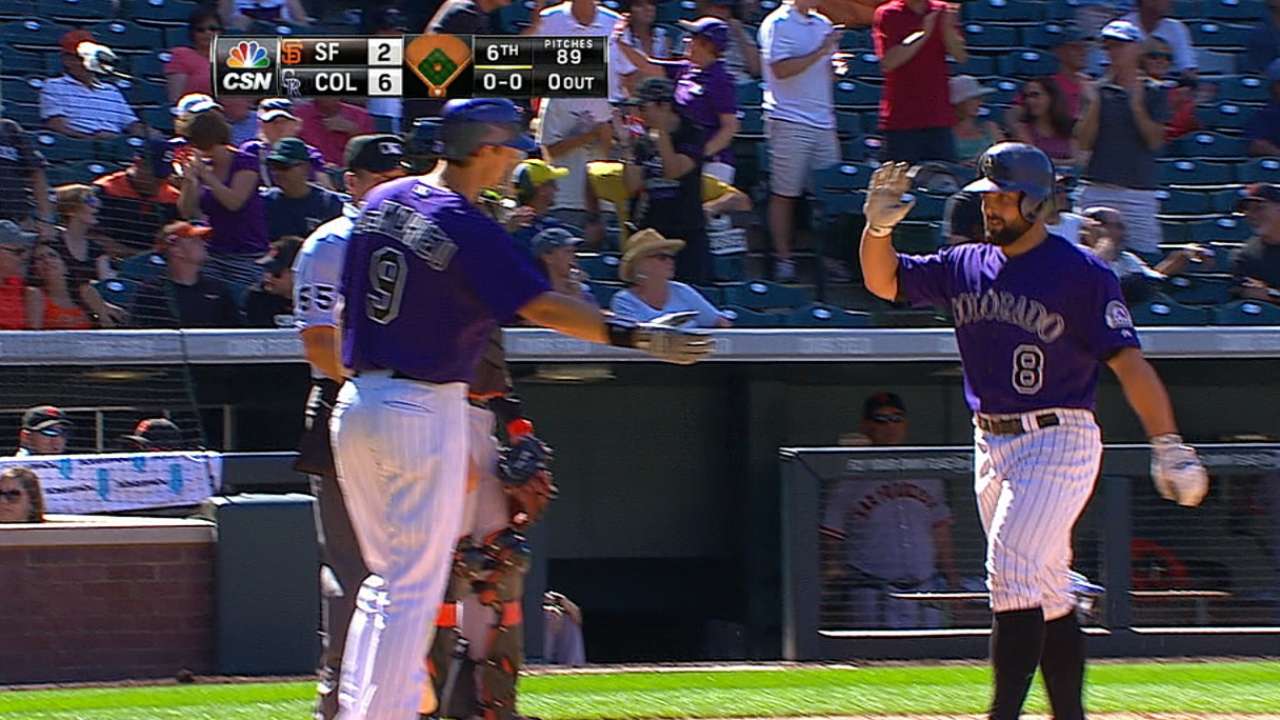 DENVER -- It took the contenders rolling into town but the Rockies have seemingly recaptured the Coors Field advantage.
Corey Dickerson belted two of the Rockies' four home runs in a 9-2 victory Wednesday to give Colorado its first season-series win over the Giants since 2008.
The win moved the Rockies to 8-4 in their last four home series against the Giants, Marlins, Royals and Reds. As far as manager Walt Weiss is concerned, taking care of business at Coors Field down the stretch is "imperative" for the Rockies' success moving forward.
"I talk about dominating here and we certainly haven't done that when you look at our record this year," said Weiss after the Rockies moved to 36-35 at home. "It's important to finish strong. To win eight of 12, it's a good place to be at this point in the season when we're trying to re-establish some things."
One fact that was established Wednesday is that Dickerson is a powerful man.
His first home run in the second tied the game after Buster Posey plated one with a sacrifice fly in the first. Dickerson's second bomb -- and his team-leading 22nd of the season -- was the tail end of back-to-back jacks with Nolan Arenado in the fifth.
It was the second multi-homer game of his career as he also accomplished the feat May 10 in Cincinnati. Dickerson was close to adding to that total, too, with two flyouts to the center-field warning track in the late innings.
"He gets in a very powerful position on contact," Weiss said. "I've seen some hitters over the years, some real good ones. And he reminds me of some of those hitters that never decelerate the bat. Even when he's not on time or fooled, he always gets his swing off."
The Rockies trailed, 2-1, before erupting for a total of eight runs in innings five and six.
Three of those came off one swing from Arenado's fifth-inning blast into the left-field bleachers.
Of course, replacing talents like Troy Tulowitzki and Carlos Gonzalez is never easy. But it's hard for Dickerson not to get excited for the future when he and Arenado are stepping up in their place.
"Those are guys that are hurt that are All-Stars and they're going to be All-Stars every year," Dickerson said. "For us to be able to produce, and especially produce at this level right now, is good for us. That gives us just that much more confidence going into next year."
Following Michael McKenry 's solo shot and a pair of singles from DJ LeMahieu and Kyle Parker in the sixth, right-hander Ryan Vogelsong was pulled in favor of right-hander Juan Gutierrez.
Gutierrez got the first out of the inning before Rutledge cleared the bases with his second triple in as many days. The Rockies then added another in the form of a sacrifice fly from Justin Morneau.
On a hot day where the ball was flying out of the park, right-hander Christian Bergman logged the second win of his six-start Major League career by scattering nine hits for two runs.
"I just tried to put it out my mind and [go] about my business," Bergman said of the conditions. "I just tried to stay ahead today, really. That was my main focus."
And Bergman did just that. After allowing a career-high five walks his last time out, Bergman did not issue a free pass to the Giants on Wednesday.
Vogelsong finished his day allowing eight runs on 10 hits in five-plus innings.
Cody Ulm is an associate reporter for MLB.com. This story was not subject to the approval of Major League Baseball or its clubs.