Homers continue to burn Rays in set with Jays
Archer gives up pair of two-run jacks, including decisive shot in 5th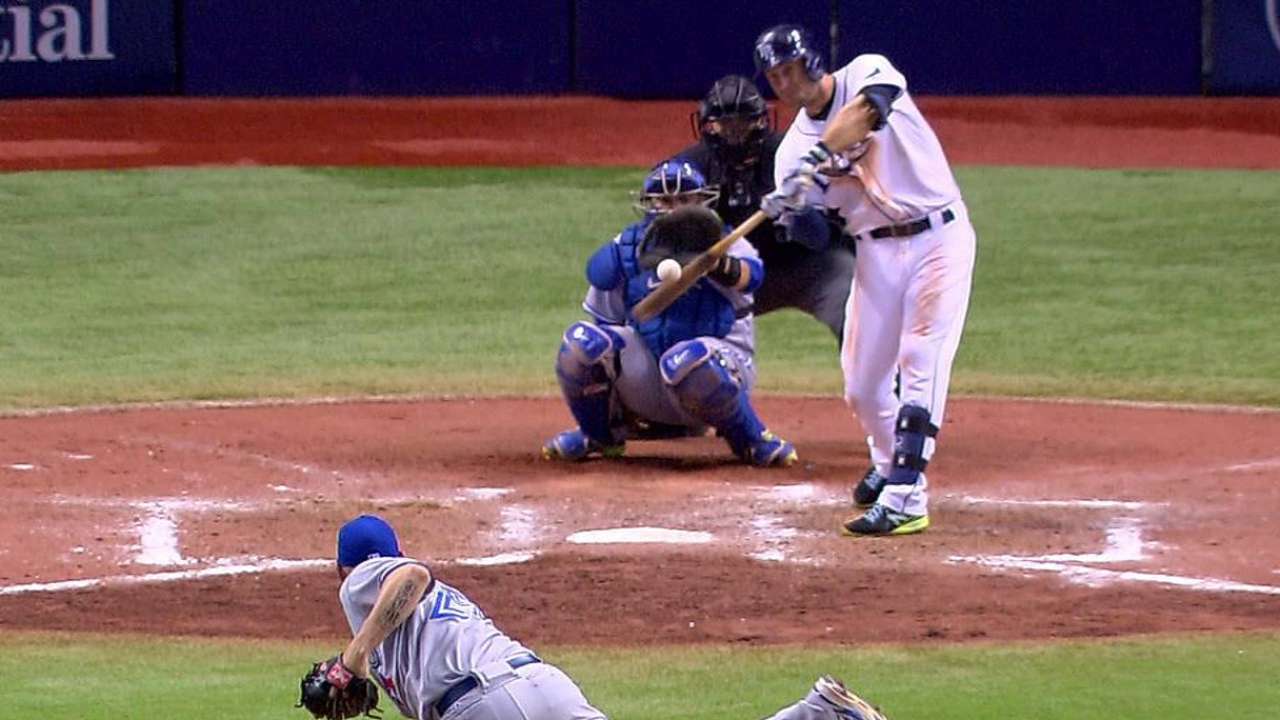 ST. PETERSBURG -- The Rays just didn't have No. 23 in them. They hadn't dropped a series to the Blue Jays at home in 22 straight meetings -- winning 20 of the series and splitting two -- but with their 7-4 loss on Wednesday night, that run came to an abrupt end.
Tampa Bay has dropped the first two games of the series at Tropicana Field, where 21 of the 22 consecutive series without a loss had been played. The Rays also played one "home" series against the Blue Jays in Orlando in 2008, a three-game Tampa Bay sweep.
"I wish it hadn't happened," manager Joe Maddon said with a laugh. "They're good right now. They played better than we did the last two nights, and they deserved to beat us. Very simple."
The last time Tampa Bay lost a series to the Blue Jays was in April of 2007 -- the franchise's last season as the Devil Rays, when they finished 30 games below .500.
"For one series, hey, we got the monkey off our back," Toronto manager John Gibbons said.
The game also featured a 30-minute delay in the third due to a power outage, the fourth and longest one this season at The Trop.
Rays starter Chris Archer was trying to bounce back from his last start against Boston, when he gave up eight runs in a four-inning outing. But he didn't fare a whole lot better against the Jays, as the right-hander was tagged for six runs in six innings.
"My job is to get people out and I didn't do a good job of that tonight," Archer said. "I'm never gonna be satisfied with that outcome, even if I throw nine innings. Giving up 10 hits and somewhat disappointing the team in not pitching to your highest level, regardless of if you pitch six innings and save your bullpen -- I think that's just a weak mentality. I think that's the easy way out. For me, I'll never look at this game as any type of accomplishment."
This is the 25-year-old Archer's first full season in the big leagues. Around this time last year, the Rays had begun monitoring his workload, as the young pitcher had thrown significantly more innings than in 2012, when he was first called up. But despite back-to-back rocky starts to open September, Maddon said he's not seeing any signs of fatigue from Archer.
"The velocity is still good," Maddon said. "He threw 102 pitches right there after six. If we really wanted to stretch him, I think he could have gone back out there. The delivery looks good, the ball out of his hand looks good.
"We need to keep building him up. That's part of the process, is to add on, pile on some innings, so that next year, we can pile on even more. He's done a wonderful year for us to this point -- I just think that Toronto did a good job of hitting tonight. I know people don't want to keep hearing me say good things about the other team, but they did."
As in Tuesday's series opener, the long ball played a big part in the loss. Archer gave up a pair of two-run homers to Dioner Navarro and Edwin Encarnacion. Toronto has hit five home runs in the series' first two games, including three on Tuesday.
Navarro's blast, his second in as many days, opened the scoring in the second inning, and Encarnacion's blew the game open in the fifth -- although it was ruled as stands after a crew chief review, which was initiated because a fan touched the ball just above the top of the left-field fence.
Encarnacion's homer put the Rays in a 6-0 hole before they scored their only two runs off rookie Marcus Stroman in the sixth inning on RBI singles by Evan Longoria and James Loney. Tampa Bay cut the deficit to three when Longoria hit a two-run homer off Dustin McGowan in the eighth.
Longoria now has 18 home runs and 81 RBIs on the season, but his homer on Wednesday wasn't nearly enough.
"We came out flat," Maddon said. "We rebounded, but there was too much of a deficit to overcome.
"They piled up too big of a lead. We tried to come back. Their pitcher was better, but then when we finally got our traction, it was just too late."
David Adler is an associate reporter for MLB.com. This story was not subject to the approval of Major League Baseball or its clubs.