Blue Jays trim Wild Card deficit by stinging Rays
Navarro, Edwin belt two-run jacks to back Stroman's solid outing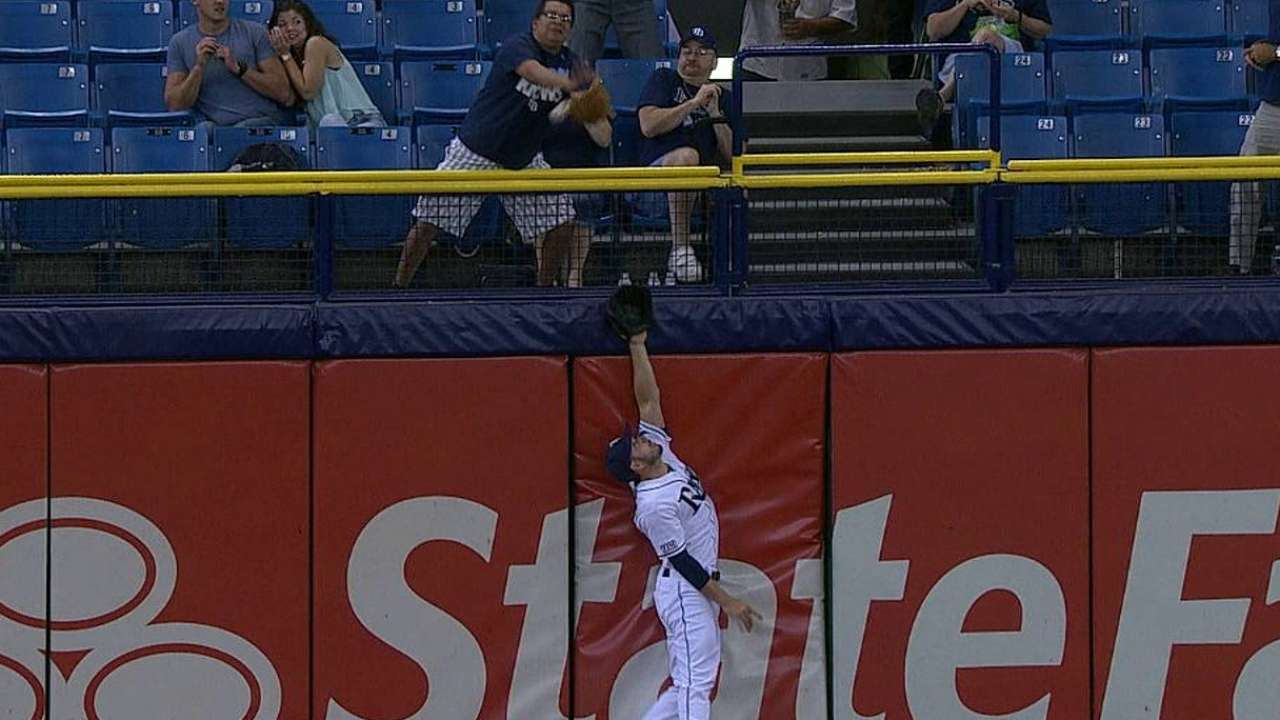 ST. PETERSBURG -- For the first time in more than seven years, the Blue Jays have finally won a road series vs. Tampa Bay.
Dioner Navarro and Edwin Encarnacion each homered, while right-hander Marcus Stroman tossed six strong innings in a 7-4 victory on Wednesday night at Tropicana Field to end the infamous skid.
"For one series we got the monkey off our back," Blue Jays manager John Gibbons said. "Now, we have to get greedy and try to win another one tomorrow, try to come up with a great series ... But another well-played game all the way around and that's the bottom line. We're playing good baseball right now."
The win secured a series victory on the road vs. Tampa Bay for the first time since 2007. The 22 consecutive non-winning road series -- 21 at The Trop as one was played in Orlando -- was the longest such streak since the Rays had 25 consecutive non-winning series at Fenway Park from 2000-08.
With Detroit's loss on Wednesday, the Blue Jays, who have won four in a row, moved to 4 1/2 games back of the second Wild Card spot. However, in addition to the Tigers, they are also chasing the Mariners, Yankees and Indians.
Prior to Wednesday night, Toronto hadn't won a road series vs. Tampa Bay since April 6-8, 2007. The Blue Jays had lost 20 of the 22 series since then and had posted an 18-50 record over that same span. Toronto won the opener in nine of those sets, but it wasn't until this week that the club was able to turn that into a series victory.
"I wish it hadn't happened," Rays manager Joe Maddon said. "They're good right now. They're playing, they've played better than we did the last two nights and they deserved to beat us. Very simple. They've got a nice club."
The Blue Jays took the series opener on Tuesday night thanks to three home runs and a strong outing by R.A. Dickey. Wednesday night's game took on a similar tone as once again Toronto broke the game open via the long ball and the pitching staff was able to take it the rest of the way.
Navarro opened the scoring in the second inning with a two-run shot to right field. It was his second homer in as many days and each of the last three have come against his former Rays team. This time it was Navarro's 12th of the year that allowed his team to take an early edge against right-hander Chris Archer.
Toronto added another run in the fourth on a sacrifice fly by Danny Valencia. Encarnacion delivered the big blow in the fifth with a two-run shot to left-center field. The ball was touched by a fan at the wall and prompted a crew chief review, but replays were inconclusive and Encarnacion was credited with his 29th homer of the season.
Archer was charged with six runs on 10 hits and one walk over six innings. It marked the second consecutive outing that he allowed at least six runs, which follows a stretch during which Archer allowed three earned runs or fewer in seven straight starts.
"When I help my team win, that's what matters," Navarro said of his production against the Rays. "You're ahead 2-0, it can be against the Rays, it can be against Houston, it's just nice to have the lead early and then we keep building from there."
Stroman cruised through the early stages of his outing despite a 30-minute power delay in the third inning when a set of lights went out. Stroman faced the minimum nine batters to start the game and didn't really encounter any issues until the sixth inning.
During that sixth, Stroman allowed singles to Ben Zobrist, Matt Joyce, Evan Longoria and James Loney. Two runs scored and Stroman was pulled after the inning despite having thrown only 76 pitches. He has allowed two runs or fewer in back-to-back starts and he has won two consecutive outings for the first time since the end of July.
"I felt fine, I felt strong," Stroman said. "It's just normal, obviously, if you sit for awhile, you're going to get a little stiff. So it was just a matter of going out there [to] get my blood flowing again and getting loose."
Gregor Chisholm is a reporter for MLB.com. Read his blog, North of the Border, and follow him on Twitter @gregorMLB. This story was not subject to the approval of Major League Baseball or its clubs.