May records first big league win in Twins' rout
Allows three runs over five innings; offense scores five in fifth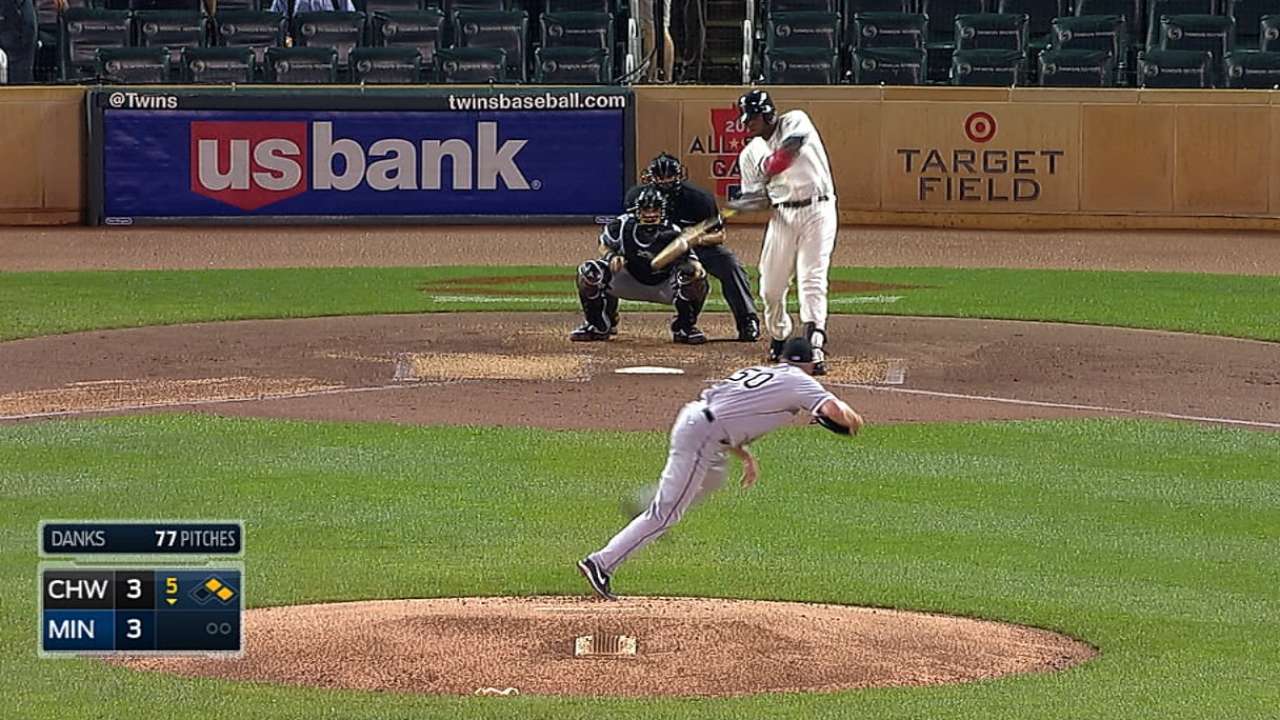 MINNEAPOLIS -- Trevor May is hardly the first highly regarded prospect to experience struggles early in a career.
But after four shaky outings, May picked up his first Major League win in his fifth career start, as the right-hander was backed by plenty of offense from the Twins in an 11-4 win over the White Sox on Wednesday night at Target Field.
May, who entered with four losses and a 10.42 ERA, turned in the best outing of his career. The 24-year-old went five innings, giving up three runs on six hits and a walk with six strikeouts. He threw 78 pitches, but was removed after the fifth inning, which saw a 16-minute rain delay and the Twins score five times.
"It feels a lot better than the last four starts," May said. "Getting a win is definitely a step in the right direction. All the work I've been doing in between starts has started to pay off. With the run support I got, things worked out and it feels good."
May was hardly the only Twins player to have a big night, as Eduardo Nunez picked up four hits and fell a homer short of the cycle, Eduardo Escobar had three hits and Kennys Vargas had a homer and three RBIs to pace the offense.
"It was a good night all around for us," Twins manager Ron Gardenhire said. "We got our starting pitching through five and then the rain comes. But we got him his first win, which was huge. So some good things happened for us."
May was handed an early lead, as the Twins scored three times in the first inning against White Sox left-hander John Danks. Nunez sparked the rally with an RBI triple after Danny Santana opened the frame with a single before scoring on an infield single from Joe Mauer. Josmil Pinto and Oswaldo Arcia laced back-to-back doubles to plate the third run of the inning.
But May allowed the White Sox back into the game, giving up two runs in the fourth on a two-run blast from Dayan Viciedo. Chicago tied it in the fifth on an RBI single from Adam Eaton to score Marcus Semien, who singled and reached second on a wild pitch.
"There are still some times where I need to make a pitch and it didn't happen," May said. "But it happened more so for me."
May left with the game tied, but got the win thanks to a big inning from the Twins in the bottom of the fifth. Nunez again started the rally with a leadoff double before Mauer walked and the rain started coming down at Target Field.
After a short rain delay, Kennys Vargas singled on the first pitch from Danks to score Nunez before Arcia plated Mauer with a fielder's choice. Aaron Hicks kept it going with a two-out single, which knocked Danks from the game in favor of reliever Matt Lindstrom.
"I almost felt like every time I threw a fastball, they knew it was coming," said Danks, who gave up seven runs on 11 hits over 4 2/3 innings.
Nunez jumped all over Lindstrom's first pitch for a two-run triple and scored on an error from shortstop Alexei Ramirez to give the Twins a five-run lead.
Vargas broke the game open with a two-run blast in the sixth off reliever Scott Snodgress, who was making his Major League debut. It was the sixth homer for Vargas, who also went deep Tuesday night, but his first from the right side.
"He's just a strong young man," Gardenhire said. "You know if you throw one over the plate and Vargas swings, it has a chance to go a long way."
The White Sox scored a run in the eighth on an RBI single from Viciedo off reliever Michael Tonkin, before Nunez capped the evening with an RBI single, his fourth hit of the night, in the eighth. Nunez went 4-for-6 with two RBIs and finished a homer shy of the cycle, but said he wasn't trying for a homer in his last at-bat.
"I was just trying to put a good swing on the ball," Nunez said. "I don't play every day so it's tough with timing. So I was just trying to hit a line drive."
It created the perfect opportunity for right-hander A.J. Achter to make his Major League debut, and he responded by tossing a 1-2-3 ninth inning.
"It was a good first outing," Achter said. "I don't think I could've asked for anything more in my big league debut. I felt very comfortable out there."
Rhett Bollinger is a reporter for MLB.com. Read his blog, Bollinger Beat, and follow him on Twitter @RhettBollinger. This story was not subject to the approval of Major League Baseball or its clubs.