Danks rattled by Twins on rainy night at Target Field
Lefty allows seven runs over 4 2/3; Viciedo hits two-run homer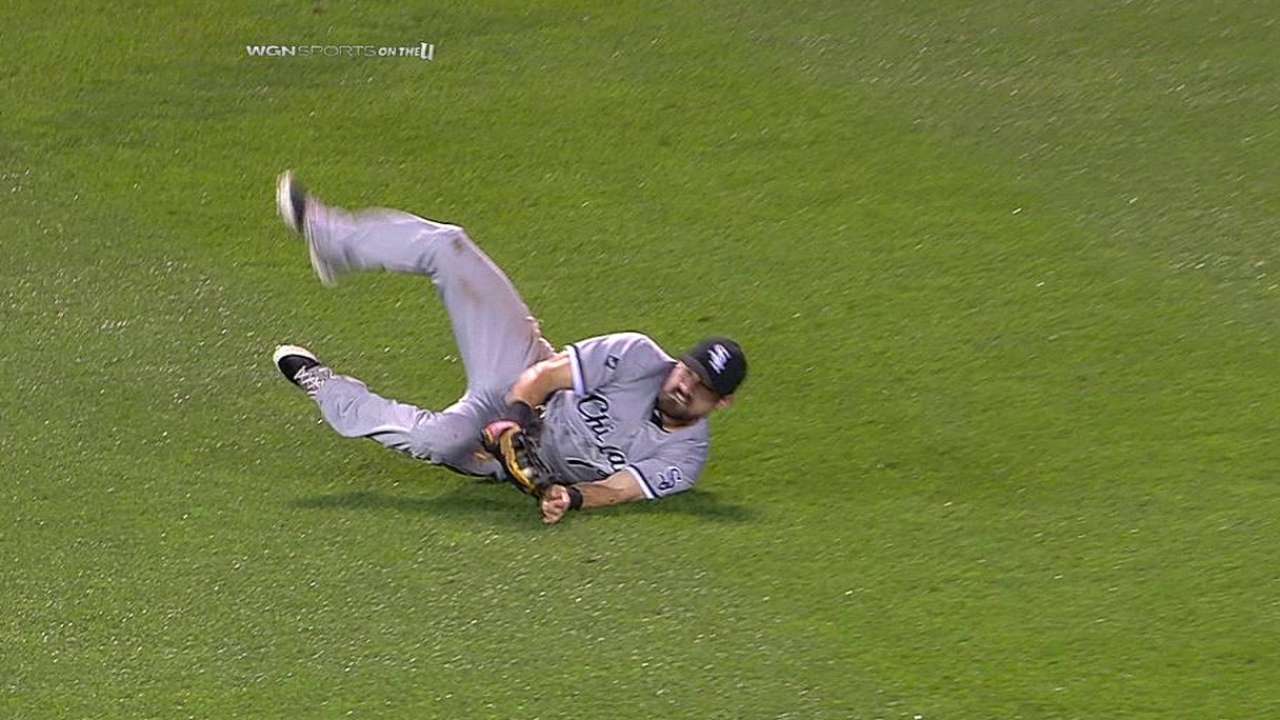 CHICAGO -- There was a moment in the sixth inning of the Twins' 11-4 victory over the White Sox on Wednesday night at Target Field that pretty much summed up the contest for the South Siders and starting pitcher John Danks.
With Scott Snodgress on the mound, making his Major League debut but getting knocked out before completing the inning, Aaron Hicks hit what looked to be a routine fly ball to center fielder Adam Eaton. Eaton moved in to make the play, slipped on some wet grass caused by a 16-minute rain delay earlier in the game and face planted.
Eaton got up to make a diving catch for the second out. Bounce-back powers for the White Sox and Danks were not quite as strong, as the team's modest two-game winning streak came to a close.
"It wasn't our night," said White Sox manager Robin Ventura, as his team fell to 7-9 against the Twins, 28-32 against the American League Central and 29-40 on the road.
"Just an all-around bad night," Danks said. "It's pretty frustrating."
Frustration or bewilderment might be the best way in describing Danks' postgame demeanor, after he gave up seven runs on 11 hits over 4 2/3 innings. Those feelings stemmed from Danks (9-10) feeling as if every time he threw a fastball, the Twins (61-78) knew it was coming.
Minnesota has maintained control over the White Sox southpaw for a while, beating him 13 times since 2007. Danks carries a 5.59 ERA in 27 career starts against the Twins and a 7.74 ERA at Target Field.
Danks' last victory came on July 25 at Target Field. Over those last seven starts since the end of July, including Wednesday, Danks has allowed 32 earned runs on 52 hits in 37 2/3 innings.
"More than anything, it was just bad location," said Danks, who has yielded double-digit hits in five of his 28 starts this season. "I had trouble with the changeup and fastball. Both were cutting on me a little bit."
"We swung the bats well all the way through," said Minnesota manager Ron Gardenhire. "They shut us down for a while, but Danks can do that when he's on a roll. We've seen him do that. But then we started scoring and they couldn't stop us."
Minnesota grabbed a 3-0 lead in the first thanks to five hits against Danks. But the White Sox fought back against Trevor May (1-4) to score two in the fourth on Dayan Viciedo's two-run homer and one more in the fifth on Eaton's single bringing home Marcus Semien.
Viciedo hit two homers in this two-game series, giving him 19 for the season, with both traveling more than 400 feet. The game stayed deadlocked until the bottom of the fifth, which was interrupted by the rain delay with runners on first and second, nobody out and Kennys Vargas at the plate.
Vargas hit the first pitch from Danks after the delay into center to bring home Eduardo Nunez, who had four hits and two RBIs, with what turned out to be the game-winning run. The Twins scored five in that frame off of Danks and Matt Lindstrom, as Eduardo Escobar capped the rally with a two-run triple to right, and Vargas connected off of Snodgress for a 423-shot to left to raise the lead to seven in the sixth.
In Danks' last trip to the mound against the Indians on Aug. 28, he yielded just two runs on five hits over six innings. But Ventura knows that if Danks is not sharp with his secondary stuff, an issue the manager pointed out of late for his starter, then he's not able to get away with teams focusing on the fastball.
"I don't know if he's up in the zone, but guys are sitting on that fastball a little bit more," said Ventura. "When he was throwing well, he had his curveball mixing in and really an effective changeup. Right now it just seems like everybody really is sitting on the fastball.
"If he can't locate that stuff and you're coming in fastball, it's going to get hit, so it just needs to be better. This was just not his night."
Not really the night for anyone on the White Sox, aside from Viciedo, Michael Taylor and Jose Abreu. Taylor picked up his first hit with the White Sox and Abreu's two hits, after a one-game absence because of general soreness, extended his hitting streak to 13 and 61 of his last 68 since June 15.
"He doesn't want a day off, definitely," said Ventura of Abreu, who is hitting .322. "When you see him limp around and do the things he was doing the other day, you just feel like it's in his best interest to actually get one."
Scott Merkin is a reporter for MLB.com. Read his blog, Merk's Works, and follow him on Twitter @scottmerkin. This story was not subject to the approval of Major League Baseball or its clubs.