Utilizing strong splits can provide boost down stretch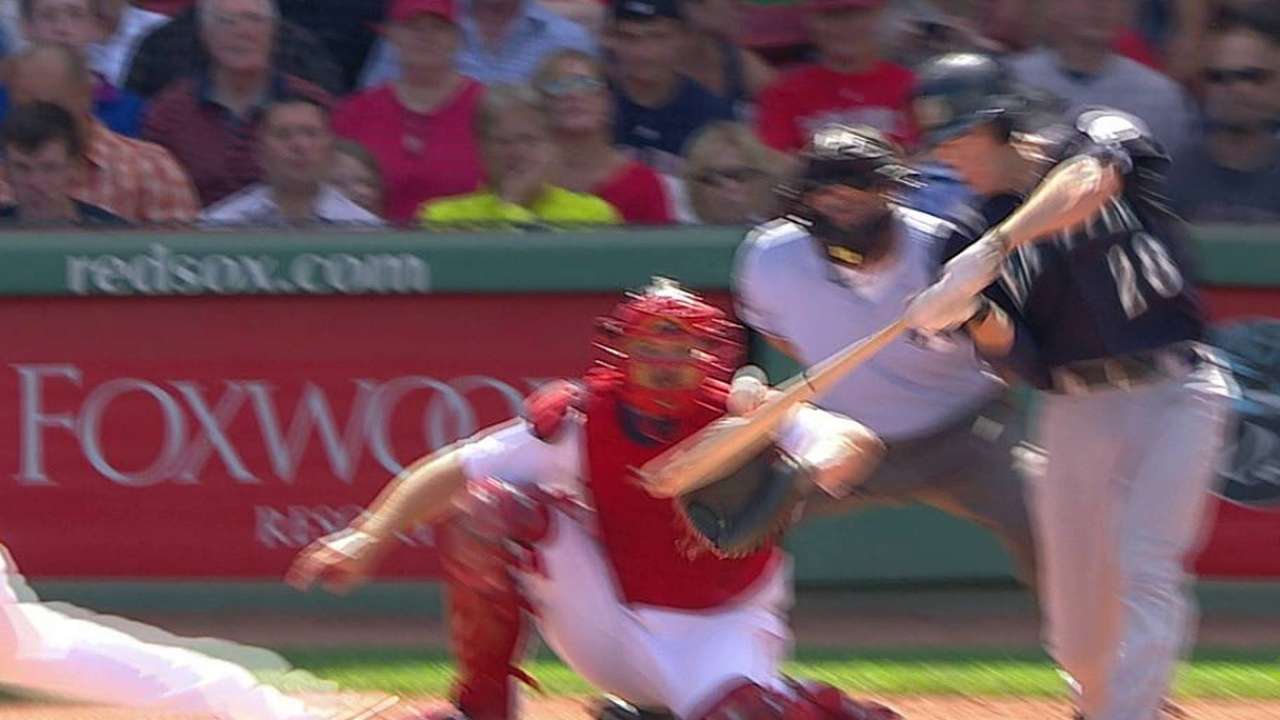 In the final month of the season, fantasy owners chasing a title are looking to get every advantage they can down the stretch. For teams in contention, just one extra homer or hit can make all the difference. In leagues that allow daily lineup changes and pickups, streaming hitters with strong splits can provide a small boost that could make a big difference.
Mariners outfielder Chris Denorfia has always performed much better against left-handed pitching, as he owns a .298/.364/.438 batting line (all stats through Monday) against them in nine Major League seasons. Compare that to Dustin Pedroia, who has hit .300/.366/.445 overall in his career.
"You have to take a different approach," Denorfia said about facing southpaws. "I feel pretty good stepping in against some of the better lefties in the league. I try to take away what they're best at and make them as uncomfortable as possible."
That approach is working for Denorfia when he is used in the right situations, and fantasy owners can do the same thing in their leagues. Here is a list of underrated players at each position who can excel when they are utilized in the best way and hopefully help out down the stretch.
Catcher: Derek Norris and John Jaso (A's): The A's have employed a platoon behind the plate for much of the season, and the results have been excellent. Norris has performed well with the bulk of the duties, but he has truly thrived when facing southpaws to the tune of a .323/.401/.516 batting line.
"I think it just goes to your style of hitting," Norris said. "When you succeed more off of a lefty than when you do off of a righty, you sometimes look forward to the next lefty."
Jaso is confident he will return from injury soon, and he could make an impact after hitting .272 with nine homers in just 283 at-bats against righties this year.
"I do feel more comfortable against righties," Jaso said. "It's just the angle. My left eye is dominant, so when a righty is pitching, my left eye can see his release point better. It's just depth perception."
First base: Garrett Jones (Marlins) and Nate Freiman (A's): Jones may not be a particularly exciting option, but he has proven that he can contribute against righties, with a .250 batting average, 13 homers and 44 RBIs against them in 368 at-bats this season. Meanwhile, Freiman has pounded the ball against left-handed pitchers, belting four home runs in just 39 at-bats vs. southpaws. With that kind of pop with the platoon advantage, these readily available first basemen may be worth a look when the matchup is right.
Second base: Scooter Gennett (Brewers) and Rickie Weeks (Brewers): In the strong side of another natural platoon, Gennett has hit a solid .302 with six steals this year, but he has been even better against righties, with a .323 average and all nine of his homers. Weeks often gets the starts against southpaws, and he has responded with a .791 OPS and four home runs in just 114 at-bats. As a result, both Brewers keystone men can be managed for decent production.
Shortstop: Brandon Crawford (Giants) and Erick Aybar (Angels): Crawford may not be known for his power or speed, but the slick-fielding shortstop has hit an excellent .299/.382/.470 when facing left-handed pitching this year. Meanwhile, Aybar has hit a solid .295 vs. righties in 2014, including five of his six homers on the year. Although neither option may rack up the counting stats, they have proven they can contribute when used correctly.
Third base: Lonnie Chisenhall (Indians) and Matt Dominguez (Astros): Chisenhall is finally living up to his lofty prospect status this year, as he has hit a solid .283 with 11 home runs, 23 doubles and 42 RBIs in 307 at-bats against righties. The 25-year-old is worth utilizing any time a southpaw isn't pitching. When a lefty is on the menu, Dominguez can be an even more intriguing option. Houston's hot-corner man has shown solid pop with a questionable batting average in the past, but he is hitting a solid .270 with six homers in 137 at-bats against left-handed pitching this season.
Outfielders: Dustin Ackley (Mariners), Leonys Martin (Rangers), Matt Joyce (Rays), Drew Stubbs (Rockies), Rajai Davis (Tigers), Nori Aoki (Royals): There are plenty of outfielders who are capable of success against right-handed pitchers, and Ackley is currently one of the hottest. The 26-year-old is batting .261/.320/.450 vs. righties on the year, with all 11 of his home runs coming in those 311 at-bats against them. Martin is known more for his speed than his power, as he has swiped 17 bases while batting .289 against right-handed pitchers in 2014. Finally, Joyce has always produced as a platoon bat against right-handed pitching, and nothing has changed this season considering he is hitting .275 with seven homers and 44 RBIs in 338 at-bats against righties.
As for outfielders who are smashing southpaws this year, there are few options better than Stubbs. The 29-year-old has thrived since arriving in Colorado, and much of his success is fueled by a .345 batting average, six homers and seven stolen bases in 113 at-bats against lefties. Davis is a veteran speedster who has always preferred to face left-handed pitching, and nothing has changed in 2014: he has swiped 32 stolen bases on the season and batted .345 when up against a southpaw. Lastly, Aoki may be a left-handed hitter in a bit of a down year, but his reverse platoon split has led to an impressive .339/.410/.393 batting line, with five stolen bases in 105 at-bats against fellow lefties.
Dylan Higgins is a fantasy baseball writer for MLB.com. This story was not subject to the approval of Major League Baseball or its clubs.