Phils get first look at Gonzalez in loss to Braves
Reliever allows go-ahead run as Atlanta breaks through in finale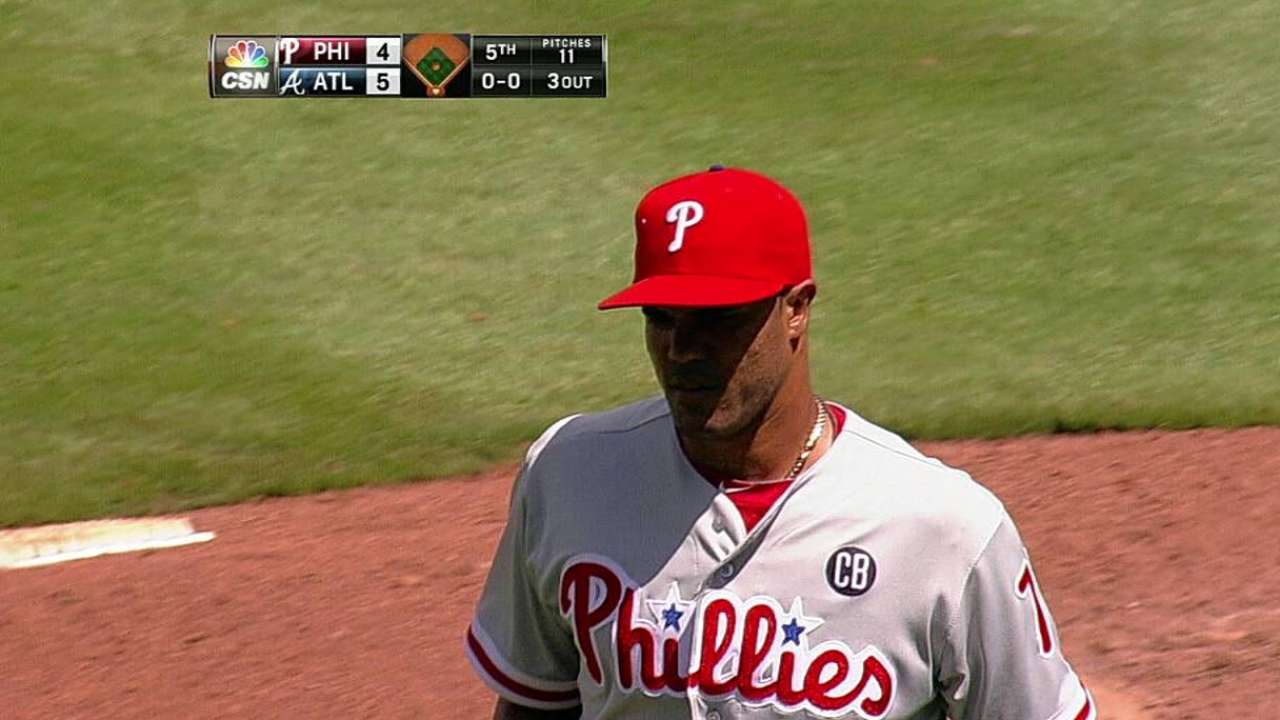 ATLANTA -- The Phillies are spending the final month of the 2014 season thinking only about '15.
They will spend September getting a closer look at players like Maikel Franco, the organization's No. 3 prospect, and right-hander Miguel Alfredo Gonzalez, whom they signed to a three-year, $12 million contract last summer.
Franco made his debut Tuesday. Gonzalez made his Wednesday in a 7-4 loss to the Braves at Turner Field. He replaced injured left-hander Mario Hollands with runners at the corners and two outs in the fifth inning. He allowed the go-ahead run to score in the fifth and two more runs to score in the sixth as the Braves finally put runs on the board against the Phillies following a no-hit loss Monday and a shutout loss Tuesday.
"He looked good today, he was just rushing a little bit -- you know, first outing, a little bit nervous and jumpy," Phillies catcher Wil Nieves said. "But he made some good pitches when he stayed back. That's how he pitched [in the Minors]. I told him, 'Don't worry, first outing, relax next time and just do what you do.'"
Gonzalez has been the organization's Man of Mystery in many ways. They originally agreed to a six-year, $48 million contract with an $11 million club option for 2019 before concerns about his arm following a medical exam made the Phillies renegotiate the deal. But upon the agreement, the Phillies touted Gonzalez as a bona fide starter, someone who seemed likely to make the rotation out of Spring Training.
But Gonzalez wasn't healthy in Spring Training, and knowing they lacked depth in the rotation, the Phillies signed A.J. Burnett to a one-year, $16 million contract with a player option next season worth as much as $12.75 million.
Gonzalez opened the season on the disabled list with right shoulder tendinitis. He made three starts with Class A Advanced Clearwater in May before the Phillies decided to move him to the bullpen because they believed he would hold up better physically. He posted a 3.11 ERA in 31 appearances between Clearwater, Double-A Reading and Triple-A Lehigh Valley before his promotion to the big leagues Tuesday.
"It's amazing," Gonzalez said before the game to translator and teammate Luis Garcia. "It's a dream come true."
Gonzalez opened his outing in the fifth by allowing a single to right to Christian Bethancourt to allow the go-ahead run to score to make it 5-4. He then walked B.J. Upton to load the bases before striking out Braves pitcher Ervin Santana to end the inning.
Gonzalez retired the first two batters he faced in the sixth inning before he walked Freddie Freeman and allowed back-to-back singles to Ryan Doumit and Tommy La Stella, which scored Freeman to make it 6-4.
Justin De Fratus replaced Gonzalez. Doumit eventually scored to make it 7-4.
Gonzalez faced eight batters. Five reached base. Two via walks.
"Well, he's come a long way since Spring Training," Phillies manager Ryne Sandberg said. "That's one thing. He looks like he's healthy, looks like he's throwing good. So that's something he can build on, being healthy and having this experience to pitch. Potentially, yeah, a very good arm."
Gonzalez will get more opportunities to pitch this month. This is just a start. But one wonders what his future holds. Will he remain in the bullpen or return to the rotation?
"That's not my decision. I'm just pitching," Gonzalez said. "Whatever they want me to do, I'll do."
But could he hold up physically as a starter, if the Phillies wanted to go that way in the future?
"I feel strong," he said. "If I start next year, I'll be fine. … The Phillies made the decision to make me a reliever to see if I could get healthy and confident again. The decision to be a starter, it's up to them."
The Phillies and Braves went back and forth Wednesday before the Braves broke through against Hollands and Gonzalez. The Phillies took a 1-0 lead in the first when Ben Revere doubled and scored on Chase Utley's sacrifice fly to center field.
But Utley's error in the second led to three unearned runs against Phillies right-hander David Buchanan to give the Braves a 3-1 lead. Grady Sizemore's two-run homer in the third tied the game.
The Phillies and Braves each traded one more run as the game entered the bottom of the fifth inning tied.
Todd Zolecki is a reporter for MLB.com. This story was not subject to the approval of Major League Baseball or its clubs.