Dunn powers up, but Lester outdueled in finale
Slugger hits second A's HR; ace hurt by two mistakes that leave yard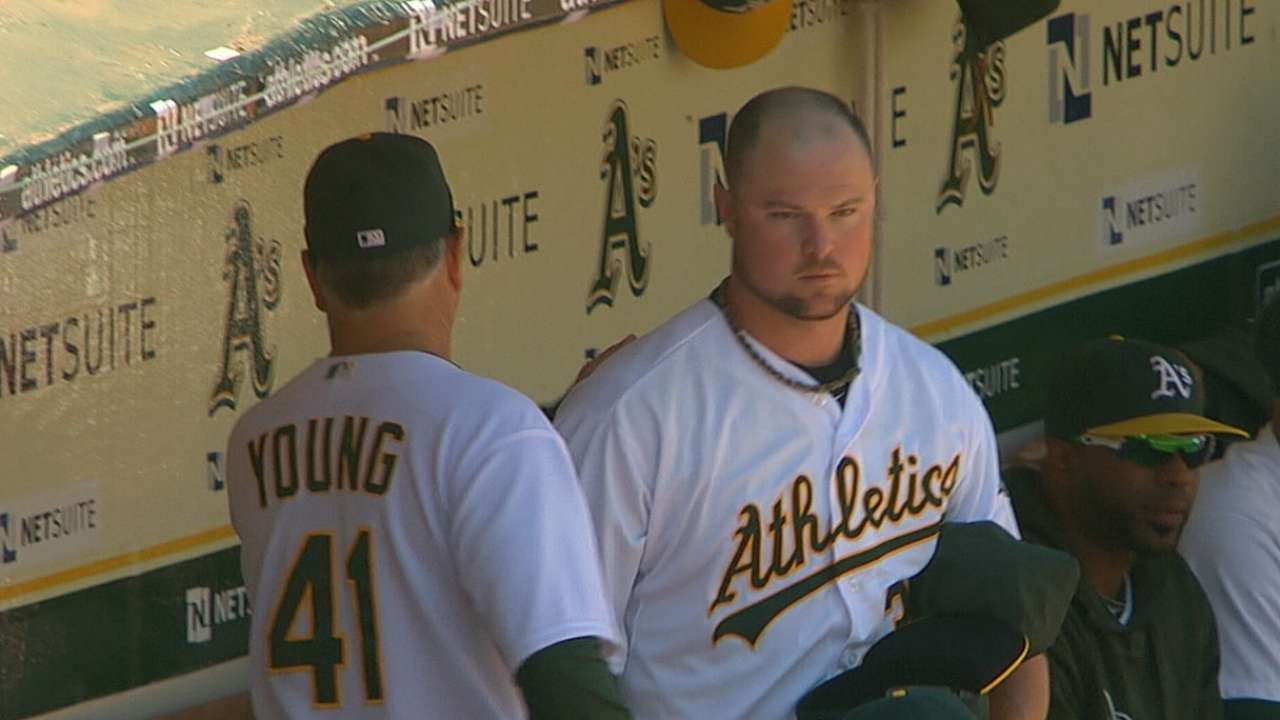 OAKLAND -- Going through the motions of what could very well have doubled as a preview of the American League Wild Card Game on Wednesday afternoon, Oakland's ace was bested by Seattle's -- but just barely.
Jon Lester, though dominant through his first six innings, was done in by back-to-back homers from Kyle Seager and Corey Hart in the seventh, making a winner out of Felix Hernandez and the Mariners in a 2-1 decision at the Coliseum.
Adam Dunn provided the A's their only run of the day with his second homer in three days in green and gold and 22nd of the season, a towering shot to right field off Hernandez with one out in the fourth.
But Dunn can't single-handedly save these reeling A's, who not only lost the three-game series but are now 7-16 over their last 23 games. They remained 4 1/2 games out of first after the Angels fell to the Astros on Wednesday night, with the Mariners lurking just 3 1/2 games behind them.
Neither can Lester.
"Give up two solo homers, I like my chances in just about any game," said Lester. "Unfortunately Felix was on the other side and did one better."
Lester received an average of 7.3 runs of support in his first three A's starts, all wins. In four starts since, three of them losses, he's gotten an average of 1.5 runs.
"We can't bank on a guy no matter who he is," said catcher Derek Norris. "Lester or Sandy Koufax or whoever is going out there, we gotta score more runs. We can't bank on these guys going out and throwing nine innings of shutout ball every time. We just have to be better offensively."
The A's have scored three runs or fewer in 14 of their last 21 games, although they remained three games ahead of the Tigers, who lost to Cleveland on Wednesday night, for the top spot in the American League Wild Card race.
But the A's have too many internal issues of their own to be worrying about those around them.
"That's your goal as a team," manager Bob Melvin said of winning the division. "What we focus on is winning the game. That's what we have to continue to do. There are a lot of games left. Look ahead and look how many games you're behind or whatever, it can be a distraction. We're all about winning Friday's game."
Wednesday wasn't sweet for the A's, but it sure was short, the product of a fast-paced pitching duel between a pair of the game's best. Both Hernandez and Lester completed eight innings, the difference in that span being one damaging swing from Hart, which just so happened to come two pitches after Seager hit one out.
"Lester is their best guy and one of the better guys in the league," said Hart. "It's always tough to score. ... Seager has been a stud all year, so once he tied it up, I was just trying to make contact and get something going for the rest of the guys. And I was able to get something in the air.
"That was a good pitch away. I don't know how I hit it."
"Two mistakes, two solo homers. Nothing else really to talk about as far as how the game went for me," said Lester.
Besides Dunn's homer, Oakland managed just two other hits off Hernandez, who improved to 6-0 with a 1.98 ERA in nine starts at the Coliseum since the start of 2011. Overall, the right-hander is 19-7 with a 2.58 ERA in 34 career starts against the A's, including 4-0 with a 2.15 ERA in five outings this season.
"You know he's going to be around the plate with all of his pitches," said Dunn. "He's one of the best, and just like every other guy who's one of the best, if you don't get him early, it's going to be a long day. He was really good. I've never seen him bad. Doesn't happen very often. We just didn't have very many opportunities today."
"It came as advertised. Basically three swings of the bat, and they got two of them," said Melvin. "Usually with two guys like that, it comes down to one swing. Literally, in this case, they got one more than we got.
"We'll take the day off, come back out with some enthusiasm, positive thinking that our offense is going to come around -- we've seen signs of it, certainly, a little bit. Adam's been a nice addition to our lineup. So maybe it's good to have an off-day."
Jane Lee is a reporter for MLB.com. This story was not subject to the approval of Major League Baseball or its clubs.