Facing rivals, Ranaudo takes first big league loss
Defense turns 2-6-3-4-5-3 double play, but Kuroda holds offense at bay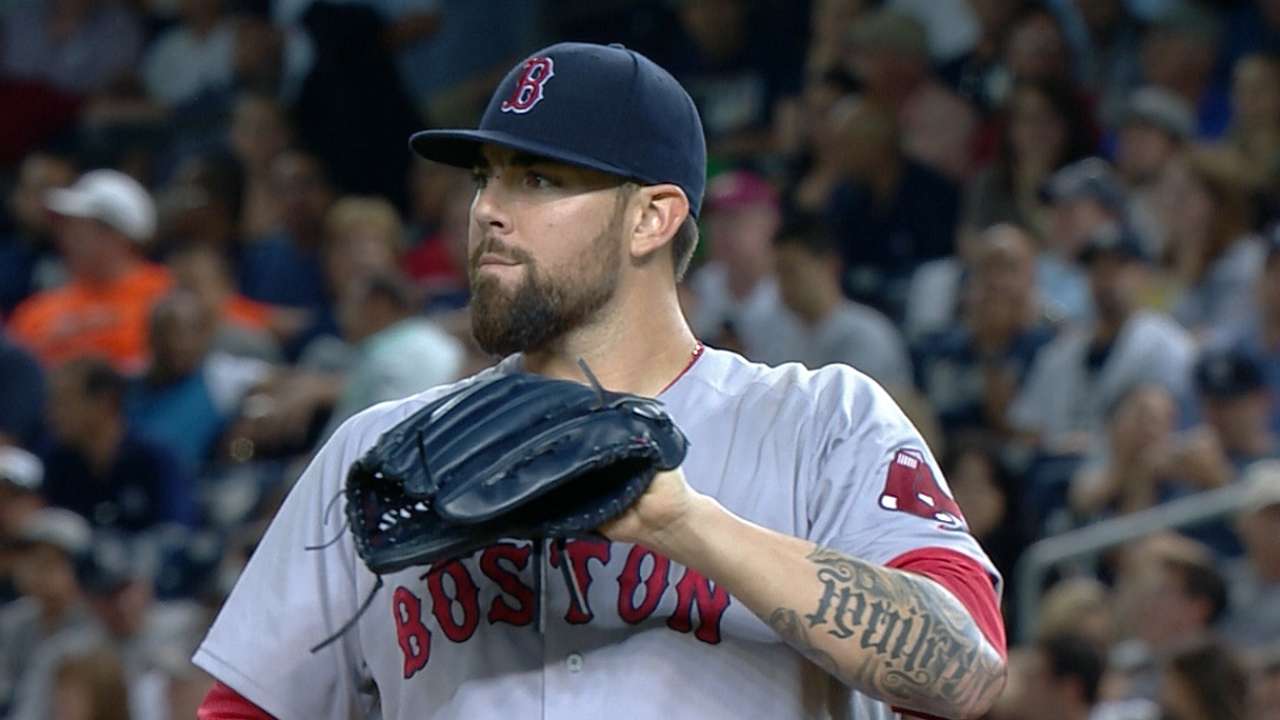 NEW YORK -- Anthony Ranaudo's quest to win his first four Major League starts was denied by the Yankees on Wednesday night, although the righty's performance was pretty similar to his first three outings.
Over 5 1/3 innings, Ranaudo, who is the club's No. 5-ranked prospect, allowed six hits and three runs. He walked two and struck out one, as the Red Sox took a 5-1 loss to the Yankees.
"I felt really good, this is probably the most comfortable I've felt on the mound, the best I've felt about my stuff throughout the game and I felt probably it was the best I mixed my stuff," said Ranaudo.
Pitching against the Yankees, the team Ranaudo rooted for as a kid, the New Jersey native kept his team in the game.
"It's honestly not about that. I was a little disappointed that the team lost the game," said Ranaudo. "I wasn't worried about my family and friends. It was great they were here to support me and everything, but the team is way more important."
Hiroki Kuroda stifled the Boston bats over seven innings, allowing four hits and a run while walking none and striking out eight.
In particular, Allen Craig had a rough game for the Red Sox, going 0-for-4 with four strikeouts.
"At times, he's having to commit kind of early to some fastballs and a breaking ball is expanded below the zone on the outside part of the plate as well," said manager John Farrell. "I know he's trying to search and get a little continuity, a little rhythm going."
It was an important win for the Yankees, who are trying to stay afloat in the American League Wild Card race.
In one of the rarest plays you will ever see, the Red Sox turned a 2-6-3-4-5-3 double steal attempt by the Yankees into a double play to end the bottom of the second. Carlos Beltran was at the plate when Derek Jeter and Brett Gardner took off from second and first, respectively.
Jeter got in safely to third, and Red Sox catcher Christian Vazquez threw to second base causing Gardner to hold up and get caught in a rundown.
Jeter inched closer toward the plate with each throw in the rundown until Boston second baseman Jemile Weeks snapped a throw toward third and Jeter was caught retreating to the base. Then third baseman Brock Holt fired the ball back to second base, covered by first baseman Craig, to get Gardner as he tried to advance for the final out of the inning.
"So on a double steal, you're looking to knock down the lead runner," said Farrell. "Vazquez is able to see the jump that Jeter had gotten and then throws back and Bogey does a great job at covering the bag at second, so we're able to initiate the first rundown in the middle of the field."
The Yankees jumped in front in the bottom of the second when Brian McCann mauled a two-run homer to right against Ranaudo.
It was McCann who got a rally started in the fifth with a leadoff single. Stephen Drew worked a one-out walk. Ichiro Suzuki's single up the middle loaded the bases with one out. Jacoby Ellsbury got a run home with a sacrifice fly to center to make it 3-0.
"That pitch to McCann is obviously a big game changer to my outing," said Ranaudo. "If that doesn't happen, then I have just that one run in the fifth inning, it's a totally different ballgame when I come out in the sixth. But overall I felt pretty good about my stuff mixing it everything like that. Just try to take the positives and go from there."
Shut down early by Kuroda, the Red Sox put something together in the fifth, and it started when Weeks was hit on the leg by a pitch. Holt followed with an RBI double to left that Gardner didn't appear to get a great read on, slicing New York's lead to 3-1.
Ellsbury helped spark the Yankees in the seventh when he laced a one-out triple that a diving Mookie Betts couldn't reach. Gardner and McCann came up with RBI singles to make it a four-run game.
Ian Browne is a reporter for MLB.com. Read his blog, Brownie Points, and follow him on Twitter @IanMBrowne. This story was not subject to the approval of Major League Baseball or its clubs.