Cards sweep Bucs on Bourjos' walk-off knock
St. Louis wins fifth straight while dropping third-place Pirates five back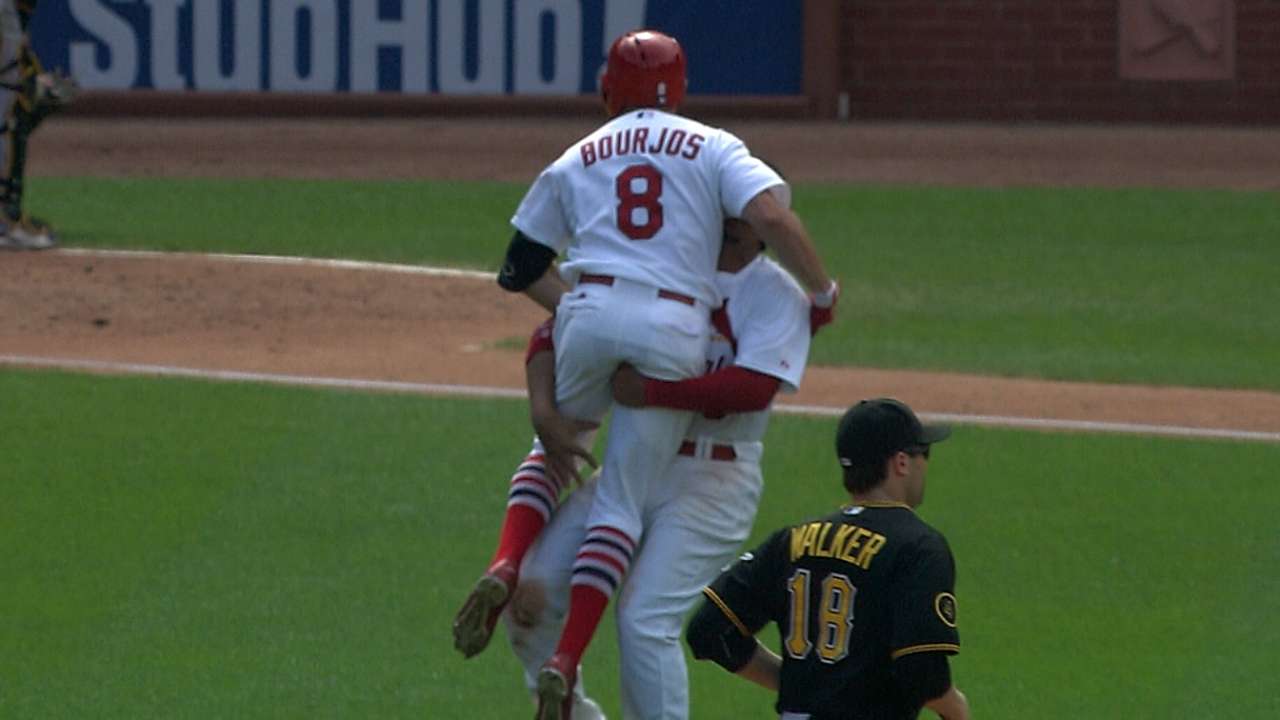 ST. LOUIS -- This was a week for the Cardinals to size themselves up against their National League Central competitors, with a three-game visit from the Pirates preceding a four-game showdown in Milwaukee. And it has started with a statement.
The Cardinals secured a sweep and further buried the Pirates in the division race with a 1-0 walk-off win in front of 42,864 at Busch Stadium on Wednesday. Surprise starter Peter Bourjos delivered the game-winning hit, extending the Cardinals' winning streak to a season-best five games and giving the club a three-game lead over the Brewers.
"The last three games felt like the playoffs," said Yadier Molina, who scored the winning run ahead of Andrew McCutchen's throw from center. "The next four, the next eight, they're going to feel like the playoffs, too. The whole month is going to be the playoffs for us."
Molina sparked the rally by working Mark Melancon, in for his first multiple-inning appearance since 2012, for a two-out walk. He moved to second on Jon Jay's single and chugged home on Bourjos' hit up the middle.
"I was just trying to go out there, put up a good at-bat and hit something hard," said Bourjos, who later called the hit the biggest of his career. "I was just hoping that Yadi was able to score."
"No one was going to stop me there," Molina grinned.
Manager Mike Matheny, who had given Bourjos a rare start against a right-handed pitcher as a reward for Bourjos' two-hit game on Tuesday, said he never considered pinch-running for Molina because he wanted him behind the plate if the game had extended into extras.
"He has done such a great job for us in big games like this and we need him up there," Matheny said. "He got this thing going. It's nice to see him help finish it."
Three Cardinals pitchers combined on the shutout, the team's 19th of the season. Shelby Miller produced his second straight seven-inning start. Carlos Martinez stepped up to cover the eighth, which he ended with an emphatic strikeout of reigning NL MVP McCutchen on the 10th pitch of the at-bat. Trevor Rosenthal faced the minimum in the ninth.
Miller was as dominant as he's been in any start since June 7 (when he threw a shutout in Toronto) and countered the Pirates' biggest threat against him by rewarding Matheny for leaving him in to work out of that trouble.
The pivotal point came in the seventh, with Neil Walker on third after leading off with a double and advancing on a flyout. Miller chose not to challenge Ike Davis, walking him instead. He then shattered Starling Marte's bat while getting a lineout to second and closed the inning with Jordy Mercer's flyout.
"[He had] a live fastball, with a good finish," Pirates manager Clint Hurdle said of Miller. "Obviously, the best we've seen him pitch. He was really tough today."
Walker had two of the three hits Miller allowed, though he would be the only runner to advance as far as third. Miller is winless in 14 of his last 15 starts, but has had much to like about his recent stretch. He started incorporating a sinker into his repertoire in August and has been liberal with the use of his curveball lately. That was again the case on Wednesday, as Miller made the Pirates think about that breaking ball early, throwing 16 among his first 35 pitches.
"Yadi told me we're going to throw some breaking balls early and we stuck with it all night," Miller said. "The Pirates are a team I've faced a lot. It gave them a little bit of a different look."
Six of his 18 career losses had come against Pittsburgh.
"That was one of his best starts," Matheny said, "and that's probably as well as I've seen him pitch."
The Cardinals had as much trouble against Pirates starter Edinson Volquez as the Bucs did against Miller. They were unsuccessful in two tries getting Jay home from third in the fifth. They put two on base in an inning only one other time against Volquez, that being when he hit Matt Holliday and Matt Adams concurrently in the fourth.
That led to both benches later being warned by home-plate umpire Ron Kulpa when Miller threw behind McCutchen in the sixth. In the bottom half of that inning, tensions briefly rose as both dugouts started squabbling, with Pirates catcher Russell Martin in the middle.
The Cardinals finish their season series against the Pirates with 11 wins in 19 games. Pittsburgh trails St. Louis by five games in the division.
"It's a great thing to sweep the Pirates and move forward," Molina said. "We played good baseball here, but we have to keep going. Milwaukee, I know they're not playing well right now, but they are a dangerous team. We have to be ready for them. They're hungry."
Jenifer Langosch is a reporter for MLB.com. Read her blog, By Gosh, It's Langosch, and follow her on Twitter @LangoschMLB. This story was not subject to the approval of Major League Baseball or its clubs.