Volquez solid, but Bucs fall to Cards on walk-off hit
Pittsburgh drops five games behind first-place St. Louis in NL Central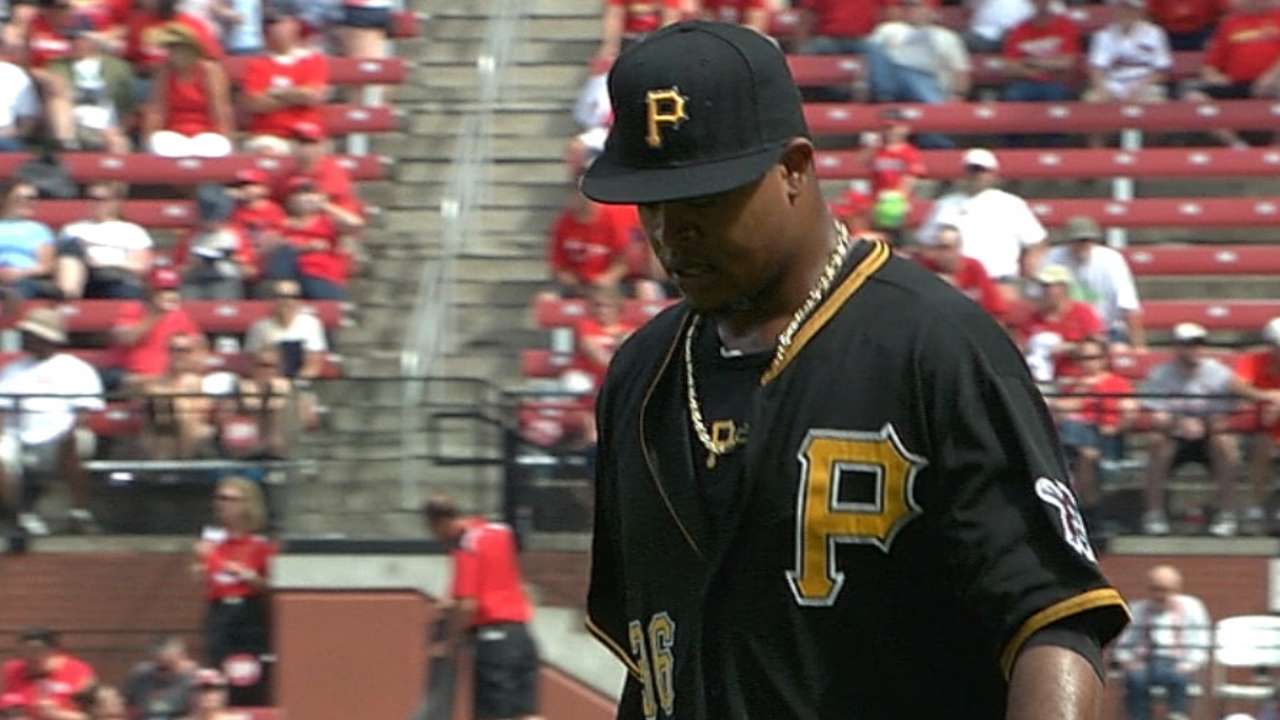 ST. LOUIS -- A difference of four runs was enough to sweep the Pirates out of Missouri. Eight pitches to Yadier Molina with two outs in the ninth were enough to set up the Cardinals' walk-off finale. Two grounders were enough to settle it.
No wonder no one can get enough of the Bucs and the Redbirds. Those little differentials created a wide separation from the top of the National League Central for the Bucs, who fell five games behind St. Louis with Wednesday's 1-0 loss in Busch Stadium.
"Yeah, it's unbelievable," Mark Melancon said soon after surrendering Peter Bourjos' game-winning single with two outs in the ninth. "They put the ball in play, and found holes."
"Two quick outs, nobody on base," manager Clint Hurdle said, shaking his head. "It just shows you how quickly the game can change."
With starters Edinson Volquez and Shelby Miller setting both the competitive and combative tone, a terrific pitchers' shootout under a midday sun held center stage in the crucial and pivotal division showdown.
Crucial? Pivotal? Both teams put their closers to work in a scoreless tie, the Bucs' Melancon entering in the eighth and St. Louis' Trevor Rosenthal appearing in the ninth.
"I wanted the backbone of the bullpen playing it out," said Hurdle, who had brought in lefty Tony Watson to finish the seventh. "I wanted the two best guys to finish the game off."
After an eight-pitch eighth, Melancon stayed on the mound for the ninth and appeared to be breezing toward his first two-inning stint since Sept. 8, 2012 (with the Red Sox).
He fanned both Matt Adams and Jhonny Peralta to begin the ninth, and jumped to a 1-2 advantage in the count on Molina.
"I thought I'd get him to swing on at least one of those outside pitches. But he laid off all of them," Melancon said. "He put a good at-bat together."
On the eighth pitch, Molina walked. Jon Jay bounced a three-hopper between third and short. Bourjos sent a ground ball to center, which reached Andrew McCutchen too slowly for his throw to reach home in time for Russell Martin to catch and set for the arrival of Molina from second.
"No one was going to stop me there," Molina said, grinning.
Ballgame. Series. A depressing sweep, the other losses having been by 5-4 and 6-4 scores.
But -- not terminal to playoff dreams.
In fact, St. Louis completed its second early September sweep of the Bucs in as many years. Last season, the Pirates left here in early September after being swept by the Cardinals in second place, 1 1/2 games out of the division lead. This time, they departed in third place five games down, hoping for the deja vu to continue, right through the rebound and into October.
"This was a great series. Nip and tuck and push and shove and tug-of-war every step," Hurdle said. "We battled, threw everything we had at them. They were just a little bit better than us in every game."
Fresh off having pitched hitless ball into the seventh inning in his previous start, Volquez held the Cardinals hitless into the fifth and departed a scoreless game with one out in the seventh.
Miller belied his career marks of a 2-6 record and a 4.98 ERA against the Bucs by blanking them through seven.
The starters took their hang-with-'ems with virtually identical pitching lines: Each allowed three hits, no runs and struck out five.
The only variations: Miller went seven innings to Volquez's 6 1/3 and had three walks to his opponent's two.
Volquez had an impressive response to his one serious jam. Jay and Bourjos began the fifth with singles -- the Cardinals' first two hits -- and Miller advanced them into scoring position with a sacrifice bunt.
Thus pushed, Volquez shoved back: He fanned both Matt Carpenter and Kolten Wong, looking and swinging, respectively.
"Everything was working today, especially when they got men on base. I could control the situation and make competitive pitches," Volquez said.
"He was so good to his glove-side, and down, with the fastball and changeup," Hurdle saluted. "He pitched a fantastic game."
Tom Singer is a reporter for MLB.com and writes an MLBlog Change for a Nickel. He can also be found on Twitter @Tom_Singer. This story was not subject to the approval of Major League Baseball or its clubs.