Pipeline preview: Nine leagues to start postseason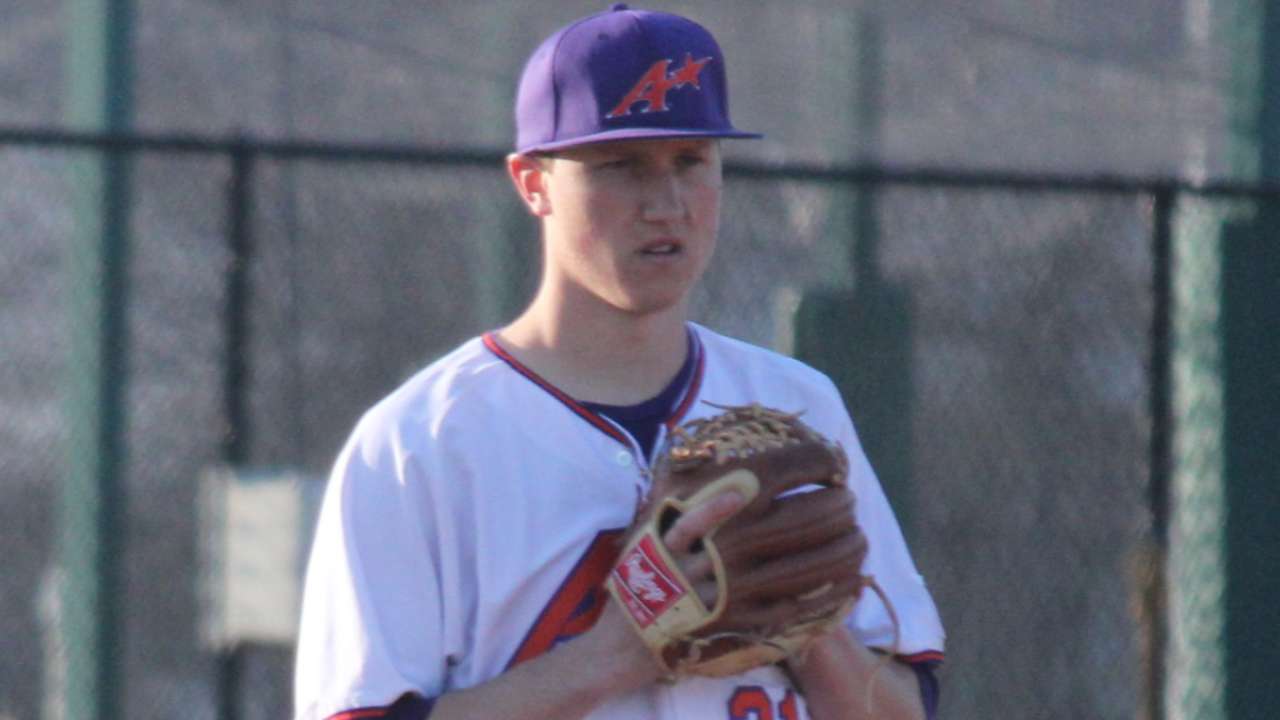 The Minor League playoffs began over the weekend, with a few of the short-season leagues getting their postseasons underway. The Gulf Coast League and the Arizona League have even already crowned their champions.
Wednesday, however, the Minor League playoffs will gather momentum as nine leagues begin their postseason. The action will span the continent, from Dunedin and Fort Myers on the Gulf Coast of Florida, all the way to Vancouver in the Pacific Northwest.
In between, the action will be highlighted by several pitchers ranked on MLBPipeline.com's Top 100 Prospects list who are scheduled to start Wednesday, including Eddie Butler (No. 29), Kyle Freeland (No. 70), Alex Gonzalez (No. 96) and Rafael Montero (No. 98). Fans can watch Butler, Gonzalez and Montero on MiLB.TV, beginning with Gonzalez and Double-A Frisco hosting Midland at 8:05 p.m. ET.
The D-backs' system will have the busiest day of any team, as four of their affiliates have playoff games Wednesday. Class A South Bend begins the day at 7 p.m. ET when it opens its first-round series in the Midwest League playoffs at Lake County at 7 p.m. Class A Advanced Visalia hosts Stockton in Game 1 of the first round of the California League playoffs at 9:05 p.m. An hour later, short-season Hillsboro will host Boise in Game 2 of the Northwest League semifinals. The Hops would advance to the finals with a victory. Also at 10:05 p.m., Triple-A Reno will open its Pacific Coast League semifinal series at Las Vegas. Fans can watch the Aces on MiLB.TV.
In addition to all the D-backs' affiliates in the playoffs, right-hander Touki Toussaint, the club's No. 3 prospect and No. 81 on the Top 100, is slated to start for Rookie-level Missoula in regular-season action. Toussaint, the 16th overall pick of the 2014 First-Year Player Draft, is 1-2 with a 15.30 ERA and 12 strikeouts in 10 innings in four starts since he was promoted to the Pioneer League.
While the D-backs are the only team with four affiliates in playoff action Wednesday, eight other teams will have three affiliates playing in the postseason today.
As most leagues open their postseasons, the Appalachian League is already set to begin its championship series. Danville will host Johnson City in Game 1 of the best-of-three series at 7 p.m. ET.
Danville swept Princeton in the semifinals and features outfielder Braxton Davidson and right-hander Alec Grosser, the Braves' Nos. 4 and 15 prospects. Grosser started Sunday in the first game of the semifinals and likely wouldn't be available to pitch again unless the championship series goes three games. Davidson, the Braves' first-round pick in the 2014 Draft, went 0-for-3 in the semifinals.
Johnson City defeated Elizabethton, 5-4, on Tuesday in the decisive third game of its semifinal series. Its roster is highlighted by shortstop Oscar Mercado, the Cardinals' No. 16 prospect. He hit .357/.438/.429 with five runs and three RBIs in the semifinals and scored the go-ahead run in the third game against Elizabethton.
Top prospect probables
Eddie Butler (Rockies' No. 2), Tulsa vs. Arkansas
Alex Colome (Rays' No. 5), Durham at Columbus
Tim Cooney (Cardinals' No. 10), Memphis at Omaha
Edwin Escobar (Red Sox's No. 9), Pawtucket vs. Syracuse
Kyle Freeland (Rockies' No. 4), Asheville vs. Savannah
Domingo German (Marlins' No. 11), Greensboro at Hagerstown
Gonzalez (Rangers' No. 5), Frisco vs. Midland
Brian Johnson (Red Sox's No. 10), Portland at Binghamton
Austin Kubitza (Tigers' No. 6), West Michigan at Fort Wayne
Rafael Montero (Mets' No. 6), Las Vegas vs. Reno
Toussaint (D-backs' No. 3), Missoula at Great Falls
Jen-Ho Tseng (Cubs' No. 15), Kane County at Wisconsin
Teddy Cahill is a reporter for MLB.com. Follow him on Twitter at @tedcahill. This story was not subject to the approval of Major League Baseball or its clubs.