MLB.com Columnist
Lyle Spencer
Ability to play around the horn music to managers
Versatility offers skippers flexibility to get the most out of their rosters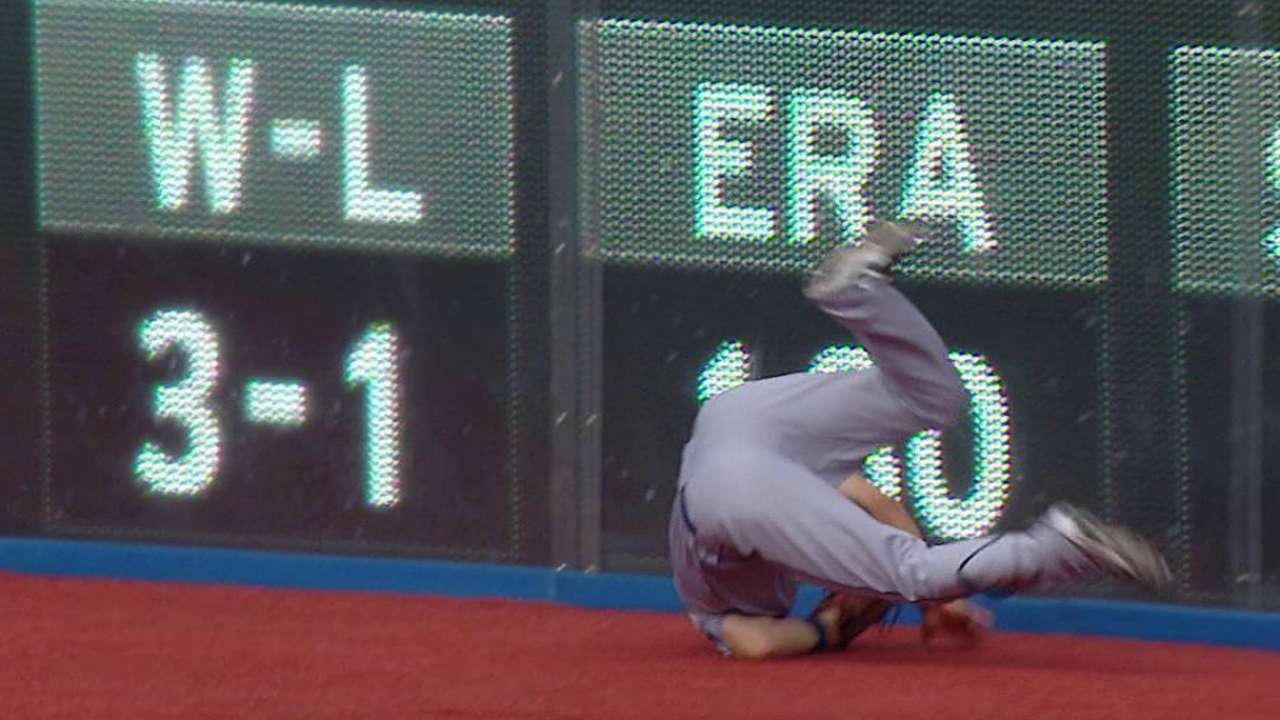 Have gloves, will travel. That's the calling card of Ben Zobrist, the most productively versatile player in the Major Leagues since his arrival in Tampa Bay in 2006.
Zobrist and Rays manager Joe Maddon were made for each other. Maddon, going back to his days as the Angels' bench coach during Chone Figgins' versatile youth, has placed high value on all-purpose weapons.
A switch-hitter, Zobrist brings extraordinary skills and instincts to any defensive task, but he is at his best at second base and right field. He saves runs wherever he plays and produces them with a blend of power and speed that has produced career bests of 27 homers in 2009 and 24 steals in '10.
Maddon, whose creativity is his calling card, has another chess piece in Sean Rodriguez. Like Zobrist, Rodriguez has started games at every position except catcher -- and he'd be happy to strap on the tools of intelligence should Maddon need him in an emergency.
"I knew when I was in the Minor Leagues that the more positions I could play well, the better chance I had of getting on the field," said Rodriguez. "I wanted to be like Figgy and have the ability to play anywhere."
With pitching staffs today gobbling up 12 and even 13 roster spots, the premium on versatile athletes has increased. Major League Baseball is overflowing with multiposition players who give their managers flexibility in a wide range of ways.
A look at some of the best, along with the two shining Rays:
Josh Harrison, Pirates: Play him at shortstop, third or second base, play him in right or left field, play him anywhere and you'll get All-Star-level performances from Pittsburgh's all-purpose player. He's built a little like the late, great Kirby Puckett, and he carries similar impact with his bat, speed and glove.
Brock Holt, Red Sox: In a season gone awry in Boston, Holt has become a favorite of the faithful, starting at seven positions and handling each with the flair and energy of a young Rex Hudler. He can hit, field and run, and his love of the game is palpable.
Martin Prado, Yankees: A career .290 hitter who provides quality defense at all four infield positions and the corner outfield spots, Prado is delivering for the Yanks now after starring for the Braves and D-backs.
Brandon Moss, A's: Whether he's in the outfield or at first base, Moss brings thunder to Oakland's offense.
Dustin Ackley, Mariners: At 26, Ackley is coming into his own in Seattle as an everyday left fielder, but he gives manager Lloyd McClendon flexibility with his abiliity to play second base, first and center field. His power is emerging, and he can motor.
Emilio Bonifacio, Braves: Atlanta is his seventh team at age 29, an indication of how valued Bonifacio is around the game in his ability to fill multiple needs. A switch-hitter who can play six positions capably with blinding speed and a .264 career batting average, he elevates any team he graces.
Willie Bloomquist, Mariners: Back in Seattle, where he began his career in 2002, but shelved by knee surgery, Bloomquist has been the quintessential all-purpose player for 13 seasons. A hustler with speed and good hands, he has done everything but catch and pitch.
Arismendy Alcantara, Cubs: A Zobrist in the making, Alcantara has been the Cubs' regular center fielder after debuting at second base and also playing shortstop and third in the Minors. He has the potential to become a super-utility guy if Albert Almora or another of Chicago's remarkable collection of young athletes claims center.
Mark Trumbo, D-backs: Known for his ability to launch baseballs, Trumbo -- a high school pitcher who threw in the high 90s -- transformed himself into a capable first baseman, but he knows his future in Arizona is in left field. He also can handle right and, in an emergency, has some experience at third base. Teammate Cliff Pennington is capable at third, short and second.
Daniel Descalso, Cardinals: He can handle all four infield positions and has shown he responds to postseason pressure.
Justin Turner, Dodgers: With his clutch bat and glove work at all four infield positions, Turner has filled a void left by Skip Schumaker and Nick Punto, valued role players for the Dodgers last year. Manager Don Mattingly has two other multiposition talents in Scott Van Slyke and Miguel Rojas.
Mike Aviles, Indians: Primarily an infielder for the Royals, Red Sox and now the Indians, Aviles also has started 40 Major League games in the outfield. He generates some power and can run.
Jeff Baker, Marlins: A key member of the surprising Miami cast, Baker packs power and can play just about anywhere.
Kevin Frandsen, Nationals: He'll play anywhere, run through a wall to make a play, and is bringing his energy and versatility to Washington after tours with the Giants, Angels and Phillies.
Efren Navarro, Angels: A brilliant defensive first baseman, Navarro increased his options by turning himself into a fine corner outfielder. Manager Mike Scioscia also has exploited the versatility of Grant Green, John McDonald and newly acquired Gordon Beckham.
Allen Craig, Red Sox: Along with his proven offensive production under pressure, Craig brings to Boston his overlooked versatility. He has started at six positions in the Majors, all four in the infield along with left and right fields.
So many more merit attention, such as Skip Schumaker (Reds), Ty Wigginton (Cardinals), Kelly Johnson (Orioles), Logan Forsythe (Rays), Alexi Amarista (Padres), Eduardo Escobar (Twins), Steve Lombardozzi (Orioles), Michael Martinez (Pirates), Ryan Flaherty (Orioles), Chris Valaika (Cubs), Jordany Valdespin (Marlins), Marwin Gonzalez (Astros), Marc Krauss (Astros), Adam Rosales (Rangers), Kristopher Negron (Reds).
Lyle Spencer is a columnist for MLB.com. This story was not subject to the approval of Major League Baseball or its clubs.