Mariners hang on to back Paxton's great start
Lefty shuts out A's until eighth inning; Rodney gets save after scare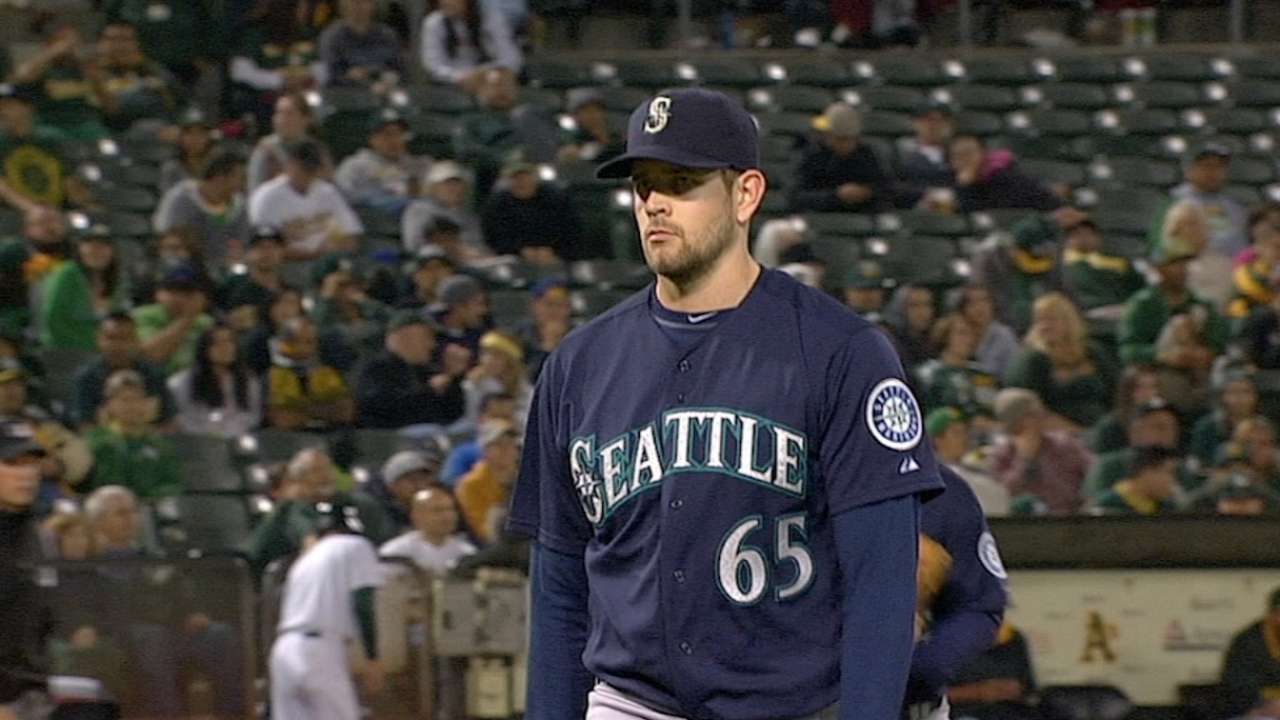 OAKLAND -- A Mariners rotation that has relied heavily on its "Big Three" veterans this season got another strong boost from rookie addition James Paxton on Tuesday as Seattle held on to beat Oakland, 6-5, at O.co Coliseum.
In his sixth start since coming off the 60-day disabled list, Paxton threw 7 2/3 innings of two-run ball in a dominant four-hit performance in which the A's never advanced a runner past first base until his final frame.
Paxton allowed just four singles and three walks and further limited the damage thanks to three double-play grounders and a caught-stealing.
"I was just going right after them with fastballs," said the 25-year-old Canadian. "They weren't making me adjust. They were hitting ground balls and hitting right at guys, so I just kept pounding away and they got themselves out. They were just putting the ball in play and guys were making plays behind me."
It was a much-needed win for the Mariners, who had lost four of five coming in and are embarking on a tough final month. Seattle improved to 74-63 and stayed a game and a half back of the Tigers in the chase for the second American League Wild Card spot after Detroit rallied for a 4-2 win in Cleveland.
While Felix Hernandez, Hisashi Iwakuma and Chris Young have combined to go 38-18 this season, Paxton is emerging as a potential late-season difference maker as he's gone 5-1 with a 1.91 ERA in eight starts on the year.
"He's our glue," manager Lloyd McClendon said. "He's good. This young man has greatness written all over him. He's just got to stay healthy."
The 6-foot-5 lefty is 8-1 with a 1.77 ERA in 12 career starts dating back to last season, which gives him the second-best ERA for any Major Leaguer in the first dozen starts of a career dating back to 1914. Steve Rogers of the Expos posted a 1.16 ERA in his first 12 starts in 1973, but no other big leaguer has been below 1.90 in that span.
"He's been phenomenal," said third baseman Kyle Seager. "You see the way he was working tonight, just working fast, throwing strikes, gets a lot of ground balls. He obviously has great stuff, but there's a different feel with it. He goes right at it, attacks hitters. He's pretty special."
Oakland didn't cross the plate until pinch-hitter Adam Dunn's RBI single off Yoervis Medina with two out in the eighth, followed by a two-run double by Craig Gentry as both runners inherited from Paxton scored in the three-run rally.
The A's were glad to finally get Paxton out of the game as they rallied to make it close at the end. Fernando Rodney came on in the ninth and allowed two runs on three consecutive doubles before finishing off his 40th save. He became the third Mariners pitcher with 40 or more saves in a season and is five shy of the club record set by Kazuhiro Sasaki in 2001.
"I think the starting pitcher had something to do with that," A's manager Bob Melvin said of being silenced for seven innings. "We had really good at-bats late in the game, we were down 6-0, fighting, but you talk about early in the game, it was more about Paxton."
Seattle's offense supplied just enough support in this one as Seager led the way with his 21st home run of the year, a two-run shot in the fifth that provided Paxton a 6-0 lead.
Center fielder Austin Jackson's two-run single in the third and a two-run double by Endy Chavez on a grounder through the middle of a drawn-in infield in the fourth did the early damage as Seattle got to right-hander Sonny Gray, who had gone 4-0 with a 1.10 ERA in five prior starts against the Mariners.
Chavez's key hit scored Kendrys Morales and Logan Morrison and the 36-year-old hustled into second when nobody covered the bag, giving Seattle back-to-back doubles after Morrison had driven a ball into the left-center gap to set things up.
"Endy is a pro," McClendon said after the veteran lifted his average to .281 with a 1-for-1 night with a walk before being lifted for a pinch-hitter. "A lot of people don't like the way he goes about it. They can talk about all the sabermetrics and WAR stuff. But Endy Chavez is a baseball player through and through and he gets it done. A lot of times it doesn't look pretty, but he gets the job done."
The six earned runs equaled the most allowed all season by Gray, who was ousted after five innings as his record fell to 13-8 with a 3.25 ERA.
Seager, moved back into the cleanup spot after batting fifth in recent weeks, drove a 1-0 fastball into the seats as he increased his team-leading RBI total to 84. He's one home run and two RBIs short of career highs in both categories with 25 games remaining.
Seager also made an excellent play on a tough hop in the eighth to start one of Paxton's three double plays.
"I keep saying he's one of the best third basemen in the league," said McClendon. "The double play he turned was big. He's pretty good at what he does."
Greg Johns is a reporter for MLB.com. Follow him on Twitter @GregJohnsMLB as well as his Mariners Musings blog. This story was not subject to the approval of Major League Baseball or its clubs.