Ziegler's struggles continue in San Diego
Reliever battling knee issue; Miley strong through seven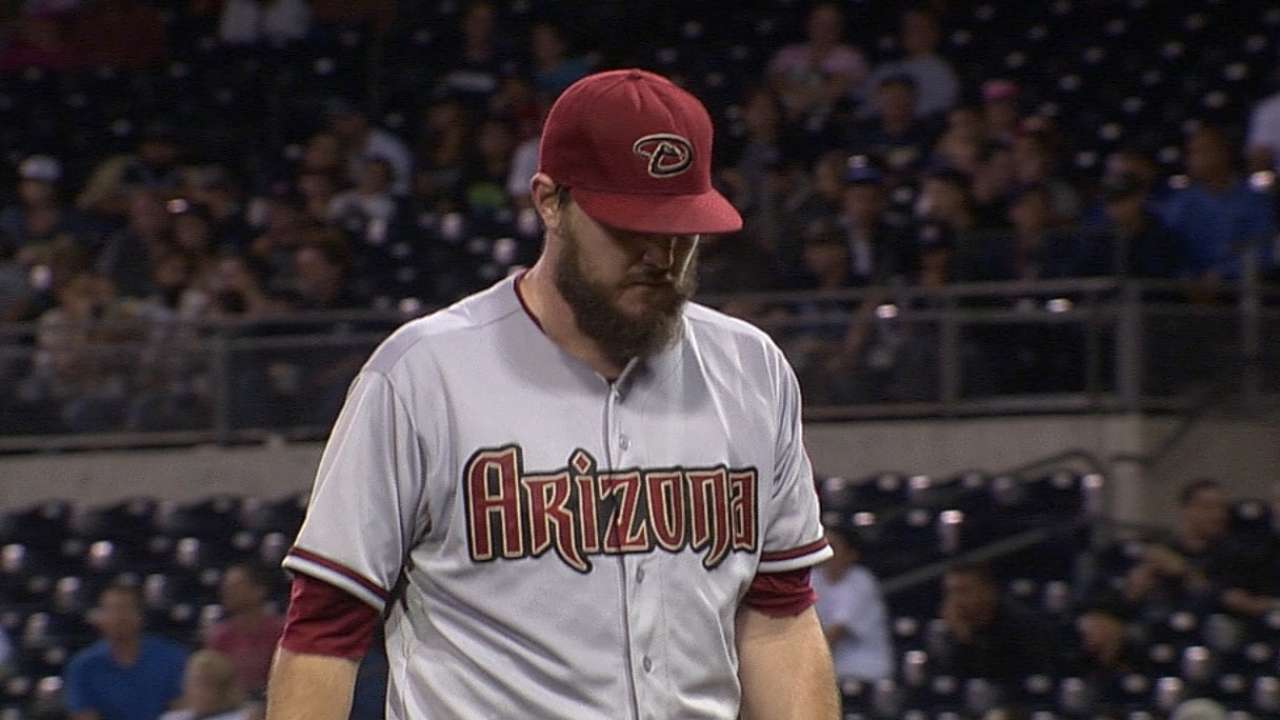 SAN DIEGO -- Brad Ziegler doesn't want to make excuses, but the numbers are telling for the D-backs right-hander.
Since June 27, he has a 5.26 ERA and has not looked like his usual self on the mound.
Tuesday night he provided another example, allowing a ninth-inning homer to Cory Spangenberg as the Padres walked off with a 2-1 win over the D-backs at Petco Park.
"He's not the same," D-backs manager Kirk Gibson said of Ziegler.
Gibson went on to say that Ziegler has been battling a sore left knee, which could be impacting the way he throws his bread-and-butter pitch, the sinker.
It was a poorly located sinker that Spangenberg hit for the homer.
Ziegler (5-3) was hesitant to talk about his left knee but admitted that he injured it on June 27 during a pregame conditioning drill.
"I felt a little pop," Ziegler said. "It felt kind of crunchy in there. And then we've done a couple of MRIs. There's some frayed cartilage under the kneecap. But it was something I wanted to try to fight through as long as I could, for sure. We didn't know if rehab would take care of it or not. At least to this point, it's still there. We're still trying the rehab thing."
Ziegler maintains that he doesn't feel pain in the knee while he's pitching due to the adrenaline that comes with game action. He does feel discomfort at other times, however.
"I don't think about it when I'm out there, but it's just on a day-in, day-out basis, it's pretty frustrating to deal with," Ziegler said. "The bottom line is, I haven't been making that great of pitches. No matter what my body is doing to get there, when the ball is on its way to the plate, it's not doing what I want it to."
The ball, though, did exactly what Spangenberg wanted it to do.
Pinch-hitting for Cameron Maybin, Spangenberg hit the first pitch he saw from Ziegler into the porch that juts out just inside the right-field foul pole.
It was the first career home run for Spangenberg, who made his Major League debut Monday.
"[Hitting coach Phil Plantier] felt pretty good about the at-bat," Padres manager Bud Black said. "I think we had Smitty [Seth Smith] set for the pitcher's spot, but that was still four spots away. Cam didn't have great numbers against Ziegler. Spangy is a slasher who likes the ball down."
The two starting pitchers -- Wade Miley and Odrisamer Despaigne -- battled each other to a 1-1 draw through seven innings.
The D-backs were able to break through first in the fourth inning when Miguel Montero singled home Cliff Pennington.
But though Arizona was able to get on the board, it continued a troubling trend of late in not being able to capitalize on scoring opportunities, as the D-backs were able to just get the one run on three hits and left two men on in the inning.
Alexi Amarista tied the game in the fifth when his single to left scored Rene Rivera.
Both pitchers left for pinch-hitters after seven with Despaigne having allowed four hits and thrown 109 pitches. Miley, meanwhile, allowed seven hits and walked two in throwing just 85 pitches.
"I felt pretty good," Miley said. "Even in the bullpen I felt like I was going to be able to get ahead of guys and that's the key. They are a pretty aggressive team over there so they're going to swing, so you've just got to make pitches, locate and find corners. I was fortunate that they hit balls at people."
The Padres jumped on reliever Evan Marshall for a pair of singles to put runners at first and third with no one out in the eighth, but the right-hander settled in to fan the next three hitters to end the threat.
Steve Gilbert is a reporter for MLB.com. Read his blog, Inside the D-backs, and follow him on Twitter @SteveGilbertMLB. This story was not subject to the approval of Major League Baseball or its clubs.