Viciedo, Flowers power White Sox to extra-inning win
Catcher belts pair of two-run homers as Chicago takes series opener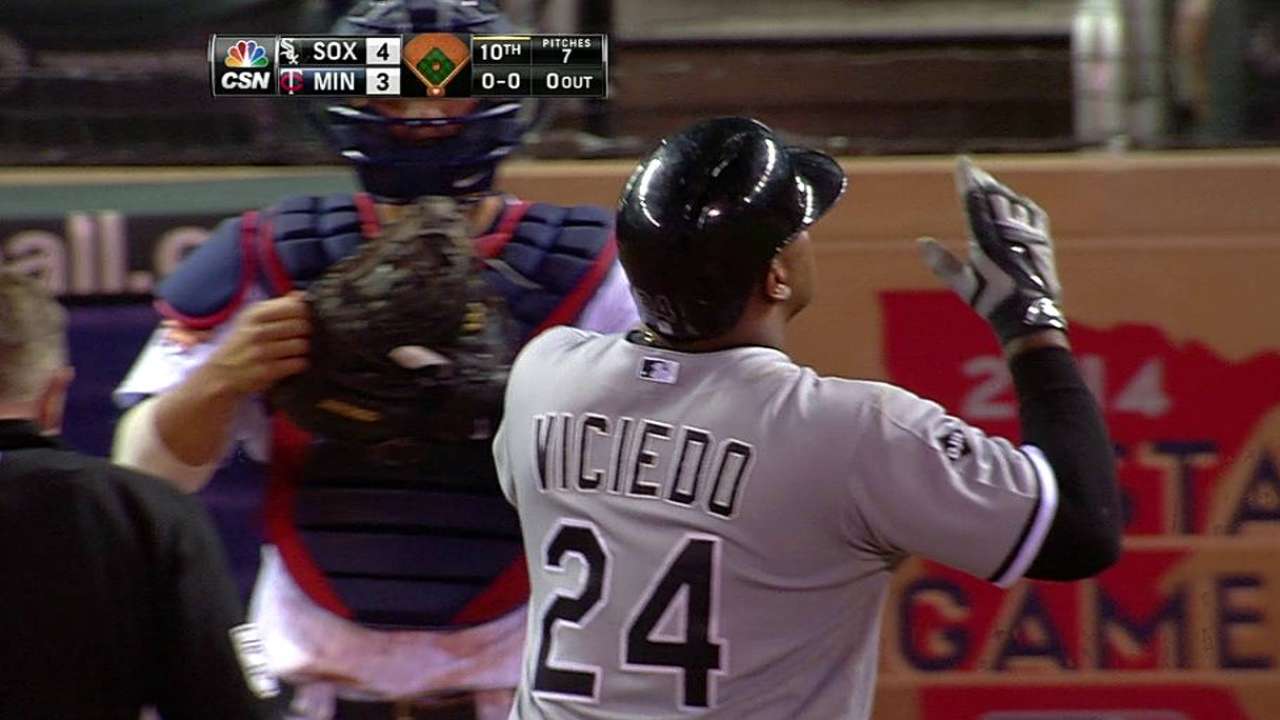 CHICAGO -- Tyler Flowers underwent surgery to clean up his right rotator cuff and labrum on Sept. 5, 2013, a procedure ending what turned out to be a disappointing season for the White Sox catcher.
Flowers got a jump on celebrating that one-year anniversary Tuesday night at Target Field, minus three days, producing the first multi-homer game of his career and driving in four during a 6-3 victory for the White Sox over the Twins (60-78) in 10 innings.
Flowers' first homer came against Minnesota starter Tommy Milone to tie the game in the second, but his first career extra-inning homer came off of Lester Oliveros (0-1) and gave the White Sox (63-75) some late breathing room.
Hir first homer to left and his second to right also gave Flowers a new career high with 12 homers during a season when he has asserted himself as the No. 1 man behind the plate for the White Sox.
"I feel like I've done pretty well this year," Flowers said. "I haven't had any arm issues thank goodness. That's kind of nice to not have to deal with that on top of all the other challenges in this game."
"He's been a true pro," said White Sox manager Robin Ventura of Flowers. "Calling the pitches has been the big thing. He does show you flashes like this that you are happy to see for him."
As Ventura points out, the main responsibility for Flowers and pretty much any White Sox catcher falls under the category of handling the pitchers. Those same pitchers have nothing but praise when talk centers on throwing to Flowers, including Hector Noesi, who pitched well enough to win Tuesday but settled for a no-decision.
The White Sox right-hander, who has worked at least seven innings in five of his last six starts, struck out five and didn't issue a walk over seven innings. He gave up three runs on nine hits, retiring 13 of 14 hitters from the second through the seventh.
"Noesi settled down after the first couple of innings and started getting better location," said Flowers of Noesi, who threw 68 of his 101 pitches for strikes. "We were able to do a lot more."
"His stuff got better," said Minnesota manager Ron Gardenhire of Noesi. "He has a great changeup and his fastball was pretty good. The kid throws the ball pretty decent. The ball was really coming out of his hand. It seems like he's starting to figure it out."
Dayan Viciedo's opposite-field home run leading off the 10th against Oliveros sparked the three-run rally capped by Flowers and broke the deadlock. His line shot to right-center on a full count gave him 18 for the season and gave the White Sox three wins in their last four games, not to mention four wins in their last five at Target Field.
Daniel Webb (6-4) earned the victory, having stranded pinch-runner Aaron Hicks at third on Kurt Suzuki's fly ball to right in the ninth. Hicks got to third after replacing Oswaldo Arcia following a two-out walk and a two-base Webb throwing error. Minnesota native Jake Petricka threw a perfect 10th for his 11th save.
Tuesday's win guaranteed the White Sox will not lose 100 games this season, and actually matched last year's win total of 63 with 24 games still to play. It also showed off a good mix of the White Sox new and old for the 2014 season.
Michael Taylor, who had his contract purchased from Triple-A Charlotte prior to Tuesday's contest, drew a two-out walk off of Milone to set up Flowers' first home run. Carlos Sanchez, who replaced Gordon Beckham at second base, set a career high with three hits, reached base four times, drove in one and has now hit in five straight.
Then there was Noesi, helping the White Sox to a 13-10 record this season in games where he started. And Flowers and Viciedo provided the power supply, showing a mix that will be on display throughout the month of September.
"There are new faces, but you know again you are looking at guys and just playing together, trying to do things to win the game," Ventura said. "All these guys, we kind of know them but you don't know them all that well for a stretch. They are going to get some opportunities."
"Most of us are just trying to go about our business the right way like we've done all year and show some of the younger guys how to go day in and day out even though we're not where we want to be right now," Flowers said. "There's still a level of professionalism you have to keep to get them off on the right foot and doing the right things."
Scott Merkin is a reporter for MLB.com. Read his blog, Merk's Works, and follow him on Twitter @scottmerkin. This story was not subject to the approval of Major League Baseball or its clubs.