Bats quieted after early runs as Twins fall in extras
Bullpen picks up Milone after brief outing until Oliveros tagged in 10th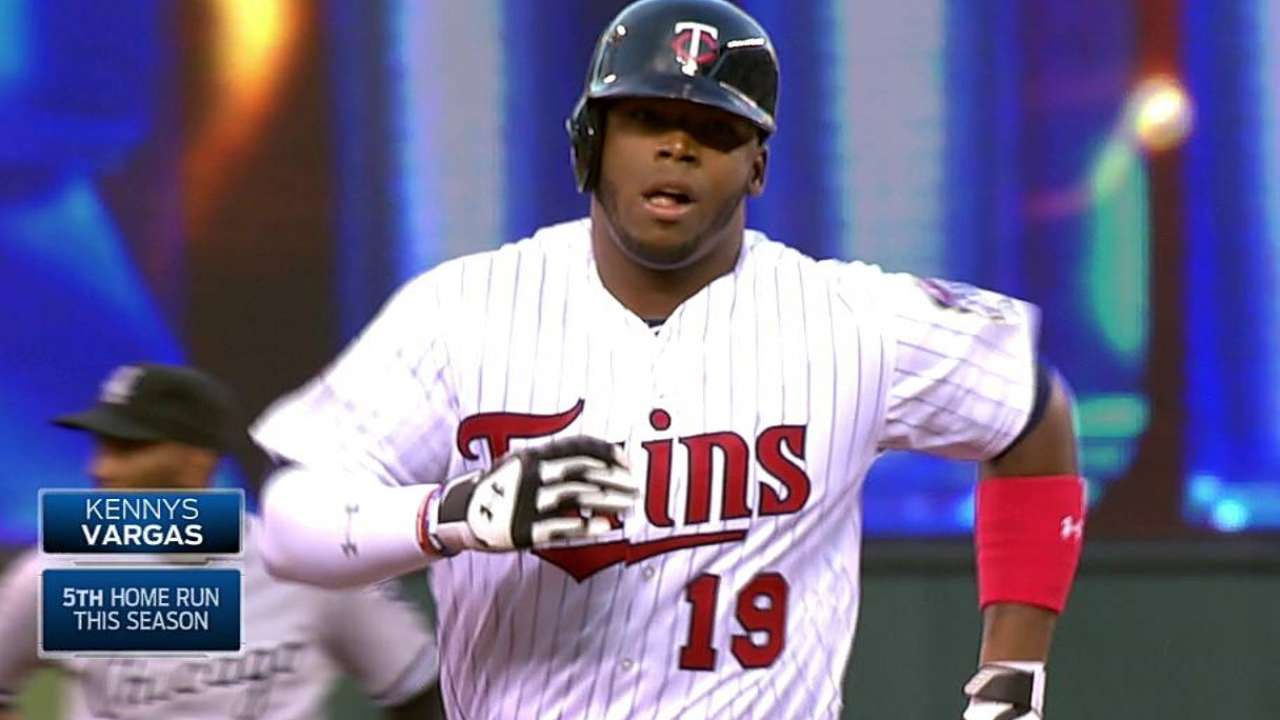 MINNEAPOLIS -- Lester Oliveros waited more than two years to return to the big leagues, but got a rude welcome from the White Sox on Tuesday night.
The offense went cold for the Twins after the second inning and Oliveros served up two homers in the 10th inning in a 6-3 loss to the White Sox at Target Field.
Oliveros, who was pitching in the Majors for the first time since June 14, 2012, was greeted with the game-winning homer from Dayan Viciedo on his seventh pitch of the inning. Oliveros also gave up a two-run homer to Tyler Flowers with one out to give the White Sox two insurance runs.
Twins manager Ron Gardenhire said Oliveros, who had a solid season in the Minors after coming back from Tommy John surgery, simply was too fastball happy in the 10th.
"He's got a great fastball, but it's two different levels and maybe you can get it away with it down there, but you have to spin the ball up here," Gardenhire said. "It was his first shot up here in a long time, but he's going to have to spin the ball more so that his fastball will have more success."
It came after Twins left-hander Tommy Milone lasted just 3 2/3 innings, giving up three runs on five hits and four walks. Milone, who was acquired from the A's for Sam Fuld on July 31, has a 7.84 ERA in five starts with the Twins and is still searching for his first win with his new club.
"I'm just falling behind hitters," Milone said. "I need to get back to attacking the zone. I need to keep the ball low and be aggressive."
All three runs he allowed came in the second inning, as the White Sox got on the board with a game-tying two-run homer from Flowers with one out. Marcus Semien followed with a single before scoring on a double to give the White Sox an early one-run lead.
Milone's final inning came in the fourth, when he walked Alexei Ramirez with two outs after giving up a one-out single to Carlos Sanchez.
"He had a rough time," Gardenhire said. "The first inning was good but after that he kept just missing. They wouldn't chase. Part of his game is getting hitters to chase. But he was just off the plate. Throwing 84 pitches in 3 2/3 innings is too many pitches."
The Twins scored early against White Sox right-hander Hector Noesi, as Kennys Vargas smashed a two-run homer in the first inning. It was the fifth homer of Vargas' career and came on a first-pitch fastball. But it was only one of a few mistakes from Noesi, who went seven strong innings and settled in after the homer.
"Besides the homer there, he was good," White Sox manager Robin Ventura said. "He was keeping guys off balance even the lefties. Changed them up with his changeup. He just continues to impress."
Minnesota tied it in the second on an RBI double from Danny Santana after Eduardo Escobar and Jordan Schafer singled with one out. But Schafer was thrown out at third for the second out, as he overran bag despite a stop sign from third-base coach Scott Ullger and was caught coming back to the base. Noesi was able to get out of the jam by striking out Brian Dozier.
Schafer made another costly baserunning error in the seventh, as he beat out an infield single to third base with Kurt Suzuki at first base, but was caught in a rundown between first and second to kill the potential rally.
"I don't know what you can do about that because it hit the dirt and then ricocheted off the railing and came right back," Gardenhire said. "The one at third base, Scotty was holding him up the whole way but he kind of nonchalantly came off the bag and couldn't get back. You have to be more aware."
The Twins had a chance for a walk-off win in the ninth with a runner on third and two outs after an errant pickoff throw from reliever Daniel Webb, but Suzuki flied out to right to end the inning.
"We had our chances," Gardenhire said. "Suzuki came up and hit one really hard. They were playing shallow in right field but the ball just got in him a little bit."
Rhett Bollinger is a reporter for MLB.com. Read his blog, Bollinger Beat, and follow him on Twitter @RhettBollinger. This story was not subject to the approval of Major League Baseball or its clubs.