Kershaw cuts down Nats for MLB-best 17th win
Dodgers ace fans eight, surpassing 200-K mark, lowers ERA to 1.70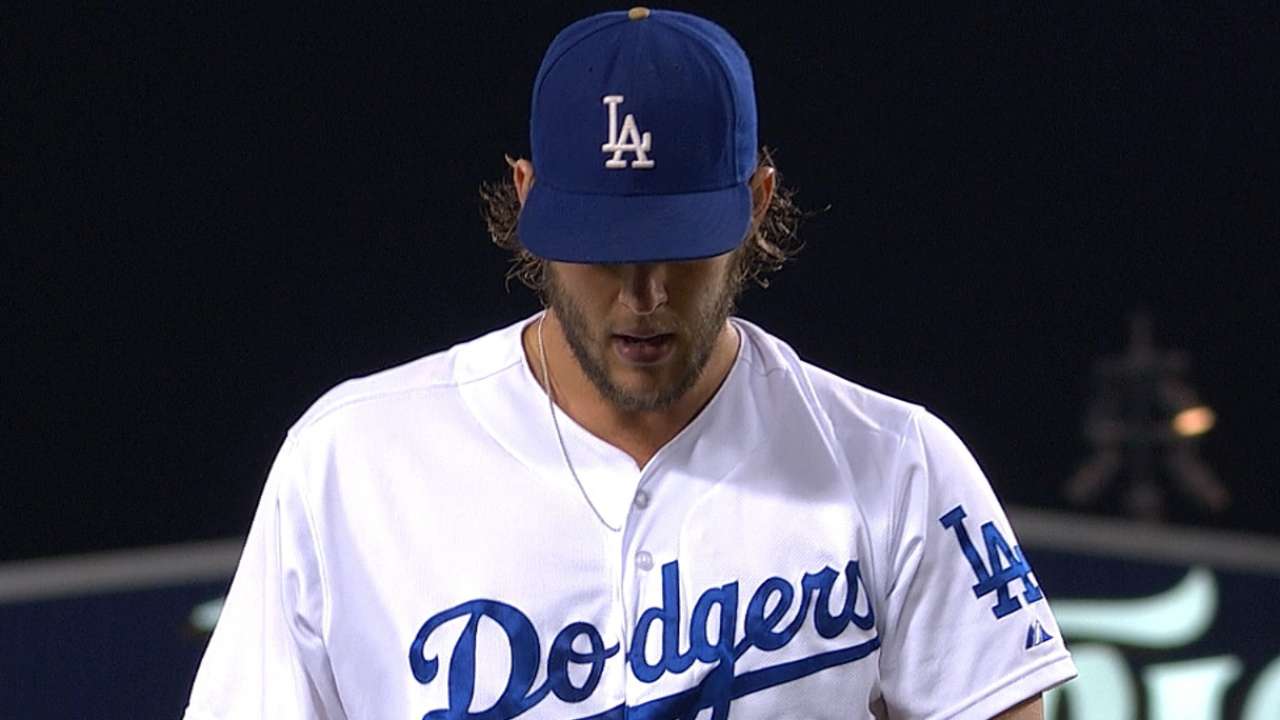 LOS ANGELES -- Royalty was everywhere at Dodger Stadium on Tuesday night. There was Koufax and Kershaw and even a Queen (Latifah), who introduced Little League phenom Mo'ne Davis. Magic Johnson didn't show, but his bobblehead did.
There was the latest Dodgers outfield sensation, Joc Pederson, replacing (at least for this game) the shooting star of Yasiel Puig, who threatens to flame out with a batting average falling and a work ethic raising eyebrows.
And when all the glitz and glitter settled, the Dodgers had beaten Washington in a battle of division leaders, 4-1, with Clayton Kershaw becoming the first 17-game winner in the Major Leagues and Juan Uribe homering in his third game back from the disabled list.
Kershaw threw 108 pitches and, after a long eighth-inning huddle in the dugout, passed the baton to Kenley Jansen for his 39th save that kept the Dodgers two games ahead of the Giants in the National League West.
Kershaw (17-3) allowed only three hits, one of them a solo home run by Bryce Harper, his fourth in the last five games.
"Oh, man. He is the best pitcher in baseball, hands down," Harper said. "He goes out there and locates his pitches. He has his fastball, curveball, changeup and slider. He is very, very good. He is definitely the best pitcher in baseball."
Kershaw's ERA is a Koufax-like 1.70 and he struck out eight, surpassing the 200 mark for the fifth consecutive season, and Koufax (six straight) is the only other Los Angeles Dodgers pitcher to do that. Kershaw has won his last five decisions against Washington.
"Just take my quotes from last game," manager Don Mattingly said.
Kershaw had a fifth-inning single, and ran the bases as if he'd lost his mind. He suddenly went Puig-mode in slow-motion, chugging from first to third on Dee Gordon's bouncer up the middle, challenging the arm of Harper. Third baseman Anthony Rendon took Harper's throw a little offline ahead of Kershaw's slide. But Rendon didn't try for the tag, instead throwing to second base too late to get Gordon.
"I don't know if that was the smartest decision. I don't know what I was doing, really," Kershaw said. "It was probably a dumb play looking back on it. If I get thrown out there, it doesn't look good. It worked out tonight. Hopefully I'll get another chance at it. A lot of bad baserunning there."
Mattingly wasn't about to criticize his MVP candidate. Actually, he praised his desire to win and willingness to go hard all game.
"What should we do? Put him in a bubble?" Mattingly asked. "You love that he's a baseball player. We're in a pennant race. Do you really want him to back off and not try to win?"
With Kershaw on third and Gordon on second, Nationals starter Doug Fister got Hanley Ramirez to ground to short with the infield up, then Adrian Gonzalez grounded into the hole. Shortstop Ian Desmond bobbled the ball as Kershaw scored, then should have easily thrown out Gordon trying to score from second base, but overthrew the plate as Gordon scored. Gonzalez barely beat the throw to second base of Fister, who was backing up the throw home.
Harper's home run was the first one hit by a left-handed batter off Kershaw this year.
"He hadn't gotten to a fastball all game and I was stubborn and he made the adjustment and put a good swing on it," Kershaw said.
It snapped a string of 12 consecutive batters retired and 17 of 18. Despite missing six weeks, his 17 wins surpass his total of last year, when he won his second NL Cy Young Award.
Kershaw walked two in the first three innings.
"It was tough to settle in tonight," he said. "I felt good physically. Maybe I had too much energy or adrenaline. I was definitely amped up, not throwing where I wanted to."
Pederson never touched a ball in the outfield after being called by his manager the best center fielder on the club before the game. He did get his first career hit, a soft single to center in the second inning off Fister.
"It's like a video game out there," Pederson said of playing behind Kershaw. "Just how many times he hits the glove -- it's unreal. That's why he does what he does. When you have someone like Kershaw throwing, there's not many balls put in play, so it is what it is. It's good when I'm not getting balls."
Ken Gurnick is a reporter for MLB.com. This story was not subject to the approval of Major League Baseball or its clubs.