MLB.com Columnist
Bill Ladson
Nationals neutralized on offense by Kershaw
Harper's HR -- first by lefty off ace this season -- one of just three hits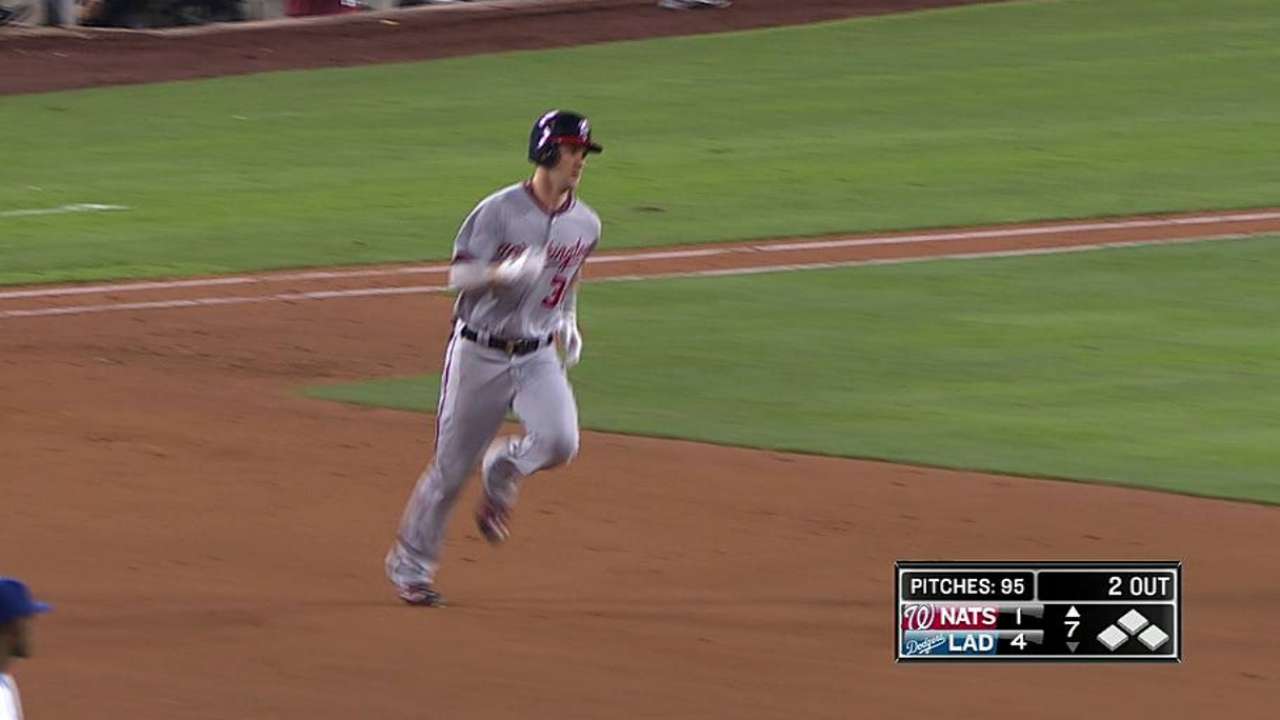 LOS ANGELES -- Left-hander Clayton Kershaw was dealing on the mound Tuesday night at Dodger Stadium as the Dodgers downed the Nationals, 4-1.
Although they lost, the Nationals remain seven games ahead of the Braves in the National League East race. Atlanta was blanked by the Phillies, 4-0, at Turner Field earlier in the day.
It was a game that saw one of the Nationals' best players -- center fielder Denard Span -- take a scheduled day off, and they needed Span on this day. In fact, Kershaw showed why he is on the verge of winning his third NL Cy Young award in the last four years. He allowed three hits, struck out eight batters and lowered his ERA to 1.70.
The Nationals never made any serious threat against the left-hander until Bryce Harper homered in the seventh, the first one hit by a left-handed batter off Kershaw this season. It snapped a string of 12 consecutive batters retired and 17 of 18.
"Oh, man. He is the best pitcher in baseball, hands down" said Harper, who went 1-for-4 in the game. "He goes out there and locates his pitches. He has his fastball, curveball, changeup and slider. He is very, very good. He is definitely the best pitcher in baseball."
Said shortstop Ian Desmond, "He has proven he can step up in big situations, and they needed him. We saw four or five relievers [Monday]. He needed to go seven and he took them to the eighth inning."
To beat Kershaw, the Nationals had to play a flawless game, which didn't happen. Nationals right-hander Doug Fister pitched well for four innings before running into trouble in the fifth.
Kershaw started things off by hitting a single up the middle. Dee Gordon was the next hitter and he, too, singled up the middle. Kershaw took a gamble and made it to third base, while Gordon advanced to second on Harper's throw to third.
It looked like Anthony Rendon had a chance to tag Kershaw at third. Instead, Rendon threw to second to no avail.
"I don't know if that was the smartest decision," Kershaw said. "I don't know what I was doing, really. It was probably a dumb play looking back on it. If I get thrown out there, it doesn't look good. It worked out tonight. Hopefully I'll get another chance at it. A lot of bad baserunning there."
Two batters later, Adrian Gonzalez hit a slow roller past Rendon at third. Kershaw scored on the play, but Desmond had a chance to get Gordon, who kept on running, but Desmond threw the ball over the head of catcher Wilson Ramos, which allowed Gordon to score on the play.
Desmond, however, bounced back and made a great diving play to throw out Matt Kemp to end the inning.
"I tried to throw it to first, I lost the grip, looked up and Dee Gordon is taking off for home. I just rushed it a little bit. I should have set my feet," Desmond said.
An inning later, Fister couldn't retire a batter. The biggest blow came on a two-run homer by Juan Uribe. It came on the first pitch.
"The ball didn't bounce our way tonight," Fister said. "There were things that happened. I gave up a few hits. I have to be better. … I have to be better picking up my teammates. It's unacceptable for me. That's what teams do. They pick one another up. I didn't do that. I left the ball over the middle for Uribe. I have to be much better with him. He is a free-swinging guy, he hits the ball hard. It's something I have to take care of."
Bill Ladson is a reporter for MLB.com and writes an MLBlog, All Nats All the time. He also can be found on Twitter @WashingNats. This story was not subject to the approval of Major League Baseball or its clubs.