Holland makes strong return in Rangers' loss in KC
Lefty allows a run in seven, but 'pen gives up go-ahead run in eighth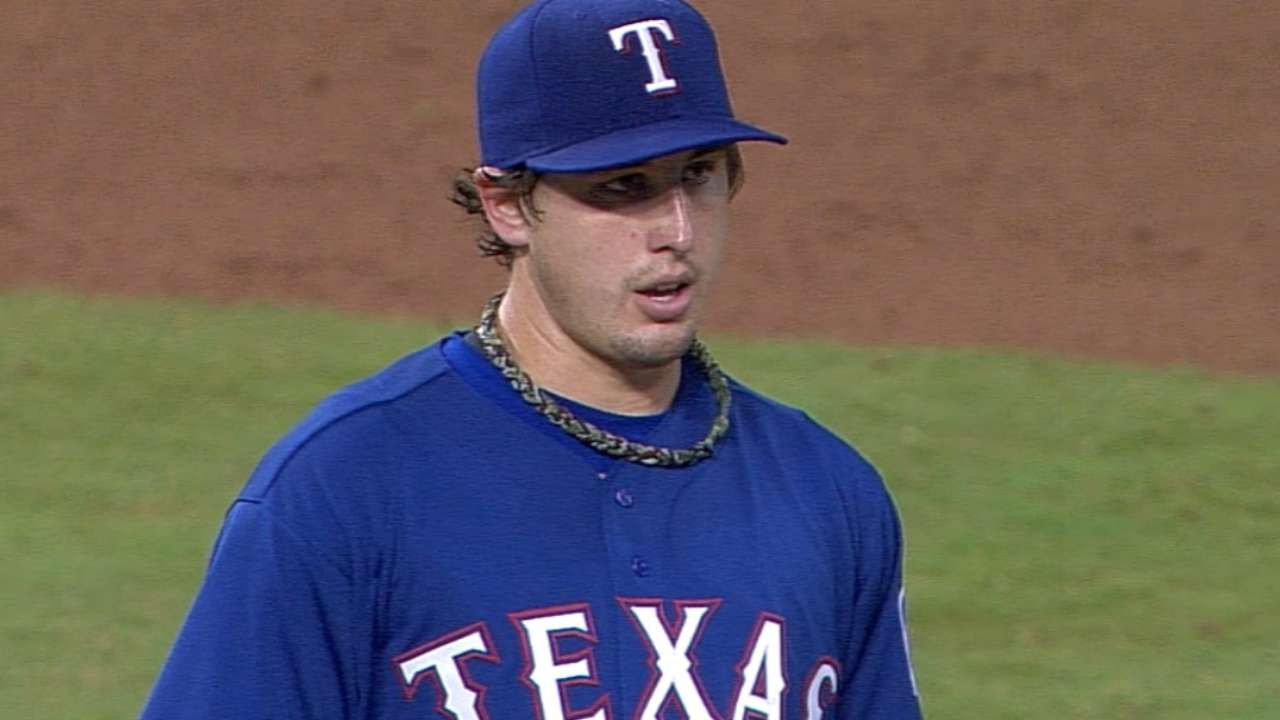 KANSAS CITY -- Derek Holland gave a cursory nod to catcher Tomas Telis, took one behemoth breath -- a sign of the nerves he was expecting -- then fired his much-anticipated first pitch of the season.
"First pitch, I was up there," Holland said. "It's first time back, it's like Opening Day for me."
Holland, absent for the first five months of the season due to a knee injury, fired a strike to leadoff hitter Nori Aoki, thus beginning his return to the mound that overshadowed the Rangers' 2-1 loss on Tuesday night at Kauffman Stadium.
The left-hander allowed six hits, one run and struck out six in seven innings. He worked efficiently in his first MLB start since Sept. 28, 2013. Holland totaled 105 pitches, expending no more than 17 in an inning.
"It was great news to see Derek out there performing, we've seen him that good before," manager Ron Washington said. "It's nice that his first time back he went out there and he showed what we have to look forward to."
Salvador Perez cracked a game-winning RBI single in the eighth with Holland already removed from the game. Rangers reliever Jon Edwards allowed the hit to Perez, who collected three of the Royals' four RBIs in their 4-3 win Monday.
"Salvy did a great job of getting me in," said Jarrod Dyson, who scored on the single.
Holland allowed his only run in the third on a pair of Royals doubles. The first came off the bat of Alcides Escobar, who lofted a long fly ball to left-center. Ryan Rua, playing his first Major League game in left, tracked it down, but appeared too reticent of the left-field wall, stopping short of it. The ball flew past his glove and bounced onto the warning track, then into the stands for a ground-rule double.
Aoki drove in Escobar with a sinking liner that narrowly evaded a diving Rua's glove to put KC up, 1-0.
"One thing I told [Rua], I don't want him to stop being aggressive. People make mistakes but I don't want him to get to the point where all of a sudden he backs off. Just play aggressive, man," Washington said. "You're not the only one who might have misplayed a ball and you won't be the last, but I don't want him to be tentative."
The Rangers slogged through the first five innings Monday, advancing just one baserunner past first. But they posed at least a minimal threat in each of the first four frames the next night.
Alex Rios doubled in the first, Adam Rosales (single) and Telis (error) reached in the second, Leonys Martin singled in the third and Adrian Beltre and Rua led off the fourth with hits. They were all stranded as Kansas City used a pair of double plays to keep Texas off the scoreboard.
However, the Royals couldn't use a double play to erase Rougned Odor's leadoff triple in the fifth, his sixth of the season (tied for fifth in the American League). Daniel Robertson grounded out to short, scoring Odor to tie the game at 1.
Holland allowed leadoff hits in the fifth, sixth and seventh, but navigated each jam. He faced a particularly precarious situation when Aoki roped a sixth-inning leadoff double. Pinch-runner Dyson stole third base with one out bringing up Alex Gordon. Holland disposed of him on three pitches, but still had to deal with Perez. Washington made a surprise visit to the mound to talk to Holland.
"I wanted to find out which one of those guys he wanted, Perez or [Eric] Hosmer," Washington said.
Holland picked Perez, and got him to fly out harmlessly to left.
"I didn't want to give him anything good to hit," said Holland, who helped the Rangers make history, becoming player No. 60 used by Texas this season, a new MLB record.
Michael Kirkman's eight-inning relief appearance in the eighth pushed that figure to 61.
The number is a product of the exorbitant amount of injuries the Rangers have suffered this season. They lost Prince Fielder, Shin-Soo Choo, Jurickson Profar, Tanner Scheppers, Martin Perez, Matt Harrison, Alexi Ogando and Mitch Moreland. An elbow injury has put Yu Darvish's season in jeopardy.
Holland's healthy return to the mound offers Texas something to cling onto at the tail end of a miserable, injury-ravaged season.
"He commanded the baseball as well as I've seen him," pitching coach Mike Maddux said. "I'm glad to have him back."
Jackson Alexander is an associate reporter for MLB.com. This story was not subject to the approval of Major League Baseball or its clubs.