Cubs' bats break out, take series from reeling Crew
Chicago takes advantage of miscues, giving Arrieta plenty of support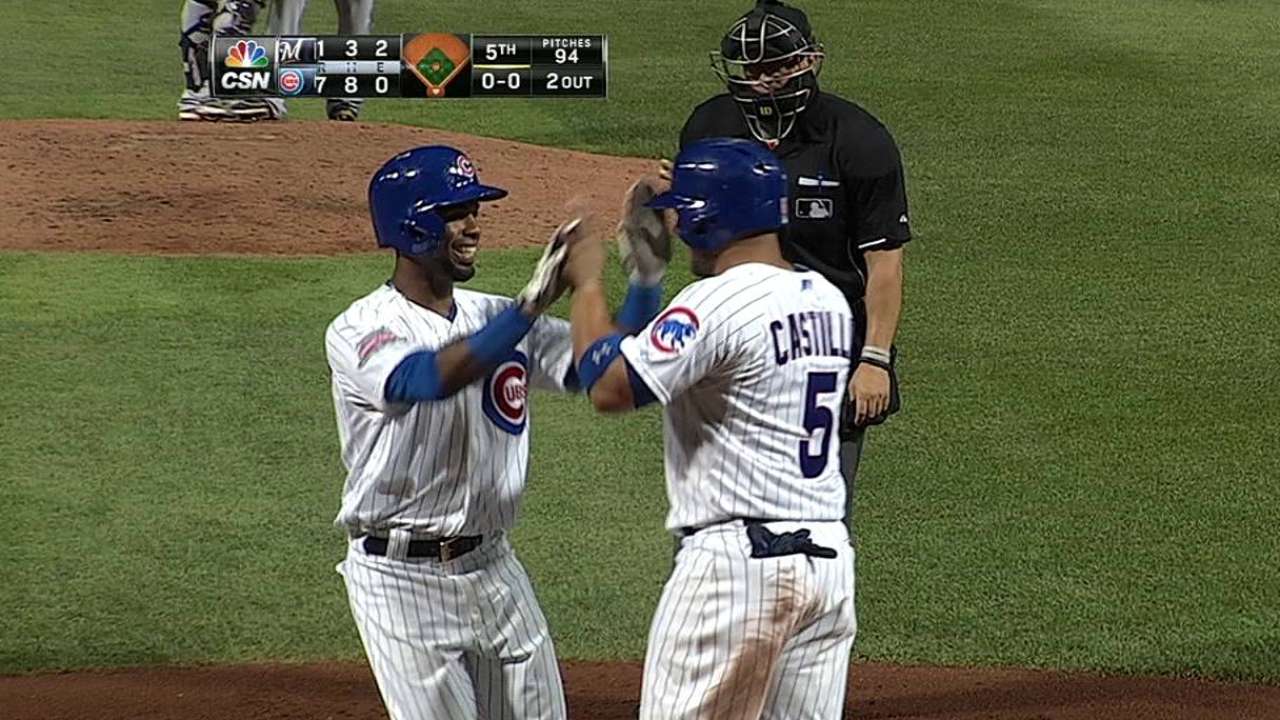 CHICAGO -- The Cubs didn't have Anthony Rizzo, and Starlin Castro had to leave the game after the first with a sprained ankle, so mighty mite Arismendy Alcantara stepped up.
Alcantara smacked a two-run homer to back Jake Arrieta and the Cubs scored two runs on back-to-back errors by shortstop Elian Herrera in the first inning to post a 7-1 victory over the Brewers, who probably wish they could take a mulligan Tuesday.
The loss, coupled with St. Louis' win over Pittsburgh, dropped Milwaukee two games back in the National League Central. The Brewers now have lost a season-high seven in a row.
Arrieta picked up the win, his second in his last six starts, in front of 28,434 at Wrigley Field, who collectively cringed at the sight of Castro writhing in pain at home plate in the first inning.
Javier Baez walked with one out in the first against Yovani Gallardo, and Castro singled. Luis Valbuena and Jorge Soler each followed with RBI singles, although the latter hit was costly as Castro slid awkwardly into home plate and had to leave the game with a left ankle sprain. Initial tests ruled out a fracture, but Castro was to undergo an MRI and X-rays.
"It just looked very awkward," Cubs manager Rick Renteria said. "Any time you see somebody cringe in pain, you grab yourself a little bit."
The Cubs are already missing Rizzo, who has a mild lower back strain, and is sidelined indefinitely.
Chicago kept the inning going by taking advantage of mistakes by Herrera, who couldn't get his glove on Welington Castillo's hard-hit ball, which allowed a run to score. Another run tallied when Herrera made a wild throw to first to try to get Alcantara.
"We made errors and you get behind 4-0 again, and you feel pressure on the offense to come back and score runs," Brewers manager Ron Roenicke said. "We've got to put up some zeroes, play good defense, pitch well and give our offense a chance to hopefully get a lead sometimes."
Ryan Braun hit an RBI single with one out in the Milwaukee third, but he was then thrown out at second trying to steal. Getting Braun was one of the little things that helped Arrieta, who felt he was able to execute his pitches well. He just threw too many in a 26-pitch first.
"The pitch count got elevated with some extended at-bats which probably cost myself another inning," Arrieta said.
"You never want to fall behind, but especially against a pitcher of his caliber," Braun said of Arrieta. "I think he's established himself as one of the best pitchers in the National League. He's really good -- throws above average probably four different pitches. So you certainly don't want to fall behind to a guy like that."
Valbuena doubled with one out in the fifth, and scored one out later on Castillo's double off the left-field wall. Castillo's ball and a fly ball by Jorge Soler might have gone out with a little help from nature, but there was almost no wind at Wrigley Field. Alcantara, the smallest player on the team, didn't need any help as the 5-foot 10-inch, 170-pounder launched the first pitch from Gallardo into the right-field bleachers for his eighth home run.
"I think he hit it better than me, he made better contact than me," Castillo said of Alcantara. "He's a small guy but he's got pop -- he's a strong guy. Everybody sees him as small and little, but he's really strong. He's been hitting way, long homers, so that doesn't surprise me."
"When everything's in sync, he uses his hands quite well and he's able to drive the ball out of the ballpark," Renteria said.
Alcantara, who hit 15 home runs last season with Double-A Tennessee, now has eight home runs in 50 games, and is riding a six-game hitting streak.
"I just hit it good, that's it," Alcantara said.
The Cubs have been playing good, and the infusion of young talent has given the team a spark.
"There's a lot of young guys, and they're hungry," Castillo said. "They want to go out and play and do their best, and I think that motivates you to play harder. I think this team will be really, really, really good."
Carrie Muskat is a reporter for MLB.com. She writes a blog, Muskat Ramblings, and you can follow her on Twitter @CarrieMuskat. This story was not subject to the approval of Major League Baseball or its clubs.