Astros top Halos, give Lawless a winning debut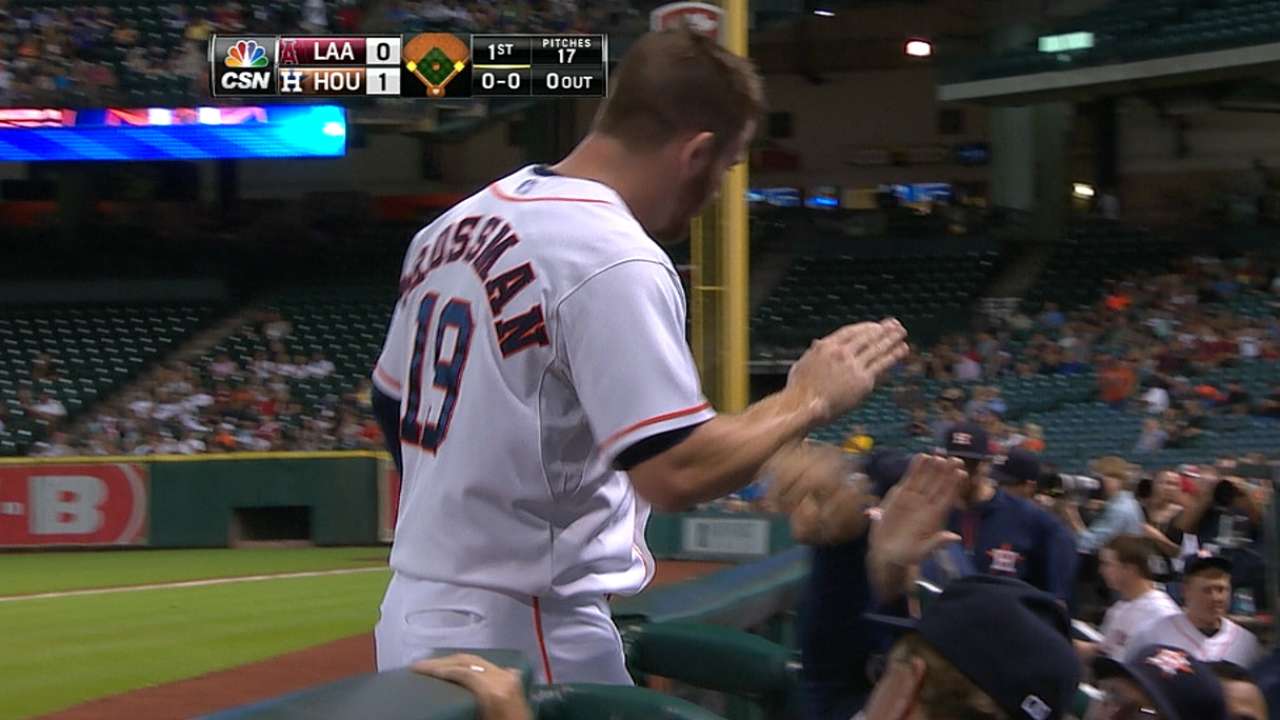 HOUSTON -- If Tom Lawless gets to manage the Astros beyond this season, he may never have a more enjoyable night at the ballpark than he did on Tuesday. Of course, watching Jose Altuve hit these days makes any night enjoyable.
The red-hot All-Star second baseman continued his torrid run toward the American League batting title by going 4-for-5 for the second game in a row, including a home run, to lead the Astros past the first-place Angels, 8-3, at Minute Maid Park.
It was a smashing debut for Lawless, who was named interim manager after Bo Porter was dismissed on Monday. A lifelong baseball grinder who's held just about every job possible in the Minor Leagues, he celebrated his first big league managerial win by getting doused by his players and taking the game ball from pitcher Josh Fields.
"It's a real good feeling," Lawless said. "You get the first one out of the way, and now let's ... continue that feeling. Winning breeds confidence. It just breeds confidence. And going out and getting 15 hits tonight, I tip my cap to those guys."
Those 15 hits were the most for the Astros since a season-high-tying 17 on July 20 in Chicago, and Altuve led the way with his ninth career four-hit game, and fifth this season. He's now batting .340 to lead the Majors and pushed his big league-leading hit total to 193, putting him seven shy of becoming just the second Astros player to reach 200 (Craig Biggio, 1998).
"It's not easy to hit the ball," Altuve said. "Sometimes you hit it right at people, sometimes not. We've got to take advantage of the good moments we've been through and try to keep swinging the bat, keep playing defense, keep throwing the ball and try to finish the season strong."
After the game, the Astros filled the clubhouse with adjectives to describe their 5-foot-6 hitting machine.
"There's no secret, the man can hit," outfielder Dexter Fowler said. "He might be the smallest guy, but he plays like he's 6-foot-10."
"He's the best player ever right now," starting pitcher Brad Peacock said. "He's unbelievable to watch."
"He's amazing," Lawless said. "He can just barrel up the baseball."
"Best. Player. Ever," outfielder George Springer declared.
The Astros scored three runs against C.J. Wilson (10-9) in the first inning and built a seven-run lead after five. The first four batters of the game had hits, including RBI singles by Fowler and Chris Carter. Jason Castro added a sacrifice fly to make it 3-0.
Altuve's homer in the third inning gave him hits in six consecutive at-bats before he grounded out in the fourth. He singled in the sixth and added an RBI double in the eighth, moving into sole possession of fifth place on the Astros' single-season hits list. He also stole his 50th base.
"Dude's just completely on fire right now," Wilson said. "I threw a changeup off the plate and away, and he hooks it. What are you going to do? You usually figure guys like Carter are the ones that hook the ball, not guys like Altuve. He just [did] whatever he wanted today."
So how do you get him out?
"You throw pitches off the plate away and hope he flies it to right field," Wilson said. "And then he hits it over the fence. I threw a pitch off the plate away, and he pulled it for a homer. I'm not trying to give him a bunch of stuff to hit. I'm not throwing fastballs down the middle. He hit it anyway. He just hits everything."
Peacock (4-8) won for the first time since July 8 at Texas by allowing three runs (two earned) and four hits in 6 1/3 innings. He's allowed two earned runs or fewer in four of his last five outings, posting a 3.46 ERA in that span.
"I felt great from the bullpen all the way to the game," Peacock said. "I went over the scouting report before the game and had a good game plan coming in and stuck with it, and Jason called a great game for me. I felt good all night."
Lawless, who was an extra during much his playing career, has nonetheless had some memorable moments, including hitting a game-winning home run for the Cardinals in Game 4 of the 1987 World Series and having the distinction of being the only man traded for Pete Rose. But his first managerial win ranks high on his resume.
"Especially against a team like that," Lawless said. "That team is pretty good. They have a lot of good offense and a lot of good pitching, and we came out and just said, 'Here we are.'"
Brian McTaggart is reporter for MLB.com and writes an MLBlog, Tag's Lines. Follow @brianmctaggart on Twitter. This story was not subject to the approval of Major League Baseball or its clubs.