Brewers' struggles continue, fall to two games back
Crew unable to overcome costly early errors, drop seventh straight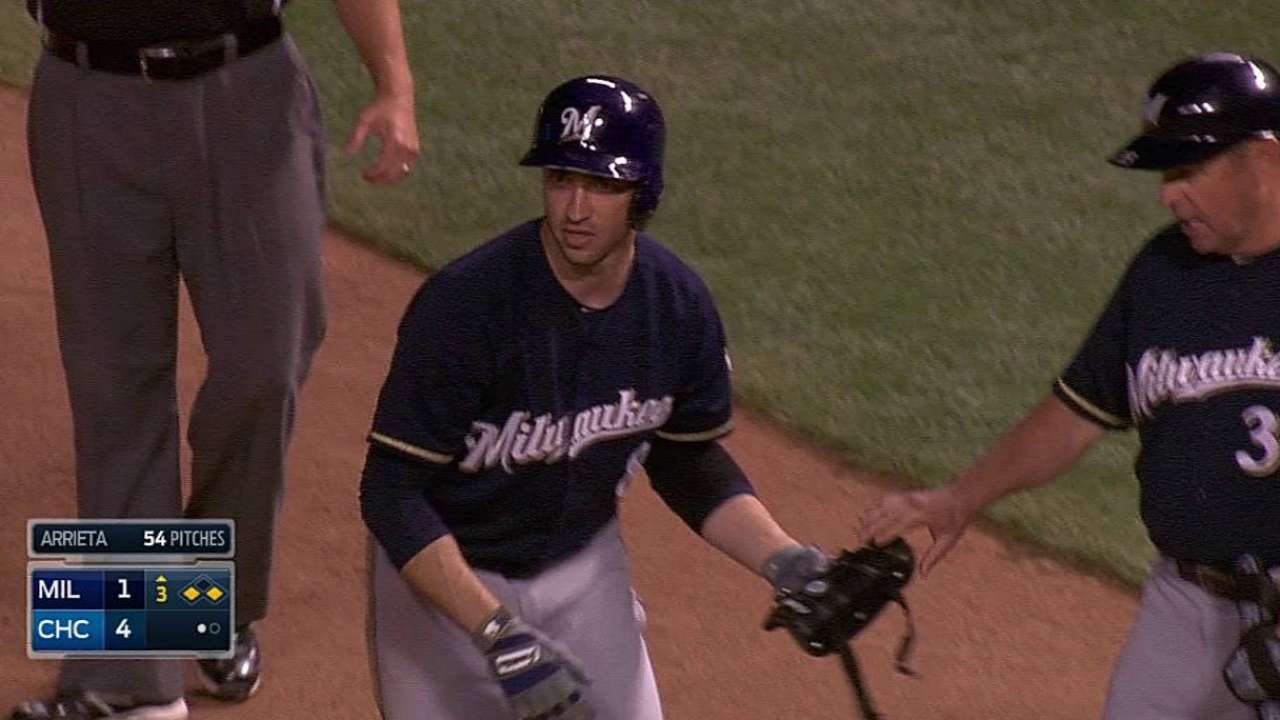 CHICAGO -- It's the road trip that just won't end, and it comes at the most inopportune time of the season.
Desperately trying to overcome what has become a current rut away from Miller Park, the Brewers extended their season-high losing streak to seven games with a 7-1 loss to the Cubs on Tuesday.
Milwaukee fell to two games out of first place in the National League Central behind the Cardinals, who picked up their fourth straight win the same night. The Crew returns home for a four-game series against the division leaders on Thursday, with one game remaining on their current 1-7 road trip.
"It's been a really difficult week," said Ryan Braun, who is 4-for-25 during the team's skid. "We picked an opportune time to play our worst baseball of the year. But as we've seen many times, it's a crazy game. The game works in mysterious ways, so you just continue to compete and know that at some point it will turn around. Obviously, for us it needs to happen sooner rather than later."
Everything that could go wrong did on Tuesday, and it began with an early 4-0 margin after the first frame.
Two errors by Elian Herrera and a missed ball by a leaping Khris Davis in the fifth directly led to five Cubs runs.
Chicago scored two with one out in the first before Herrera had back-to-back blunders, one of which he was able to salvage for an out. Davis, with two outs, backed into the left-center field ivy while leaping for a fly ball by Welington Castillo, who was credited an RBI double. Arismendy Alcantara belted a homer on the very next pitch to extend the Cubs' lead to 7-1.
"Every time we make an error, we don't get away with it," manager Ron Roenicke said.
"It's hard to get the pitcher in a rhythm. And he gets in a rhythm usually because he has people on base. You get a nice flow and we haven't allowed some of the guys to get to that."
The Cubs spread their seven runs over two innings, the first and fifth. In the three frames in between, Yovani Gallardo allowed two hits, one of which dropped on defensive miscommunication in center field.
"That shows you how things are going for us right now," said Gallardo, who was credited five earned runs, seven total, on eight hits with two walks and four strikeouts over five innings.
Even when Milwaukee lined three consecutive singles that led to a run in the third, Braun was caught stealing second with Jonathan Lucroy on third. The Brewers are now 1-for-10 through two games this series with runners in scoring position.
They were also faced with the task of overcoming the hefty deficit against Cubs ace Jake Arrieta, who lowered his season ERA to 2.81.
Arrieta allowed the one earned run, five hits, and two walks with four strikeouts -- the last against Parra to end the sixth with Ramirez on third and Davis on second.
"You never want to fall behind, but especially against a pitcher of his caliber," Braun said. "I think he's established himself as one of the best pitchers in the National League."
Roenicke said he called a meeting before Tuesday's game to encourage the team not to panic.
"I still think we have a good streak in us," Roenicke said. "We're going to have one, and I think these guys are going to have one in them. We'll get through this, whether it's tomorrow or the next day."
The clubhouse consensus insists that it's maintaining an optimistic outset during this skid that dropped them out of first place on Monday for the first time since April 5.
"You have to," Gallardo, who tied Ben Sheets' Brewers' all-time strikeout record with No. 1,206 in the third against Arismendy Alcantara.
"We found a way to be in first place at the end of each of the first five months," Braun said. "You don't do that in this division without having played really good baseball, consistent baseball. We need to get back to doing that."
Daniel Kramer is an associate reporter for MLB.com. This story was not subject to the approval of Major League Baseball or its clubs.